Dressing up for Halloween is better together, and we do love a group costume. This guide has four fancy dress options to help you and your team win Halloween 2018.
If you've spent the past few weeks desperately brainstorming ideas for how to make your group stand out on 31st October, this is the guide for you. We have group costume ideas that are sure to draw a smile from anyone you meet on Halloween.
To achieve this, it's all about the theme and we have found four classic ideas to base your outfits around this year:
Werewolf Costumes
Despite the lack of decent werewolf films lately, they're still a Halloween staple and one of our simplest group costumes. Everyone knows that wolves hunt in groups, so just add multiple outfits and you've got yourself your very own Halloween wolf pack.
For those in need of a last-minute costume, this look is as simple as buying a werewolf mask and wearing a ripped shirt. Generous splashes of fake blood are a nice way to add character to this costume, and don't forget to practice your synchronised howls.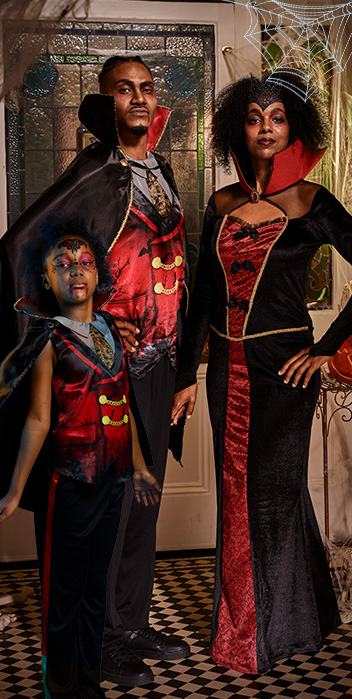 Vampire Costumes
Vampires are another spooky choice that are perfect for a group Halloween costume. Most Halloween parties seem to feature at least one vampire, making it important to stand out with some excellent accessories. Vampire fangs and coloured contact lenses are standard, plus jewellery for the ladies and a top hat for the gents.
Dracula typically wears black formalwear, so ensure the men in your group dress in suits and waistcoats. For women it's maxi dresses with plenty of lace – all black obviously.
For makeup, begin with a base layer of light foundation to create a gaunt look; dark eyeshadow enhances this. Similarly, you'll need red matte lipstick for the ladies. The accessories are crucial for vampire costumes, so to complete the look you'll want to stock up on lace gloves and lots of fake blood.
Animal Costumes
Animal Halloween costumes are an absolute fancy dress classic and limited only by your own creativity. Explore George's range of extraordinary animal costumes for an outfit that will let your group release their wild side. Dressing up as an animal is always a laugh and everyone in your group is sure to find an animal they identify with.
We also have a great range of animal onesies for children, to make their animal costume selection even easier. This collection includes tigers, gorillas and wolves, letting them get creative with this year's fancy dress.
Zombie Costumes
With the success of shows like The Walking Dead, zombies have become one of the most popular recent costume choices. Halloween zombies are common due to their simplicity. There are two main options here: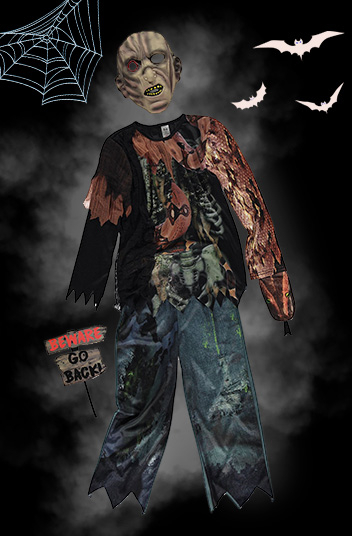 Option 1: Traditional Zombie
The best way to transform into a traditional zombie is to give your normal clothes a zombified update. Adding creative rips to old clothes works wonders for a scary Halloween look.
Option 2: Creative Zombie
Other members of your group might choose to dress up as a themed zombie, whereby they purchase an existing costume and modify it into an undead version. Creating a zombie version of your favourite superhero or character is instantly recognisable and only requires a small reworking of the outfit.
Whichever option you choose, there are a few universal zombie fancy dress rules. Be generous with your fake blood and don't forget to add some grime with body paint. Don't worry about making these touches too precise, and remember – lighter clothes are better for showing up the details.
Finally, you'll want spooky face makeup to create that famed undead look. Don't forget to practice your zombie walk!
Group Halloween costumes are a great way to bring your group together on the big day. The effect of having loads of people unified by a theme is how you can win Halloween and have the best outfit on the night. Be sure to browse George's range of Halloween outfits for men, women, kids and babies for plenty of inspiration.