Following a smart dress code for school will have a positive impact on your child's education. Not only will they look presentable for lessons, they will feel comfortable to learn all day long. When shopping for back-to-school uniform, there are key elements to dressing smartly that are essential for everyday wear.
Make sure they're ready for the new term with Life & Style's 5 essential school items every child needs in their school wardrobe to kick the year off properly.
STAIN-PROOF
SCHOOL BLAZER
All parents know that blazers are a key element to looking smart for school. Make sure you update your boy's wardrobe with a classic black blazer in a regular or slim fit. It offers versatile functions such as warmth, layering and smart styling, and makes the perfect throw over layer to wear under his overcoat for extra warmth.
Girl's school blazers are both stylish and hard-wearing too and can also be used to layer for cold days. Featuring weatherproof and crease resistant technologies, it will keep her dry in the rain and help keep away stains so she's looking smart all day. A good tip to remember when buying school blazers is to go a size up so that it can be worn for an extra year.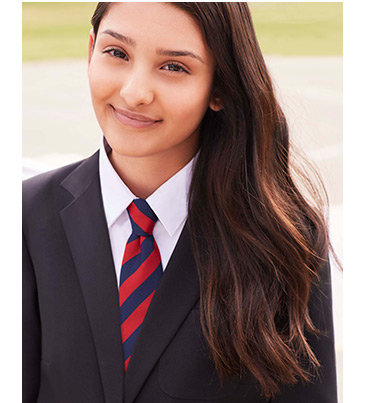 COSY
SCHOOL JUMPERS
Sometimes a school blazer can be too restricting to wear all day. Opt for girls' cardigans or boys' v neck jumpers for the classroom instead. Our school jumpers have been crafted using 100% cotton and with long lasting colour technology that will help maintain their fit, colour and warmth so your kids can wear them over and over again.
Consider going one size up so that they will pull over their school shirts comfortably as well as provide extra room for growing kids.
PRETTY
PLEATS PLEASE
A pretty pleated skirt is a classic garment for your girl's school wardrobe. Parents will have no trouble washing and ironing them as they are coated with a Teflon finish which means it's easy to clean stains and smooth out wrinkles. Also true to size, your girl will love the comfort it brings for learning and playground fun.
Add variety to her school wardrobe with a traditional and classic pinafore dress. Featuring a pretty flared skater skirt and bow detail at the waist, it will go perfectly with her school blazer and ballet pumps to earn her extra styling points. Tie her hair up beautifully with pretty headbands so she's presentable from head-to-toe.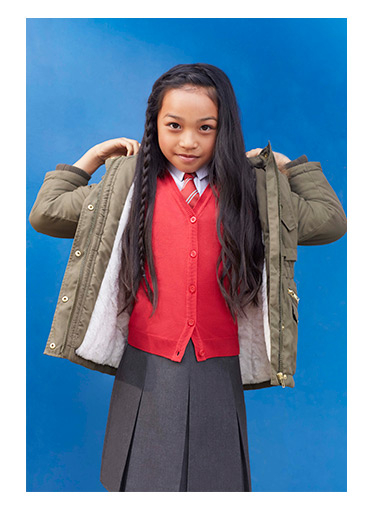 SMART
SCHOOL SHIRTS
A pop of fresh white collar peeking out of the jumper is a good way to smarten up their look. Choose a pintuck shirt for your little girl that features shoulder pleats and heart shape buttons to add a stylish addition to her school wardrobe collection. Alternatively, a value pack of 5 long sleeve shirts is the perfect set to add to her weekly rotation to keep her presentable throughout the term.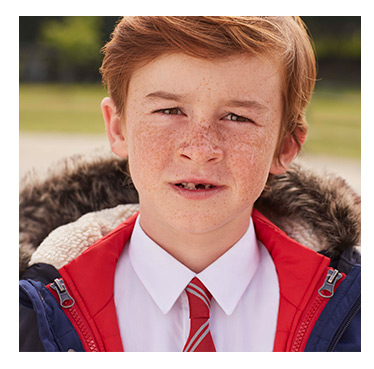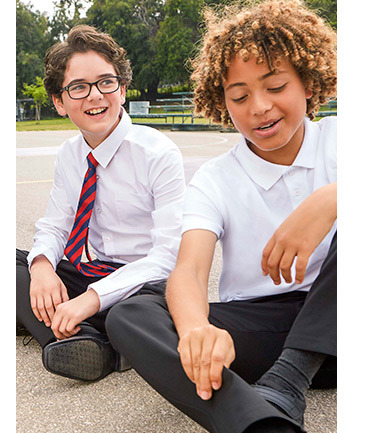 Make sure your boy is set for the new term too with amazing value polo shirts. You'll want something that washes and fits well, as well as maintain its crisp white colour for longer.
EVERYDAY
SCHOOL SHOES
Parents can now choose stylish and comfortable girls' school shoes like this classic pair of loafers with bow details that will see your little girl through all her classroom days. It's the perfect pair to match the rest of her school wardrobe.
It's also important boys' school shoes are hard wearing for all kinds of weather and activities. That is why black slip on shoes are the perfect option to choose for classroom and playground fun.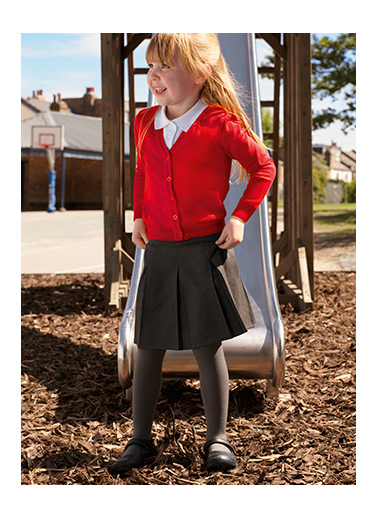 Send your kids back to school in style with our A* range of school uniform that scores top marks in affordability and quality, only when you shop at George.