As a parent, you want your children to grow into bright little stars. It's an exciting time when your baby starts learning and taking their first baby steps, or saying Mama and Dada. There are many ways to aid their language development and mobility, and baby toys are just what you need to accelerate their learning, whilst making sure they have plenty of fun along the way.
Life & Style share the toys you need in your baby's toy box collection that will allow them to use their imagination, physical and motor skills.
Interactive Playmats to Encourage Movement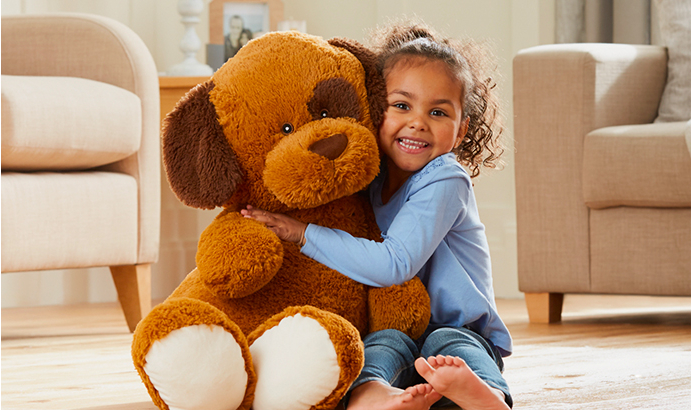 Every day will be fun for you and your little one when you set up a playmat in the living room. You can bring their magic mat to life by choosing one with colours, lights and sounds that respond to your baby's movement. Take the Fisher-Price Rainforest Music & Lights Mat, which has active toys that encourages teeny tiny hands to reach up for it.
The great thing about playmats is that your little ones have to use their minds and bodies to interact with their toys. This will keep them entertained for longer, as well as helping them learn more through colour-changing lights, music and hanging soft toys.
Baby Toys that Encourage Explorations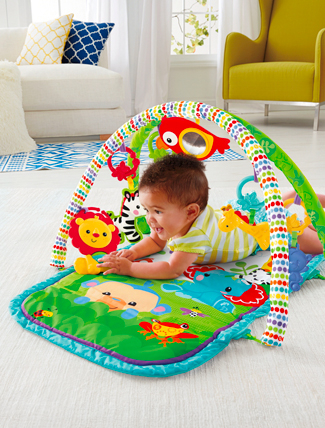 As your baby grows into a toddler, they become little explorers who learn through movement and play. Baby toys can shape their development, so it's important to select ones that will encourage new skills and exploration.
Choose puzzle games, Lego blocks and art materials like Play-Doh. With a little guidance from parents, you can let your child explore endless creativity that will help them build their logical thinking skills, and hand-eye coordination to understand how colours and things fit together.
Baby Toys that will Grow with your Child
Get your baby a toy that will provide them a long lasting experience. Wooden toys are both a joy for parents, as they are for your little ones.
Choose quality wooden toys such as vehicles, dolls houses, animals and playsets. Parents can help them role-play to stimulate independent play time when they are alone, or with siblings. Wooden toys are fun for different evolving stages, allowing plenty of room for imagination.
Character Clothing
and Reading Toys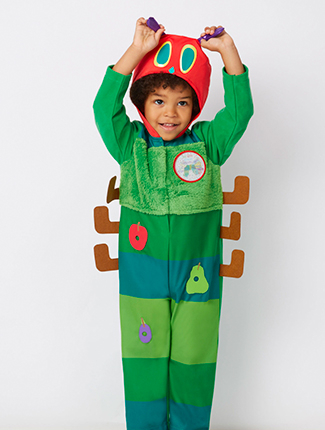 Seek out toys that will encourage your child to learn the alphabet. An ABC Learning Train set will get your little one on the fast track to learning the alphabet by stacking colourful letter blocks together. Another great way is to dress them in character clothing for story time. This will help them become familiar and build language and literacy skills with letters, animals and character prints like the Hungry Caterpillar, or Disney characters like Jasmine, and Superheroes like Batman.
Baby Toys that Spark Imagination
Look for toys your child can use for pretend play and act out stories from their bedtime books and Disney shows. You can dress them up in cute baby fancy dress costumes that will help them exercise their imagination and build upon their pretend play games. Add action figures, racing cars and real life accessories they can use to improvise with.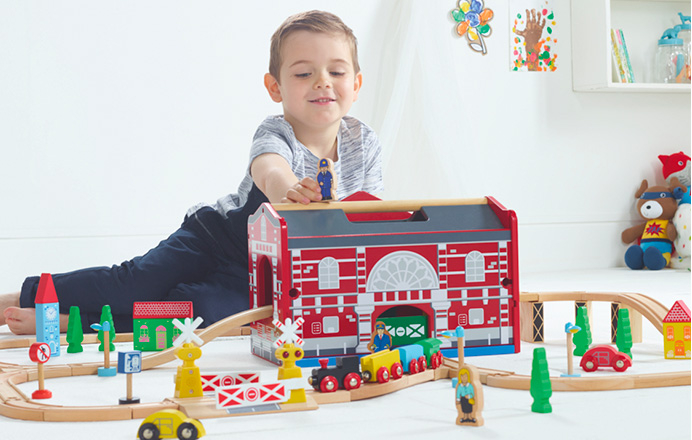 At George, choose from our range of baby toys that will grow with your child, challenge them and nurture their overall development.