World Book Day is a time for children of all ages to come together and celebrate the beauty of reading, and bring imaginative stories to life. However, finding a character your child is happy to dress up as can often be tricky for parents.
Life & Style have selected brilliant kids' fancy dress ideas and fuss-free outfits that you can create instantly, straight from your child's wardrobe.
1. DRESS UP
AS MATILDA
One of Roald Dahl's delightful reads for kids and adults alike, is the brilliant story of Matilda. This little girl is a child genius and develops supernatural powers to move things with her mind. It's no wonder why your little ones adore her!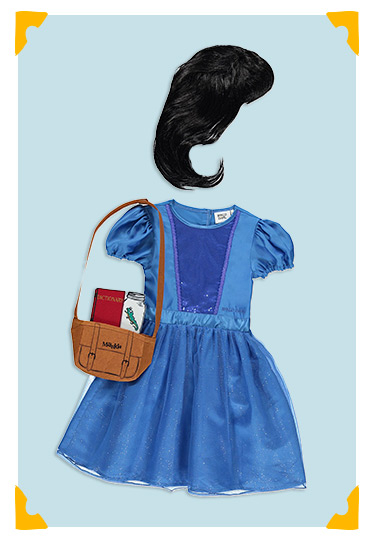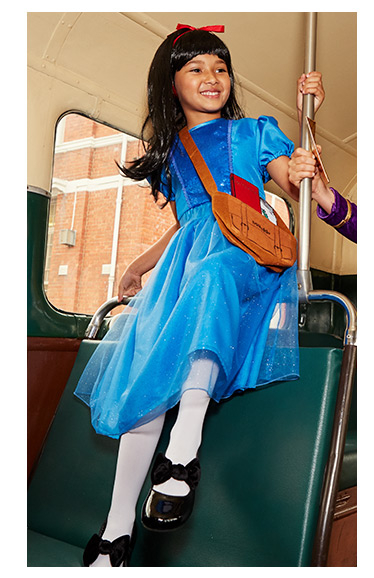 This sweet look can easily be created with what's already in your kid's wardrobe. Add your own personal twist and choose girls' dresses in a blue colour like embroidered denim, or floral print design. Tie a pretty red ribbon in her hair, and have her carry a stack of books to school, to complete the Matilda look.
2. CHARLIE AND THE CHOCOLATE FACTORY CHARACTERS
Oompa Loompa doompety doo, we've got the perfect costume for you. Open a world of pure imagination for your little Roald Dahl fans in an Ooompa Loompa fancy dress costume. This cool all-in-one design features button detailing and a green wig, so they can re-enact the iconic dancing and singing scene.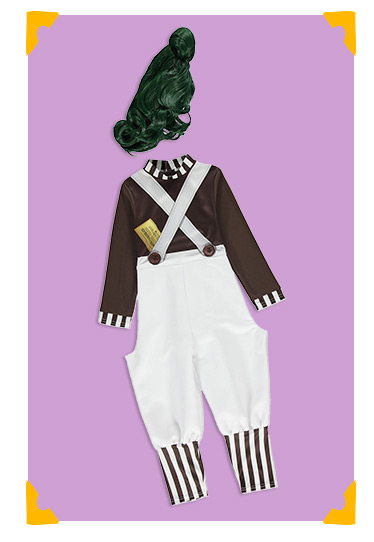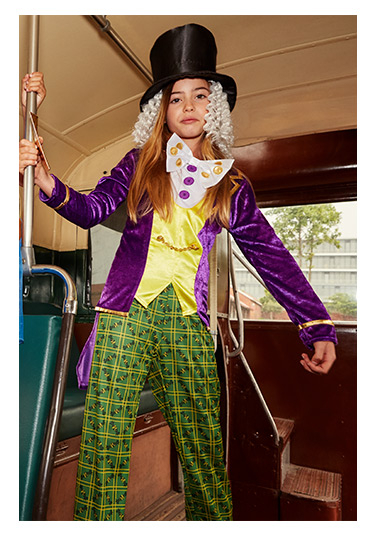 Or how about the wonderful and wacky Willy Wonka fancy dress costume? The all-in-one top is designed to look like a jacket, waistcoat and shirt with purple and gold-tone button detailing, complete with a bow tie. World Book Day at school won't be same without one these great characters, so take your pick!
3. DRESS UP AS HARRY POTTER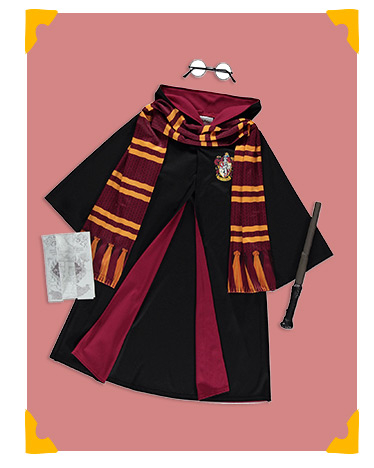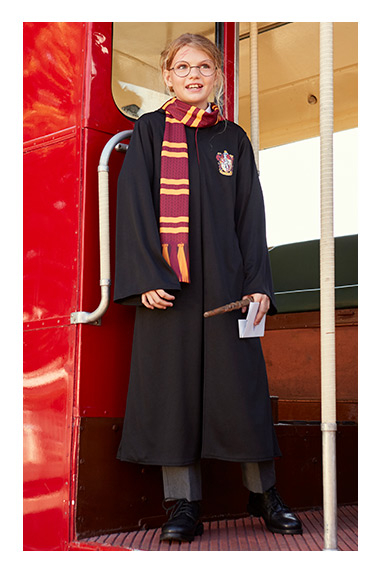 Send them to the school of Hogwarts and join in the magic of J.K. Rowling's Harry Potter. Whether they belong to Hufflepuff, Gryffindor, Slytherin, or Ravenclaw, your little wizard-wannabe will look ready to conjure up some spells in Harry Potter fancy dress costumes.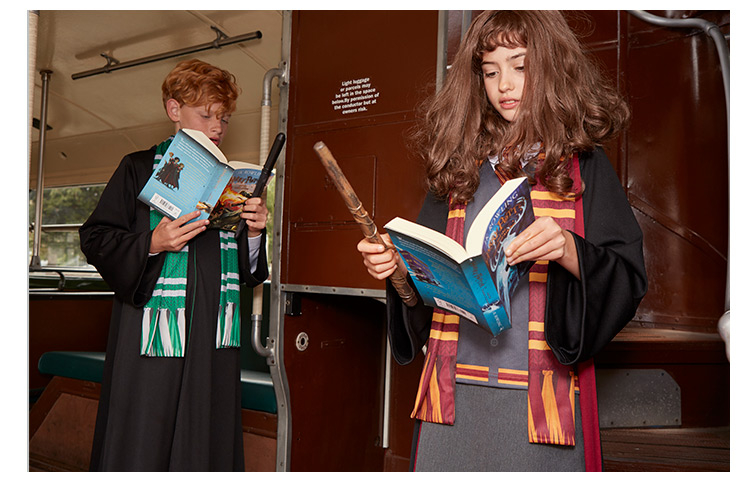 Depending on which house they belong to, the outfits feature a black robe, a scarf, and a wand. As a student of magic, your little ones will be ready to show off their skills at the school book event.
4. DAVID WALLIAMS
BOOK CHARACTERS
Do your little book worms enjoy David Williams books? Then they'll love to transform into the international jewellery thief from Gangsta Granny. Let them explore their wild side and disguise as a granny in an all-in-one dress and cardigan kids fancy dress costume.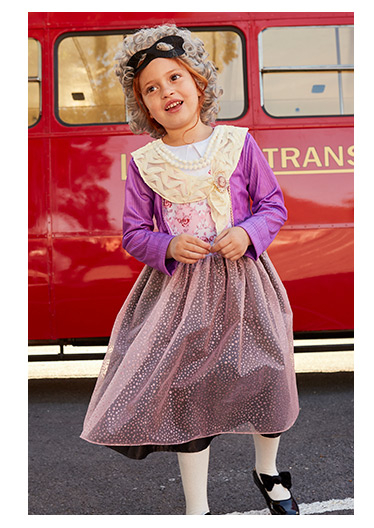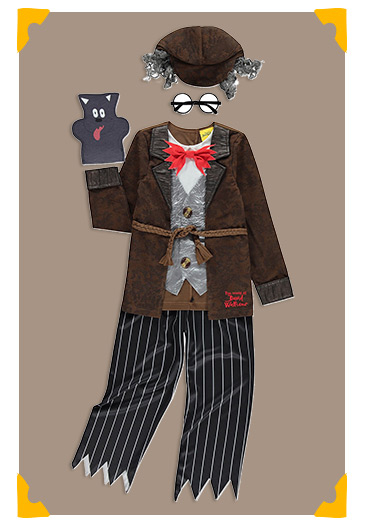 This look is a great choice for parents who haven't had the time to plan or buy a costume. Choose a long girls skirt or a dress to wear under a patterned blouse, or a buttoned pink cardigan. Then paint on an eye mask and use a pillow case as a sack style bag.
5. DRESS UP AS
DISNEY CHARACTERS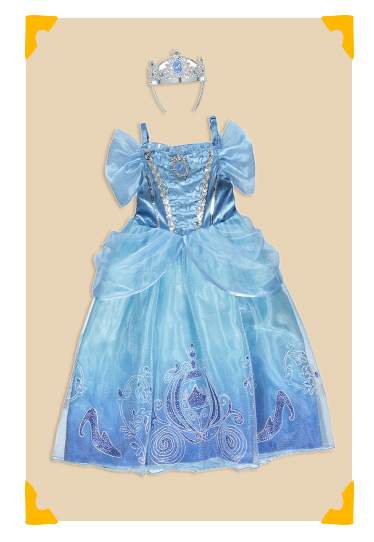 If your little one loves fairy tale stories, transform them into one of their beloved characters with Disney princess fancy dress costumes. Let them become Princess Rapunzel, in a pretty purple sequined dress, featuring a jewel crown to complete the outfit. Or get into role as Snow White in a beautiful gown that will definitely be the centre of attention at their school book event.
6. BABY CHARACTER CLOTHES
If your little baby is too young to read, you can still get them ready for story time with a baby fancy dress costumes. They'll look adorable tucked in their cot dressed in a Disney Winnie the Pooh sleepsuit. Or wrap your little one up in a Sleeping Beauty sleepsuit to enter a magical world of dreams.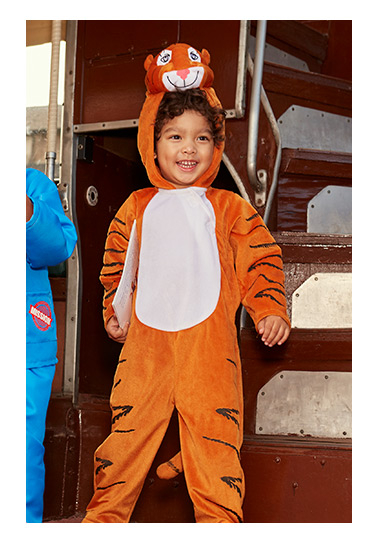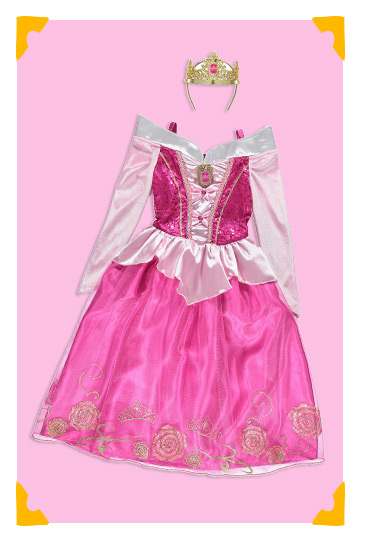 7. ADULT FANCY DRESS COSTUMES
Dressing up for World Book Day can be just as fun for adults. Parents can enjoy feeling like a kid again in one of their favourite T.V. shows and books too. Women's fancy dress costumes will let mums look like they're straight out of a fairy tale book in a Little Red Riding Hood, an Alice In Wonderland, or a Wonder Woman costume. While men's fancy dress costumes range from Marvel characters and superheroes.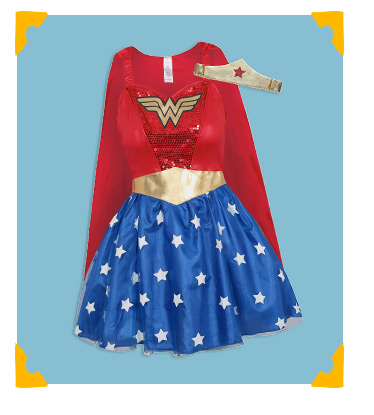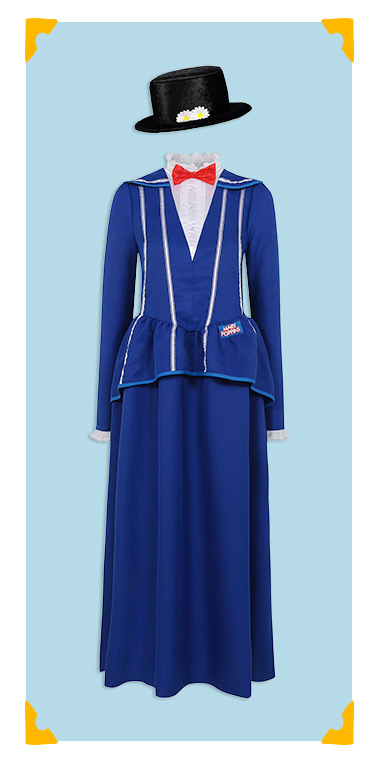 Let your kids step into character at their school book event and shop from our range of kids fancy dress costumes that feature all their favourite characters from the books they love.