As the temperature rises, it's time to dig out your summer wardrobe and get your sunglasses and sandals on. One of the great things about warm weather is throwing a BBQ party in your back garden. Nothing beats the smell of a barbecue, and a cold cocktail to enjoy on a sunny day. With a bit of imagination, there are many ways to throw a BBQ Party in your home.
Life & Style share tips and tricks on how to make use of any outdoor space for a fun barbecue get together.
PORTABLE BBQS FOR BALCONIES
Don't worry if you have a small balcony to use, think about enhancing the cosiness with smart garden furniture. You'll want to use multi-functional pieces, such as a 3 Piece Bistro Set that's easy to assemble and fold away when it's not in use. Or why not pick stylish Patio Tub Chairs, and move your living room coffee table outside for the day? To get creative, you can scatter a few giant bean bags and floor seats, and decorate with outdoor lighting to create a comfy space your guests won't want to leave.
There are many options to choose from when it comes to BBQ grills. Think about using a small portable barbecue that can feed up to 3-4 people, or a wheeled barbecue can be quickly brought out and put back in storage. Not only that, with more warm weather approaching, it's practical and convenient to carry to festivals, outdoor parties, and picnics in the park.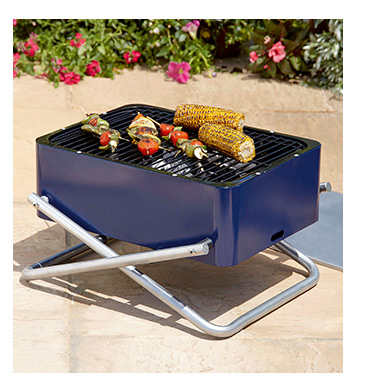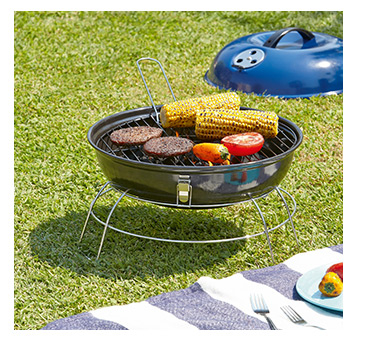 BBQ GRILLS FOR PATIO AREAS
You can use your patio area all year round. It's a great way to merge indoor and outdoor spaces, especially if your patio has a retractable roof to shelter under from the rain, so that you can tend to the BBQ from a safe and ventilated area. A Gas Barbecue with a large grill area will cater for family sized and big events. It's also helpful to have shelves on both edges to neatly prepare sides and
fillings at the same time.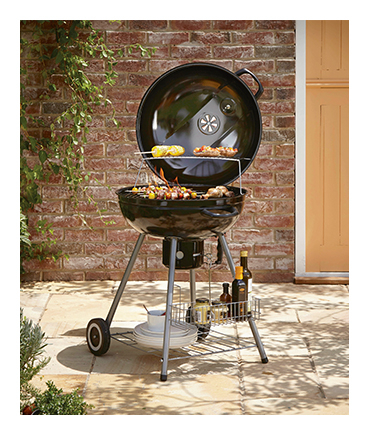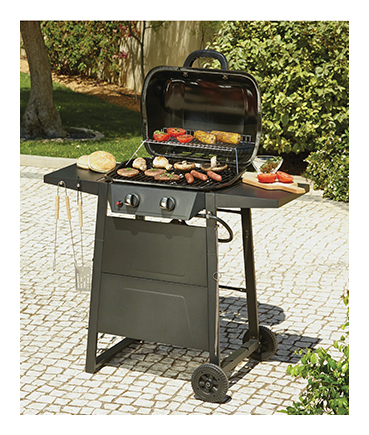 As most patios lead into the conservatory room, it's important to remember that you should never take a lit BBQ into a conservatory. Even if you have finished cooking, keep it outside as it will still be giving off fumes, hours after use.
USING A GAS BBQ FOR ROOFTOP PARTIES
If you have a rooftop space, why not transform it with artificial grass and laid-back deck chairs in funky watermelon, botanical or striped prints? By combining high city views with low-maintenance garden furniture, you can create a perfect space for your BBQ and summer parties.
If you have a large rooftop area, look for BBQ grills that are ideal for warming up and cooking food that serves up to 10 people or more. A foldout wooden shelf is perfect for keeping utensils and food at hand, so you don't have to worry about regularly going down to get things from the kitchen.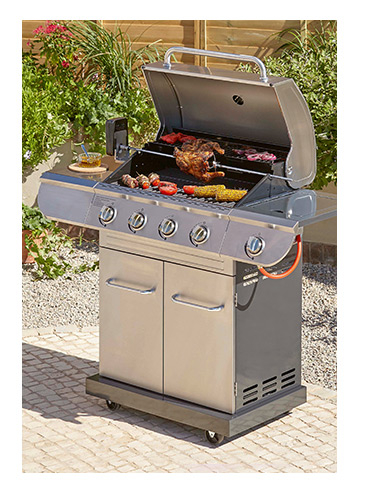 BBQ FOR SMALL OUTDOOR SPACES
Want to create the perfect space for relaxing and winding-down in small outdoor areas? A stylish canopy, including folding chairs, evoke a resort-like feel. Choose a Dancook Kettle Charcoal BBQ that serves up to 20 people. It's a traditional style BBQ with an easy clean porcelain enamel cooking grill. Plus it also has a separate warming rack with a closing lid for slower, lower temperature cooking.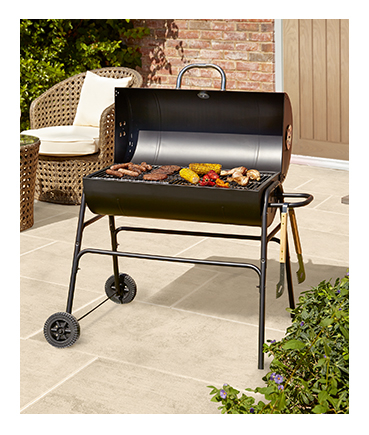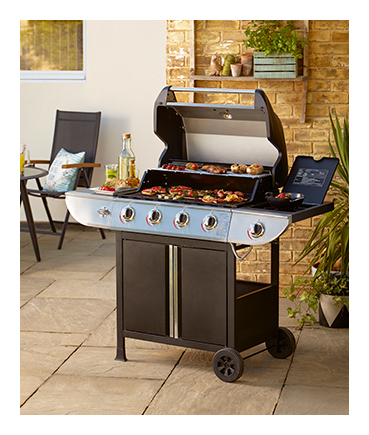 Make sure the kids have fun too with outdoor toys such as playhouses, for little minds to create their imaginary world. Or the Little Tikes slides that are a fun, and practical way to keep them distracted while adults are busy preparing the food.
BBQS FOR BIG OUTDOOR SPACES
You'll want your BBQ to be child-friendly too. To make sure the kids have fun in the sun, outdoor toys such as trampolines, bouncy castles and pools are perfect for bigger gardens. Parents can watch their kids closely, as well as have the space to enjoy a catch up with friends.
Setting up an outdoor kitchen is a perfect summer setting for an alfresco dining experience. This removes the worry of running in and out of the house to serve your guests. Choose a 4 Burner and Side Gas Barbecue that's perfect for cooking food that's full of smoky flavour, including a large grilling shelf for big gatherings. With some stylish seating, garden ornaments and pretty flowers, make sure you have a splash of colour in your garden to brighten up the space this summer.
We know how unpredictable British weather can be. To protect your summer gathering from both the sun and rain, head over to George to find everything you need from outdoor cooking essentials, and stylish seating plans, to host a BBQ for any outdoor space.