Your child's bedroom is a special corner of the house that's all theirs. A place where they can learn, play, relax and (most importantly) sleep! The key to the perfect kids' bedroom is to create a cosy and colourful space that you'll both love, and with our range of kids' bedroom furniture they're guaranteed to have the sweetest dreams. From nifty storage solutions to the bed itself, our kids' furniture buying guide will take you through everything you need to create their dream room.
Kids' Furniture Checklist
Kids' bed
Kids' mattress
Kids' bedside table
Kids' desk
Kids' wardrobe
Kids' chest of drawers
Kids' storage units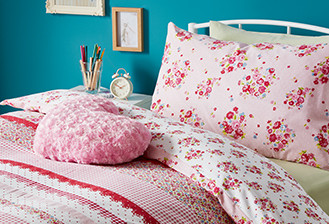 Our top tips for kids' bedroom furniture
To avoid trapping little fingers, choose your kids' furniture wisely. Most of our kids' bedroom furniture range comes with soft close drawer runners and door hinges to avoid any accidents and tears at bedtime.
Our high-quality kids' furniture is built to last and designed to take your little one through every stage. Most of our kids' wardrobes come with two hanging rails and a multi-positional shelf that you can move around as your child – and their clothing collection – grows!
Kids' needs change as they grow from tiny tots to schoolchildren and beyond, and our kids' furniture range is designed to grow as they do. Why not build on their original nursery by adding coordinating shelves, chests of drawers and a bedside table?
Storage doesn't have to be boring. Colourful character tidies, pretty desks and bookcases will keep things fun – little ones won't mind tidying up if they have a cool place to stash all their knick-knacks. After all, when it's all put away there's more room to play!
Kids' Beds
One of the most important items of furniture in a kids' bedroom is a bed. From tiny tots to teens, kids need different sizes of bed as they get bigger. Luckily, we've got the perfect frames for every age and stage.
Too small for a single bed but ready to move on from a cot? They'll love hopping into a toddler bed. Specially designed for kids between 18 months and 4 years old, they're the same size as a cot bed (140x70cm) and are super easy for little legs to get in and out of. With a huge range of cool colours and zany designs, they're made for sweet dreams.

A cot bed was the perfect choice for Elise. It gives her a bit of independence – she can safely get in and out herself – but it's low down on the floor, so gives me peace of mind as well!
Elise's (3) Mummy
At 3ft (190x90cm), all our single beds are the safest choice for kids aged 4+, and they all come complete with wooden slats for ultimate comfort and durability. From beautiful hearts to football prints, we have the perfect bed for them.

Leon loves his George bed – and so do I. It fits perfectly in his room and is so comfy and cosy, so he doesn't get scared at night.
Leon's (4) Mummy
Measuring Tips
Buying any kids' bedroom furniture is a big investment, so it's crucial to get your measurements and proportions right. Thankfully our kids' furniture buying guide is on hand to ensure you get a perfect fit every time.
Make sure the mattress you choose is the correct size for the bed. All our kids' beds include mattress size information both on our website and with the product.
To ensure that your new kids' furniture is in proportion and looks its very best in their bedroom, measure the surface area of where you'd like each piece to go. Little ones will love having a say and helping to plan out their special place.
It's a good idea to map out a rough floor plan with masking tape – remember to leave enough space around each piece of kids' furniture.
Check the width, height and depth of the kids' furniture you would like to order and include this in your rough floor plan and against the ceiling height. Does it all fit easily?
With the exception of side tables and bedside tables, the rule of thumb is to allow at least 50cm of space between pieces of kids' furniture.
Those in the know also suggest leaving a distance of at least 20-30cm between a tall piece of kids' furniture and the ceiling to create a feeling of space in the room.
Finally, it's got to fit through your front door! Make sure all your kids' furniture can fit through your doors, stairs and hallways before you buy to avoid any disappointment. To ensure it does, check the boxed dimensions on each George.com product page.
See our kids' bedroom furniture range