Meeting your newborn is such an exciting time and we bet you're counting down the days until you get to give them their first ever 'welcome to the world' cuddle. However, before then there's lots of exciting things to get working on and one of those is picking out their nursery furniture – even if they will be staying in your room for the first six months!
We've enlisted the help of Louise Parker, Senior Furniture Buying Manager (and first time mum-to-be) at George, who has been researching her own nursery must-haves, making her the perfect person to give you advice and tips on creating their perfect first room. Check out her furniture buying guide below, which includes tips about measuring, what nursery furniture you'll need and what mattress and cot will suit you and your newborn.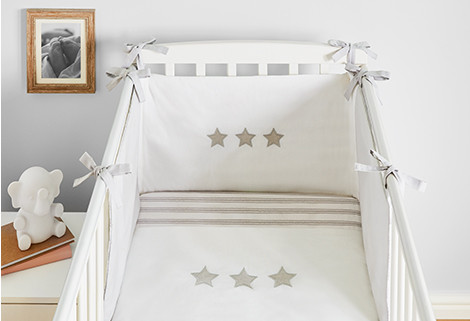 Picking the cot was probably the hardest part of nursery furniture shopping. There were so many to choose from. I wanted to make sure I found the perfect cot for my little one, after all they have to be comfy when they sleep! Here's some of the useful things I learnt…
I thought I had to buy a Moses basket first, but cots are suitable for newborns.
Cots come with an adjustable-height mattress base – you keep it high for when they are tiny and lower once your little one masters the art of sitting up in their cot.
Some cots come with plastic teething bars, which are great for babies who love to chew and perfect for keeping that cot tooth mark free!
Look for cots with storage – every little bit helps!
Mattresses are sold separately.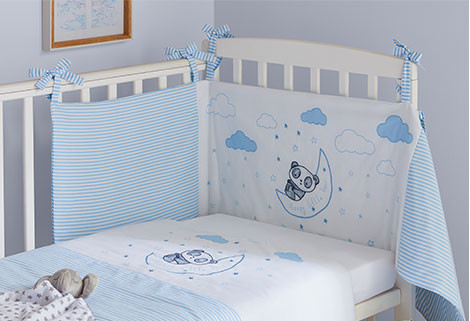 When I first heard the words 'cot bed' I had no idea what the difference between this and a cot was. As it happens, a cot bed is larger than a cot and has removable sides, which means a cot can easily be converted into a toddler sized bed. There are of course pros and cons to these. Here's mine.
They can be used from newborn until your little one is approx. 4 years old.
They are a great investment as you don't have to buy a separate toddler bed.
Can be bulkier than a cot so not a good option for smaller spaces.
Only goes to toddler bed size so you will have to replace it once your little one gets taller.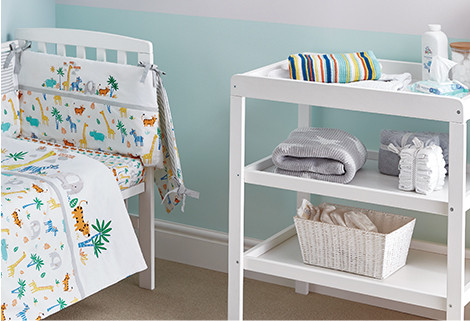 My other half and I debated whether we needed one of these. He argued that we could use a changing mat. However, a changing unit is so much more than a place to change nappies – especially if you buy the right one. Here's why you need one and what to look out for.
Will save a lot of bending down and backache! And it's great if you've had a C-section!
There are three different types of baby changing units, each with different qualities to help different mums!
1) Cot top changer
This can be put on and off the cot as and when it needs to be used. It's perfect for a smaller nursery as it doesn't take a lot of space. Plus it's a value for money option.
2) Open changer
This is a simple frame with storage below for nappies, wipes and clothes. If you don't want to be putting a cot top changer on and off then this may be a better unit for you!
3) Chest changer
Some chest changer ranges come with storage underneath, including shelves for towels and clothes. I'll be looking for one of these as I have a lot of things that need storing. I'll also be stacking up on the wipes, nappies and clothes so I can grab them quickly while I change my little one!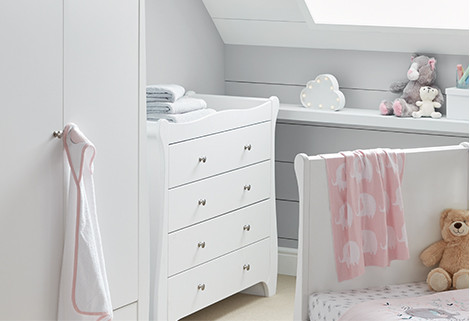 A few well-chosen pieces of furniture can make storing your little one's clothes, toys and essentials simple. I wasn't sure about buying a huge range of furniture but many of the George collections have been designed to grow with your little one so think about adding a matching bookcase or bedside table as they grow! Best of all they are easy to assemble too! Here's some things to look out for.
Look out for drawers and bookcases that offer lots of storage – babies have lots of things!
George Home nursery wardrobes come with multi-positional hanging rails (x2) and a shelf inside, which means you can move them around as your child – and their clothes – grow.
Pick wardrobes and drawers that match the cot and other pieces of nursery furniture for a nursery that dreams are made of.
Look for ranges that have soft-close drawer runners and door hinges – meaning no slamming doors and trapped fingers.
The best way to make sure you get a perfectly spaced nursery is to use cardboard to draw out the measurements of the new nursery furniture you want to buy, and place it in the nursery to work out where it will fit.
Check how much space you have
Finally, it's got to fit through your front door! Make sure all your nursery furniture can fit through your doors, stairs or hallways before you buy to avoid any disappointment. To ensure it does, check the boxed dimensions on each George.com product page.
See the nursery furniture range