Shopping for swimsuits for your holiday might seem like a loathsome task and can cause more anxiety than excitement. It's very common for women to struggle to find flattering swimsuits which they will feel comfortable in, so you're not alone. With less overthinking and overcoming a bit of trial and error, you can transform the way you feel next time you're in the dressing room, or have your swimsuit on.
Life & Style are here to help you feel absolutely sensational with figure-flattering swimsuits to suit your body type.
TAKE MEASUREMENTS
First of all, you need to know what body type you have. Bring out the measuring tape and measure the bust at the fullest point, hips all the way round to the widest point, and the waistline where it is smallest. Once you have the numbers, you'll be able to choose the best style for your body type.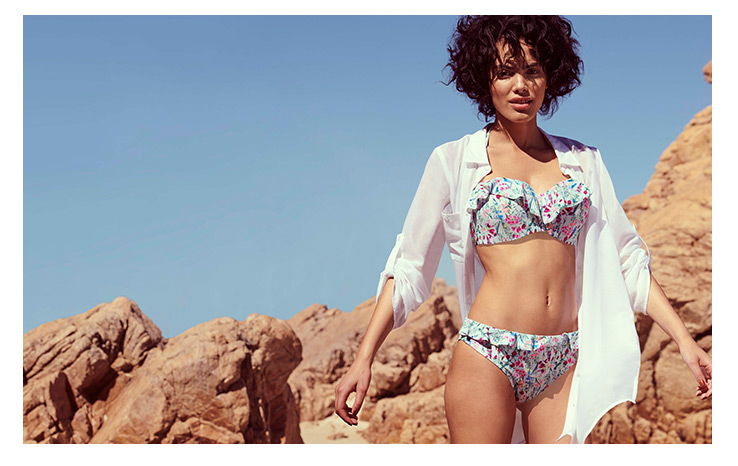 SWIMSUITS FOR AN HOURGLASS BODY
Think of Marilyn Monroe or Scarlett Johansson when it comes to hourglass figures. Women with this shape have equal hips and busts size, and a smaller waistline. When picking out bikinis, having an hourglass shape means most styles will suit you.
To show off your slim waist, try high waisted bikinis, they are a chic option and will emphasize your curves. Mix and match bikini tops if you fancy block colours or fun prints to balance out brighter shades.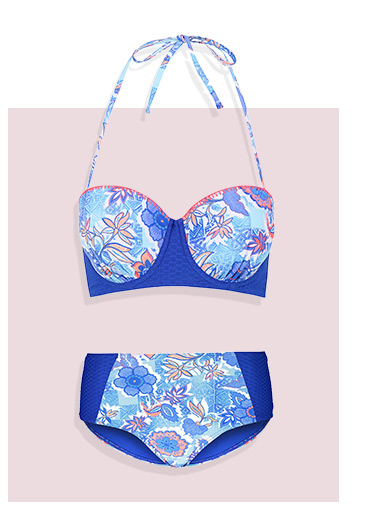 SWIMSUITS FOR PEAR FIGURES
It's important to get the proportions right when shopping for pear shape figures. Jennifer Lopez or Kate Winslet are some of the women with this body type, as the top half of their body is a lot smaller than their hips.
Bikini tops with details draw eyes up and away from the midriff area, whilst boy shorts offer full coverage. Choose one with a belt design to flatter the tummy area. They are a feminine and modest look that will help balance out your proportions, as well as turn heads by the pool and on the beach.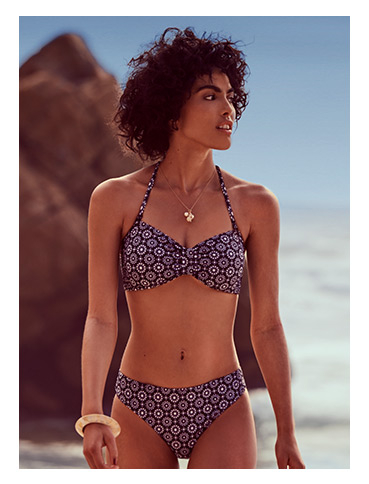 SWIMSUITS FOR STRAIGHT FIGURES
This body type is when your hips, waist and bust are almost aligned, like Cameron Diaz. If your shape is similar to Cameron's, you're in luck! With the right swimwear, there are many ways to create the illusion of curves. Busy prints like tropical swimsuits or an all-over flamingo and pineapple style add dimension to straight figures.
While two pieces give you the freedom to mix and match colours, cuts and styles. Choose bikini bottoms with a contrasting band, or a tie belt to create the appearance of wider and shapely hips. Team them with lightly padded triangle tops to show off a bit of cleavage.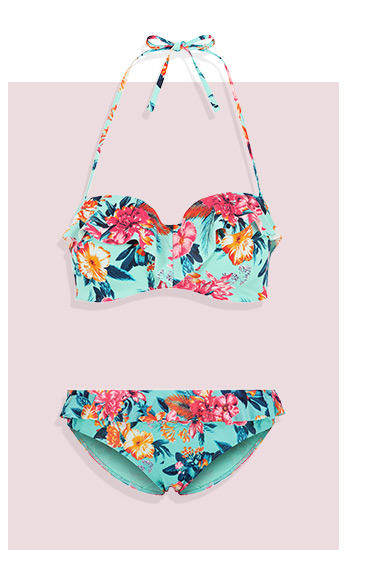 SWIMSUITS FOR
AN APPLE SHAPE
This body type describes women who are rounder in the waist area and most likely have a larger bust. Celebrities like Jennifer Hudson, Angelina Jolie and even Catherine Zeta-Jones are some of the apple shaped women we know.
When choosing a swimwear, pay attention to prints, necklines and silhouettes to draw attention away from your tummy. High waisted bikinis with control panels help flatten your tummy and smooth out bumps. Team them with a colourful tankini top, as it allows you to play with the style, and get more looks in than a one-piece suit.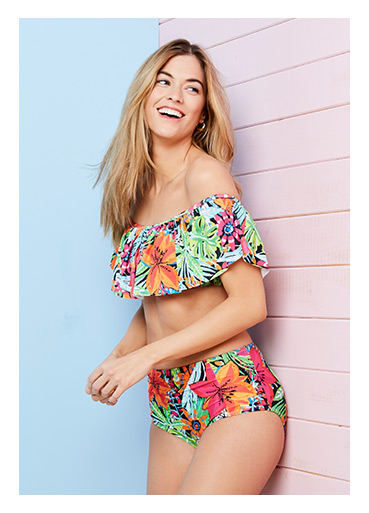 MATERNITY SWIMWEAR
If you're looking for maternity swimwear inspiration, check out the latest looks from Serena Williams, Beyonce, and the Kardashian women. For all the mums who are expecting, it's so important to make sure you feel comfortable, with designs that are flattering and in trend.
You and your bump can steal the spotlight when it comes to maternity swimwear in a playful polka dot print that evokes 50's vibes. Or why not combine the comfort you need with a slogan swimsuit that's at the forefront of style. Reading 'Does my bump look big in this?', you'll be turning heads and making a few people smile along the way.
ACCESSORIES
WITH SWIMWEAR
There are many ways to draw attention away from your less confident areas. Go for large sun hats and oversized sunglasses that will look stylish for your poolside look. Why not add colour and layer up an ordinary swimsuit, by tying a pretty printed sarong as soon as you jump out of the water?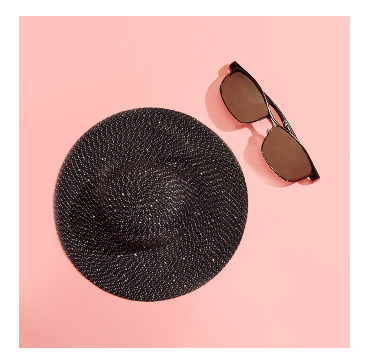 When the sun's out and the pool is calling, get out there and shine brightly in the latest women's swimsuits. Head over to George and find everything you need for your holiday wardrobe that ticks all the boxes for a playful poolside look.