With September creeping up on us, it's time to give your child's school uniform a refresh and finding the perfect pair of school shoes is a top priority.
From fascinating science experiments to lively PE lessons, every little learner will need a pair of comfy shoes to support their feet through the busy school day.
To make things a little easier, our handy guide is packed with the latest playground-proof kicks!
Replacing School Shoes
Once your child reaches school age, their feet usually grow by one shoe size a year. The right fit is the most important thing to consider when replacing your child's school shoes.
Kids' shoes last for an incredible 700 hours of wear – so with some quick maths, based on the average school day their kicks should last for around six months. Ideally, you will need to replace them once or twice a year or, depending on wear and tear, more often.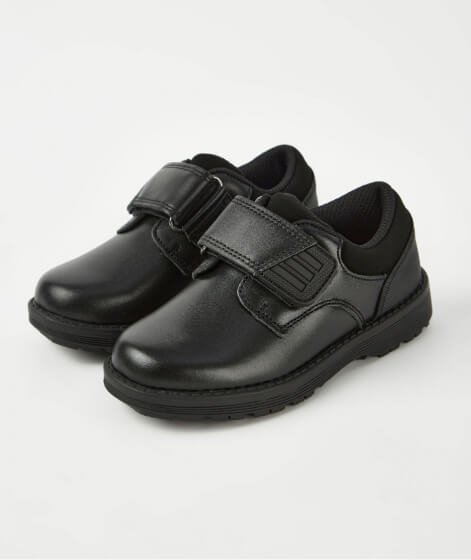 Brilliant Boys' School Shoes
For the brisk walk to school and trips to the library, smart leather shoes and suave loafers are a trusty choice.
Our range of boys' school shoes features quality scuff-resistant school shoes – which means they stay looking fresher for longer (or at least, we hope!).
Choosing a high-quality pair of shoes, made from durable materials will wrap your child's feet with extra support at the heel and toe. Better still, kids will get lots of wear out of them – so you have more funds for treats – yay!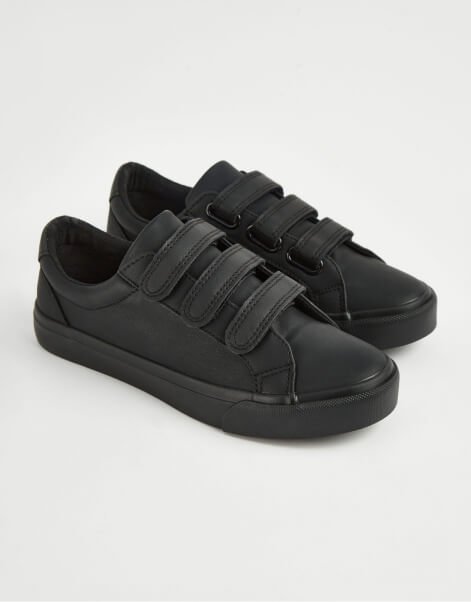 Trusty Boys' School Trainers
Our selection of boys' school trainers are perfect for running across the sports field and jumping through hoops! Practical and super-cool, we've got everything from mesh trainers to astro trainers and even light up trainers – how flash!
School trainers are fab for physical activity, and they make a fun alternative to traditional school shoes – just be sure to double check your child's school uniform policy first.
Here at George, there's something for every little adventurer from classic black and grey trainers to colour-pop blue and khaki pairs.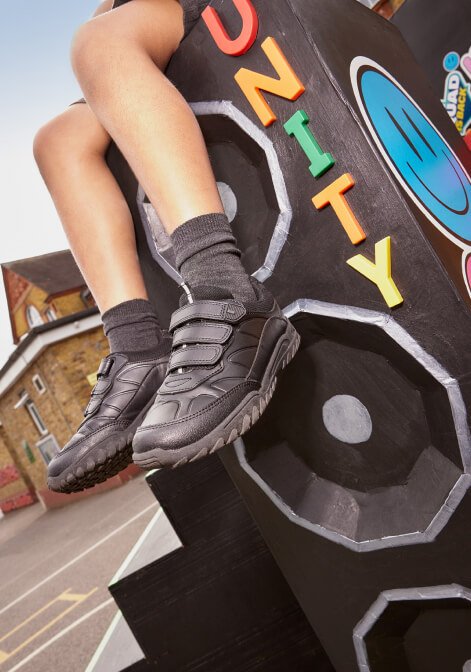 Staple Girls' School Shoes
Every mini fashionista will be smiling with our sweet range of girls' school shoes. Our collection of girls' footwear is not only hardwearing but also super-trendy – decorated with bow detailing, fringe trims and glittery finishes.
Your little showstopper can step into school in style with patent Mary Jane shoes (nostalgic, right?). We love this classic school style, they're easy to wipe clean keeping busy little feet looking super-shiny – with every hop, skip and jump!
We even have vegan-friendly school footwear – simply keep a lookout for the handy Vegan logo to spot the fashionable animal-free pairs.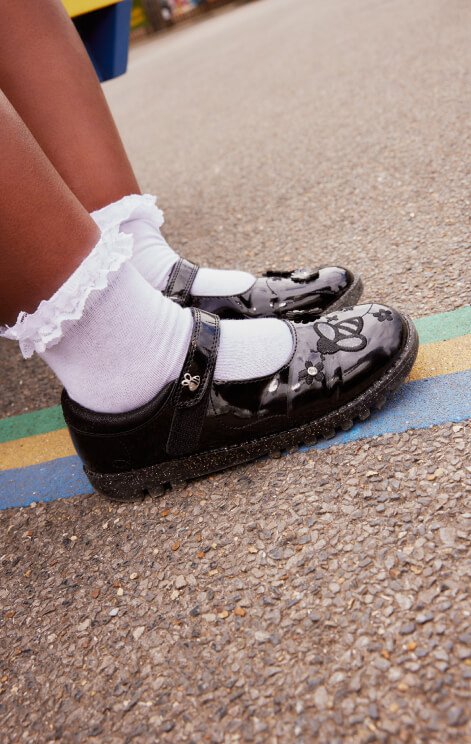 Go-To Girls' School Trainers
Whether they're racing around the athletics track or challenging a pal on the climbing frame, a sturdy pair of girls' school trainers will power their tiny toes with much-need comfort and support.
They'll be spoilt for choice with everything from white chunky trainers, pastel holographic trainers, and rainbow knitted trainers to choose from.
When it's non-uniform day (yay!), they can sport their trainers with a top and trouser combo for a too-cute look.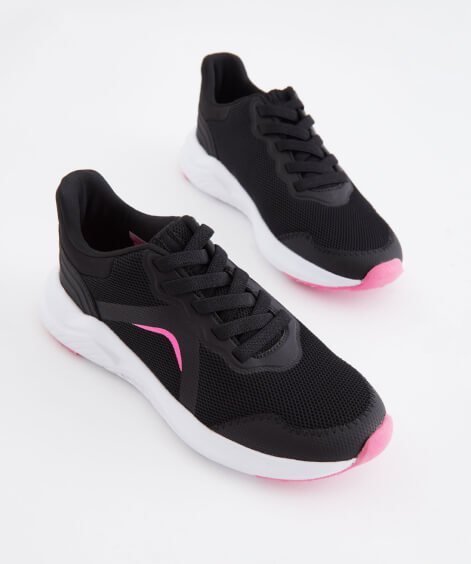 Winning Wide Fit School Shoes
Just like grown-ups, little feet come in all shapes and sizes. With this in mind, we've put together an inclusive range of wide fit school shoes – to bring the perfect pair to every mini scholar.
Spacious and stylish, we've covered all the latest trends with classic patent loafers, moccasin pairs and sweet ballet shoes.
Disney lovers will adore our Anna & Elsa, Disney Frozen school shoes – although we do recommend a pair of wellies for snowy weather!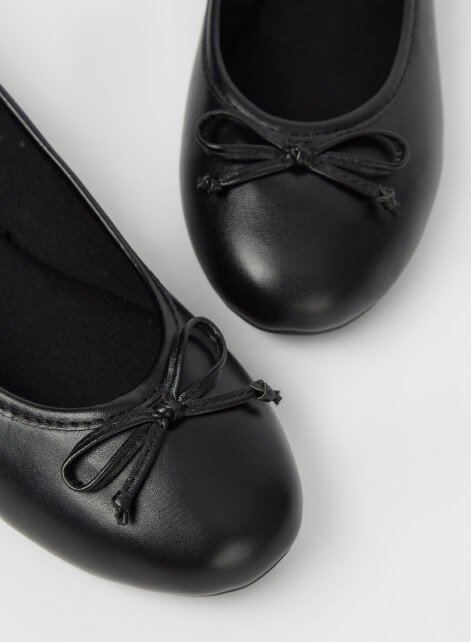 Just Add Socks
Once you've got their footwear covered, school socks are a must-have purchase. Bag a cosy pair of socks for every day of the week across our girls' school socks and boys' school socks.
They can pick from classic black socks and ankle socks to delightful gingham frill socks. Shorter styles and trainer liners are ideal for sports, and they can switch between colours to match their different kits.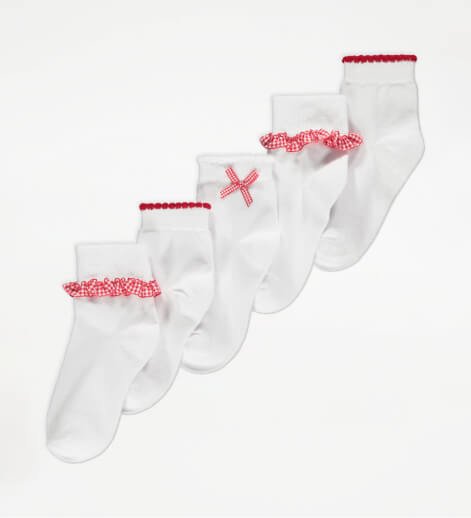 Wrap Up In Tights
The school term starts in autumn, meaning there's a pretty high chance of windy weather and cooler temperatures. Brrr!
Beat the chilly conditions and keep your little love warm in snuggly school tights. Grab a fab value multipack set, which includes plenty of pairs for each school day.
Match their school colours with red, burgundy, cream and black school tights made from kind cotton – comfort guaranteed!