Partywear styling takes on a life of its own in December; with the various Christmas parties looming on the horizon, now is the time to get ready to kick things up a notch. We can't wait to help you enjoy a big night out in style, and have selected some of our favourite outfit ideas that will go down a treat.
Whether you're going for a massive blow out event or more low-key function these options should help make a scene-stealing entrance on the night.
Little Black Dress
Starting with one of the most dependable items in your wardrobe, the Little Black Dress is a party staple for a reason. On the surface it's a black cocktail dress but the LBD offers way more than initially thought. Its appeal is an enigma.
Stubbornly timeless and dependable, we all know that the Little Black Dress will never let you down. The default option for when nothing else looks good, you can't go wrong. It's almost cheating to include it on this list of partywear dresses. The LBD is the fashion icon that will never disappoint.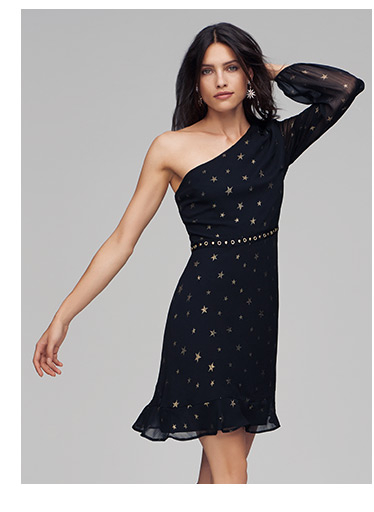 Statement Jumpsuit
This summer many felt the jumpsuit had overtaken the cocktail dress as the outfit of choice. Scarlett Johansson was hardly seen out of one while she promoted Ghost in the Shell. With the backing of heavyweights Kerry Washington and Anne Hathaway, 2017 is looking like the year of the jumpsuit. Even Ascot's notoriously strict dress code finally permitted jumpsuits into the event, quite a year!
Thankfully the outfit isn't confined to the summer and has a prominent role in George's 2017 partywear range. We have a carefully selected edit of statement jumpsuits, the ideal solution for all the Christmas parties and events, perfectly balancing elegance and eye-catching. George have a plethora of options and styles online.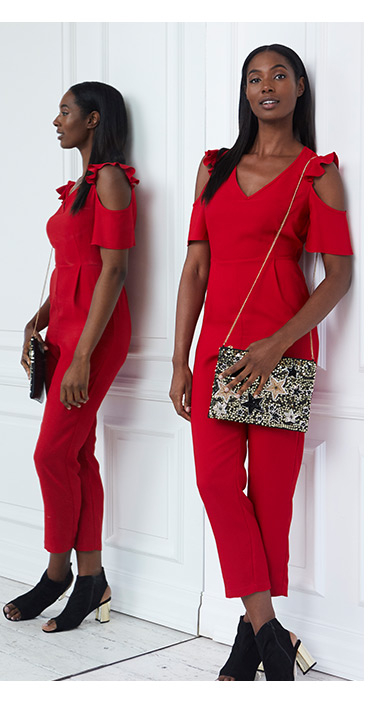 Heeled Sandals
Fine footwork is essential to any great outfit and this year we love heeled sandals in a variety of colours to bring the look together. Be sure to match the colours and tones to the rest of your outfit, the right party shoes in the right outfit creates a unique cohesion.
If there's one thing we'd like to stress for this festive season it's that there's no such thing as too much embellishment and sparkle. Judging by catwalk fashion this rule has been in effect for some time now, so don't fret about showing too much flare at the party.
Party Accessories
The right party accessories are ideal for ensuring the complete outfit gives the right impression. Making a stylish statement is as easy as a sequined clutch bag. With a carefully sequined and beaded design it is perfect for making a statement.
Why not finish things off with a glittery scarf? Sail through the events with gorgeous neckwear that keeps you warm and look great. We love it when practical fashion can be made to look great!
This is the season for looking great and making a statement, with the right outfit you can do both. Take our advice and you'll be the talk of the party.