Missed the memo on World Book Day? Don't panic. While the 7th March is just around the corner, there's still time to transform your child into their favourite book character without having to recreate last year's look.
From fuss-free Harry Potter costumes to outfits based on Roald Dahl characters and fairy tale princess dresses, we have plenty of creative and affordable fancy dress options that you and your child will love. So, step away from the dressing up box and put down your needle and thread because we have everything you and your family need for a fun-filled day celebrating the joys of reading.
MAGICAL HARRY
POTTER COSTUMES
If you've been raiding the dressing up box in search of a mind-blowing child's fancy dress costume, it's worth remembering that sometimes the best ideas are the simplest ones. A family favourite filled with fantastic characters, what kid doesn't love the wizarding world of Harry Potter?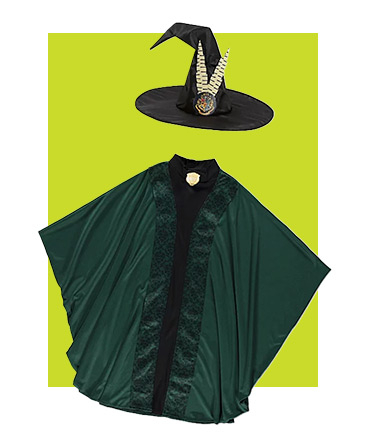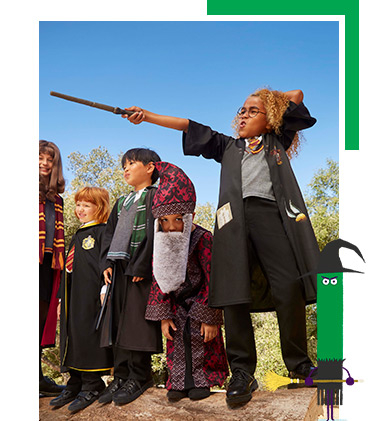 Let them pick their preferred Hogwarts House with our Hufflepuff, Ravenclaw and Slytherin themed robes. They can even try their hand at becoming a master of magic in a bewitching Dumbledore outfit. Fancy sticking to the classic characters? Our Harry Potter costume, complete with a wand and glasses, will let them enjoy enchanting adventures all day long.
THE ROYAL
TREATMENT
From Tinker Bell's Neverland to Jasmine's palace and Rapunzel's tower, it's time to help your little one explore their most treasured fairy tale kingdoms. To make their Disney dreams come true, why not browse our beautiful prince and princess fancy dress outfits?
Whether they want to dance the day away dressed in Cinderella's blue gown or build an ice kingdom just like Elsa, our costumes are guaranteed to give this year's World Book Day the royal treatment.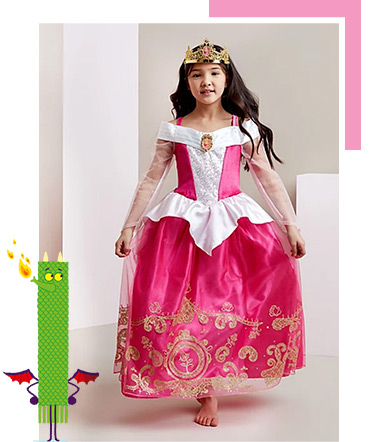 ROALD DAHL
FANCY DRESS
Kids and adults alike can't get enough of the imaginative and hilarious stories of Roald Dahl. From Charlie and the Chocolate Factory to Fantastic Mr. Fox and The Witches, his characters are as comical as they are lovable. To let your little one become part of the story, why not try one of our great value Roald Dahl costumes?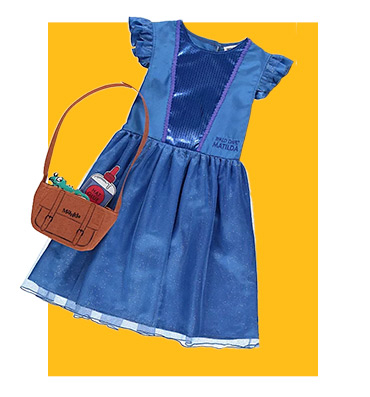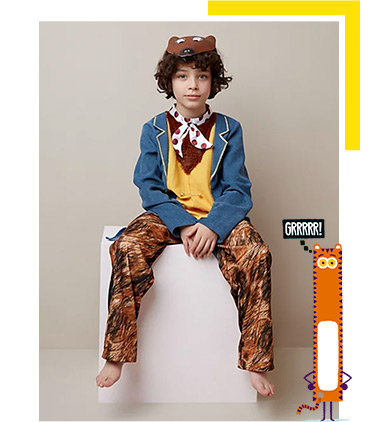 Whether they prefer the snozzcumber eating BFG, Willy Wonka or Veruca Salt, our selection is brilliant for bringing cherished characters to life.
If you want something that can be thrown together the night before, there are plenty of outfits that you can create from bits and pieces around the house. All your child needs to turn into Matilda is a pretty blue dress, a red ribbon and a book. Easy!
SUPERHERO
STYLE
Let your little one embrace their adventurous side with our stylish superhero costumes. From Batman and Wonder Woman to Captain America and Supergirl, your child will be spoilt for choice trying to pick between our standout styles.
Or, if they prefer villains to superheroes, then they can't go wrong pretending to be the infamous Gangsta Granny from the entertaining World of David Walliams.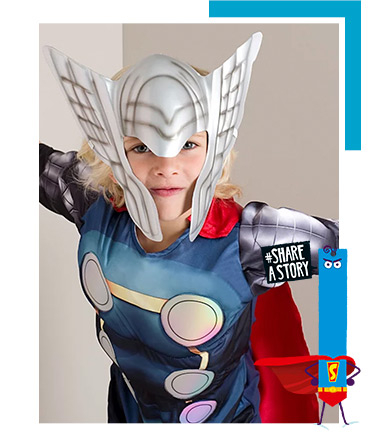 Get the whole family involved in World Book Day with our creative character shop. With JoJo Siwa, Disney and DC Comic collections to choose from, there's something for everyone in our great quality range.