Whatever the weather, denim is forever in style, and there's always a new way to wear it! This spring, brighten up your wardrobe with our denim drop and discover iconic denim jackets, jeans, dresses and ways to style your pieces.
At George, we're all about sustainable denim, and our George For Good collection's packin' denim pieces that are not only super trendy but responsibly sourced too!
Is Double Denim Still A Vibe?
The simple answer is yes! Before you flaunt your best 90s inspired denim-on-denim, remember, denim doesn't just mean blue. You can find your fave pieces in all the colours of the rainbow, from white denim jackets to funky purple denim skirts.
When doubling up on denim, wear washes that are at least two shades apart. We love styling black skinny jeans with a light wash denim jacket. Working with a vibrant top and a chunky belt is an on-trend way to break up them blues. Double denim never looked so good!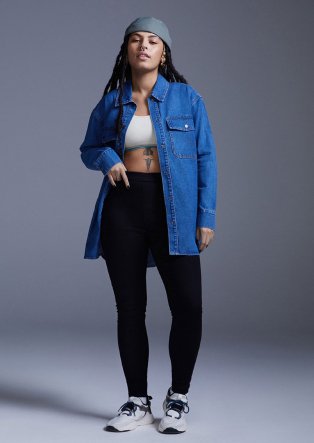 A Wardrobe Must-Have: The Denim Jacket
Meet the denim jacket, the ultimate wardrobe staple. Light enough to wear on sunny afternoons and warm enough to keep you cosy on nippier days, an easy breezy addition to any springtime wardrobe.
Get set for adventure and match classic medium and light wash denim jackets with a bright coloured top, cute skirt and a pair of comfy trainers or sandals.
Fancy a fit with edge? Team a black denim jacket with skinny jeans in either blue or black for a moody combo that's forever on-trend. Finish your look with some chunky biker boots. Did someone say brunch date? We're down!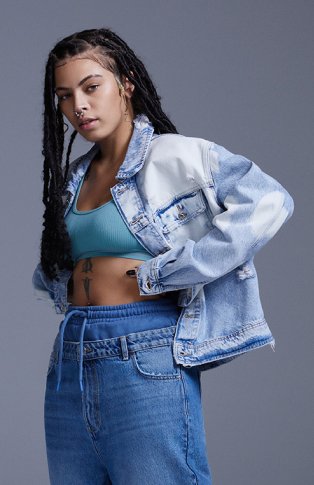 Bag The Perfect Pair Of Denim Jeans
Denim jeans are the go-to for casual outings and can totally be dressed up for evening plans when you get that jeans and a nice top memo! On the search for your dream pair of denim jeans? Our handy denim fit guide has you covered with ALL the comfiest fits and tips on how to work them.
From high waisted mom jeans to mid rise skinny jeans, find comfy styles you'll LOVE and dress 'em up or down depending on the occasion. The cool lil' sis to denim jeans, get even cosier with our jegging collection. Made to look just like them, only even softer and with more stretch – we'll be living in ours!
Flared trousers and baggier jeans are all the rage this year, so why not mix things up with a looser fit?
Once you've found your denim match, tuck a chic blouse into yours or layer a cosy jumper. Complete with comfy shoes and you're set for running errands and coffee catch-ups.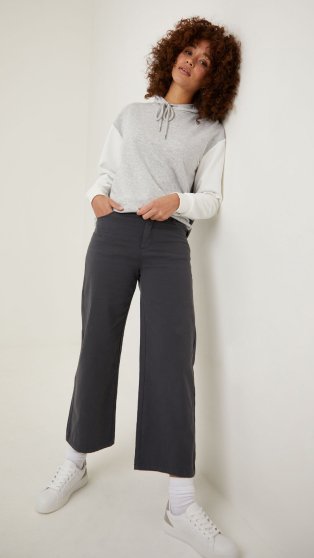 Lighter When It's Brighter With Denim Shirts
As the days get warmer, switch up your jacket for a lightweight denim shirt. Wear your denim blouse or shirt fully buttoned up or over a stripy or block coloured t-shirt for a throw-on-and-go look with serious style creds.
We LOVE to accessories! Add some flair to your look with a pendant necklace or colourful earrings and wear your hair in your go-to style for a final touch that feels 'oh-so you'. Heading to the office? Your denim's coming too. For workwear fit inspo, layer your fave denim jacket over smart black trousers and complete the look with chic ankle boots.
Denim shirts are THE perfect excuse to drop a killer denim-on-denim look, so team your top with iconic jeans or a cool denim skirt for a look that's a total mood.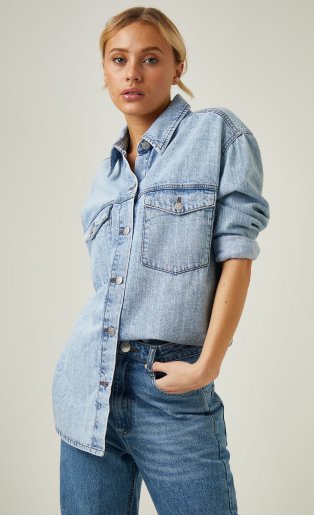 The Spring Dress Refresh: Denim Dresses
Denim dresses are a fuss-free choice you can count all season long. When the sun comes out, pop on some oversized shades, a pair of chunky wedges and your fave denim dress (of course!). Whatever hemline is most you, you'll find delightful denim mini dresses and midi dresses in our collection.
On cooler spring days, layer up with a pair of tights and stay comfy in trending trainers. Whether you're off on a daytime stroll or getting ready for a lunch date, there's a denim dress for everyone. Flaunt a blue acid wash denim dress or charcoal denim dress, depending on the vibe.
It's all in the details! Make a play on denim by bagging staples with balloon sleeves, belted designs and high necklines – we want them all.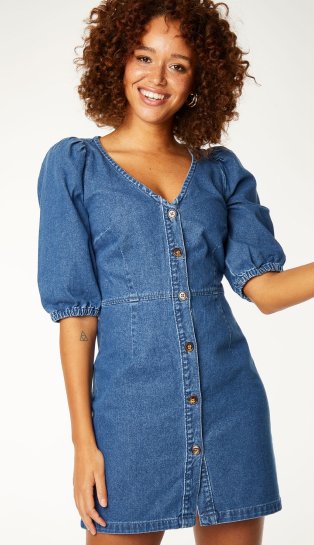 Give Your Denim Some TLC
When it comes to washing denim clothing, less is more. Washing your jeans and denim jackets less frequently keeps them in top condition for longer. With jeans, we suggest putting them in the laundry after around 10 wears and turning them inside out to keep colour intact!
If you spot a small stain, tackle this individually. Stay cool with low temperatures and wash your denim on either a 20 or 30-degree cycle. When it's time to dry your denim, skip the tumble dryer and hang them on the washing line, save on energy AND keep denim dreamy – bonus!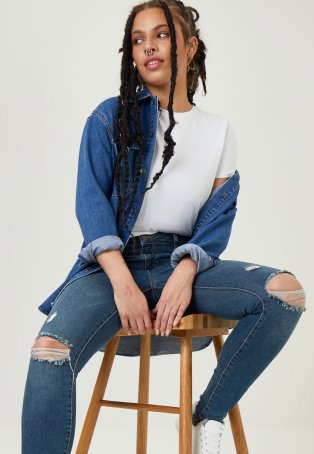 Keep It Sustainable
Creating a capsule wardrobe, mending your clothing, and passing on well-loved pieces are all fab ways to make your denim collection more sustainable!
At George, we're super proud of supporting a greener future, and we've teamed up with The Better Cotton Initiative, creating our George For Good collection. This means, if you spot the handy logo, you've invested in a piece of denim made from responsibly sourced cotton.
Why not continue your sustainable journey by getting involved with our Take Back recycling scheme? To minimise your fashion footprint, give unwanted clothes and textiles a new lease of life by donating in store via Asda. This will not only divert them from ending up in landfill but could also generate vital funds for our Tickled Pink charity partners. Good vibes all round!