Ever wondered how to stay comfortable while still look stylish on the school run? We asked Alice from family, travel and relationship blog More Than Toast for her tips on the essential items every fashion-forward mum needs in her wardrobe.
The school gate is a scary place. It's where you'll meet the parents you may see every weekday for the next 11 years, so it's natural to be worried about making the best first impression. But even 'old hands' need some inspiration on school-run days.
As far as I'm concerned, in an ideal world I'd roll out of bed into an outfit I loved and straight out the door to the school run feeling relaxed and happy about the way I looked. But as my little charmers are early risers this becomes a bit tougher.
I have sleepiness, very different breakfast orders and unpredictable toilet habits to contend with… none of which lends themselves to picking out an outfit I can be happy with day-to-day. Confidence pre-9am is not generally easy to come by, particularly when you've spent the morning scraping porridge out of places where porridge definitely shouldn't be.
And so I've come up with some rituals that I can turn to for the times I stand in front of my wardrobe wondering what to wear. Only had 2 hours sleep and slightly baffled at what apparel to drape your body in? I'm here to help:  these rules make me feel more confident, more put-together and more stylish every morning. Hopefully they'll do the same for you, too!
Pick a Chunky Knit
With this weird in-between weather we're having it's difficult to know what to wear to keep yourself warm and looking good. When all else fails I'm a huge believer in throwing on a chunky knit; this oversized cardigan in particular is beautifully soft as it contains alpaca. It's also a total steal at £20 – pair with black slip-ons and comfy jeans and you've got yourself a perfect Monday morning outfit.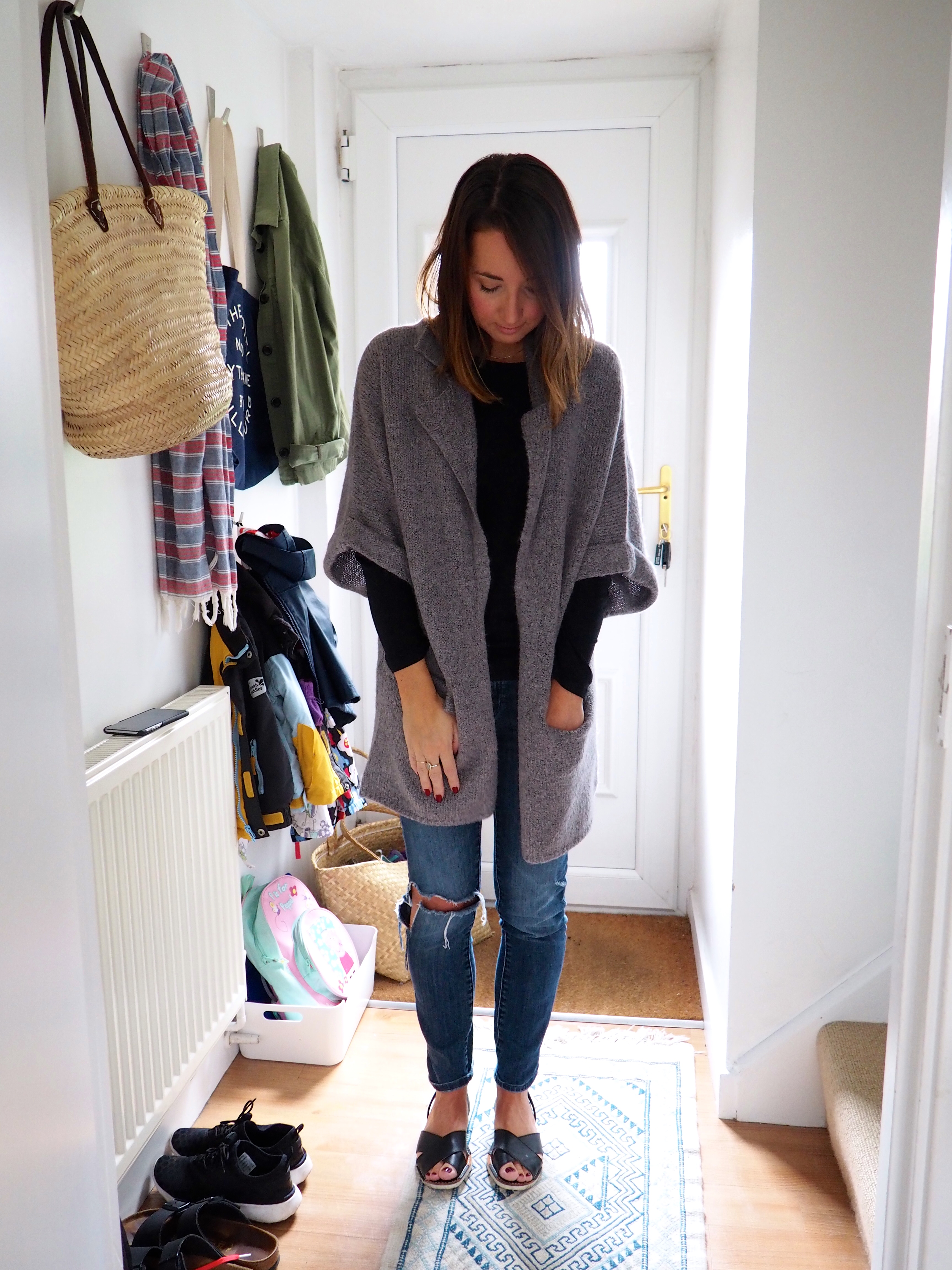 (image created by blogger)
Use a Statement Bag
If, like me, you're a fan of a low-key colour palette for your winter outfits then you might like to look for some pizzazz in your accessories. I love this on-trend bag for that, giving my daily jeans an extra bit of interest and colour without making me feel like I'm wearing a fluorescent poncho. Plus, as I'm now in the group of 'parents who don't need to lug around the kitchen sink' the small size of this bag delights me. It's yours for £14.
(image created by blogger)
Stick on a Really Classy Coat
You can basically chuck a great coat on top of anything and suddenly appear put-together, no matter what's underneath it. For this look I favour a coat with a bit of structure, an interesting pattern and a hardwearing textile, and this one from George ticks all those boxes. Plus the pockets have the advantage of being the exact dimensions you'd need to squeeze in a toy plane or a sanity-saving iPhone. Bingo – £20.
I've paired with an old favourite denim dress and some durable George at Asda leggings here – comfy stylishness for only £6.
(image created by blogger)
Wear a Fashion Piece
Once or twice a season I'll buy a couple of items of clothing that are trend-led and (though this might make me sound like a proper mum) a bit more 'fashion forward' than my standard t-shirts and jeans. With a big nod to the boho/Mexico aesthetic, this comfy cardigan ticks both my wearable and trend-led boxes and is so easy to wear with an easy pair of jeans. Yours for only £16!
(image created by blogger)