Learning how to ride a bike is a lifelong skill that, once acquired, is never forgotten. We know that every child proceeds at his or her own pace, which is why the warmer months are the perfect time to get outdoors and start learning.
Life & Style wants to make sure your child has a unique experience that is adaptable to their growing needs. Here are a few things parents can look out for when your child is ready to ride a bike.
When to
ride a bike
The timing to teach your child to ride a bike depends on their mental and physical development, which varies between the ages of 3 and 6. An essential factor to consider is their level of comfort. Parents should allow room for growth to keep children safe and excited to enjoy the outdoors.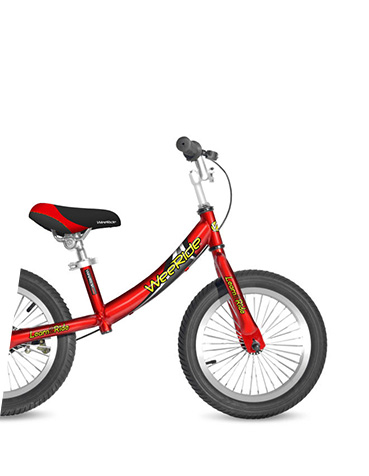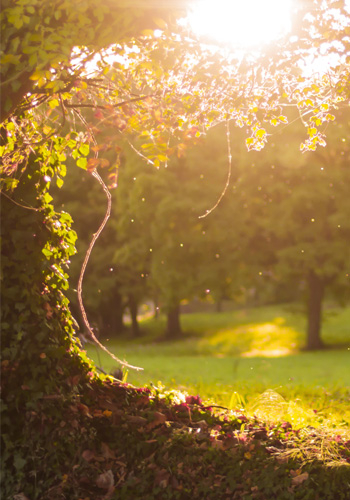 Choose an open
space to learn
Children on bikes can sometimes be unpredictable and wobbly. However, this shows they're starting to learn how to balance on their own.
Once your child can coast with their feet up, they're ready to move to pedals. Keep the seat low, so your child can easily reach the ground to stop. Practice this on grass as the ground is soft enough to cushion them if they fall.
Choosing
Baby Trikes
Trikes are suitable for children aged 9 months to 30 months, as they grow with your child throughout their learning process. Look for one that is fully equipped with an adjustable seat, seat belt and a safety bar to ensure your child's wellbeing.
Three-wheeled rides or trikes are the best options for young children. They'll be able to gain confidence on their direction, guidance and steps before moving onto two-wheeled bikes.
Pick a 4-in-1 trike that is designed with both parent and child in mind for maximum comfort. Not only can they be controlled by an adult, trikes can also be used in the early stages as a buggy to push back and forth when they need entertaining.
To make outdoor strolls more fun, why not pick ride-on designs like miniature cars, trucks, or taxis before they upgrade to bikes?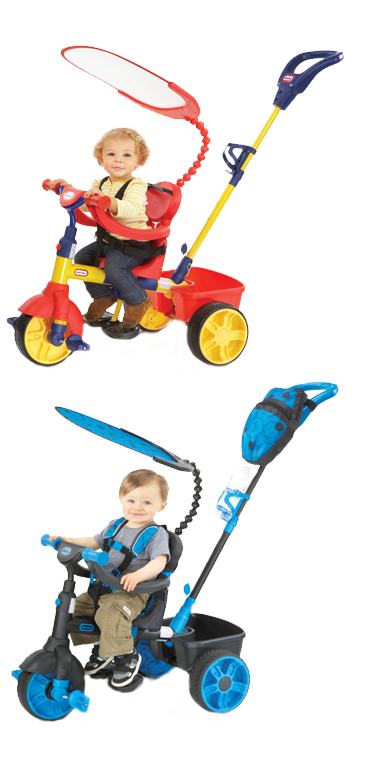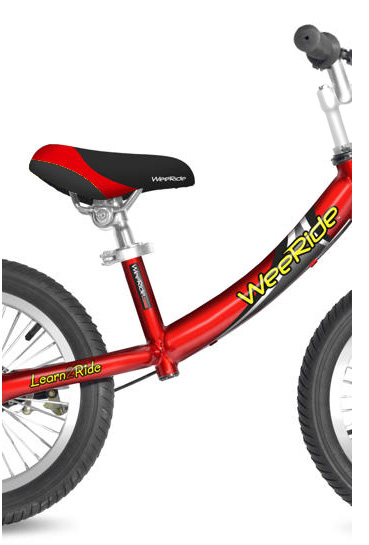 Choosing
kid's bikes
When it comes to choosing kid's bikes, don't buy a large bike that your child will eventually "grow into." This concept only works well with kid's clothes, whereas it can slow down or completely stop the learning process for your child. Let them test drive the bike by getting them to stand over it with both feet planted on the ground. It's important that they can reach the ground, so they feel confident in having control of the bike.
A balance bike is an excellent option for children aged 3-5 years old who are close to getting to grips with bike riding. It's also perfect for late starters or children who have grown out of three-wheeled bikes.
Kid's clothes
& safety
Safety is the biggest concern once your child is riding a bike. Whether it's a tricycle or bicycle, it's important to teach your child to wear a helmet properly. Be sure your child wears bright coloured clothes so you can keep an eye on them. You may want to dress them in full-length trousers like jeans, joggers and long sleeve tops. Gloves and kneepads are also a good option to shield them from cuts and bruises.
Remember to offer kids praise during their learning process. This will encourage them to have trust and faith in their ability when it comes to other outdoor activities.
Ensure your kids are active and healthy the safest way possible when you shop for bikes and trikes at George. Take the fun outside and check out the rest of our outdoor toys like trampolines, swings and slides.