Getting kids ready for their return back to school in September is exciting for both adults and eager beavers!
Here at George, we understand there's a fair amount of planning involved, so we're offering a helping hand.
Our top-quality George at ASDA school uniform range has all the essential kit across our girls' school uniform and boys' school uniform collections – so you can get ahead of the game and avoid any last-minute shopping.
Why Is School Uniform Important?
Wearing a school uniform is a smart way to make students feel part of a community while supporting their wellbeing and confidence. Luckily, it also takes away the difficulty of deciding what to wear!
We're proud to have a range of different fit solutions to meet your child's needs, including Easy On Easy Wear school uniform, longer length, slim fit and plus size school uniform.
Our range is designed to include everyone, so your child feels comfortable and confident throughout the academic year.
Must-Have Girls' School Uniform
Smart Blouses
When it comes to school uniform shopping, shirts and blouses are at the top of the list. Whatever fun activities your child will be involved in, our great-value sets of girls' school shirts and blouses will have them covered.
Choose from long-sleeved and short-sleeved styles in classic school colours like white and blue.
Cosy Cardigans
School jumpers are a huge part of a school's identity, and it's always best to check for any specific requirements to get things right. Dress them in a classic sweatshirt or keep them snug in a knitted school cardigan – depending on whatever they find comfiest.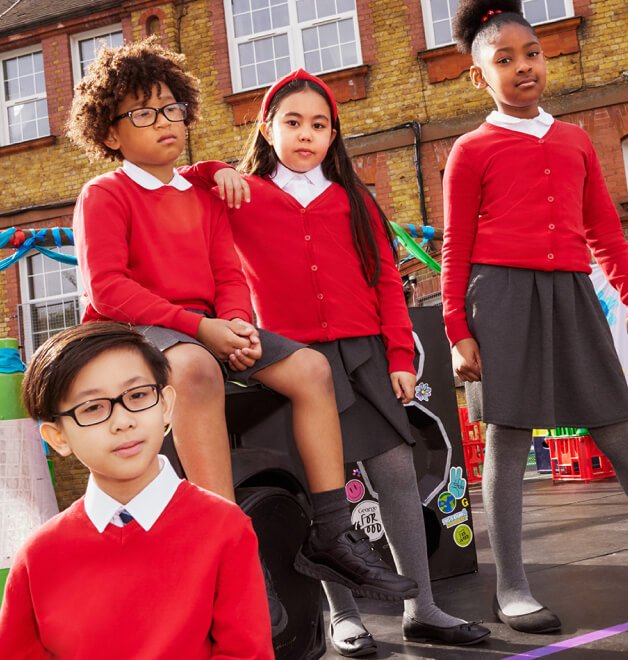 Staple Trousers And Seasonal Skirts
From slim leg and skinny fit trousers to straight leg styles, a pair of school trousers are a staple part of your child's school collection. If they prefer, school skirts are a fab alternative and can be worn throughout the year (just grab a pair of thick tights for the winter!).
School Dresses
When the summer hits, pinafores and dresses are a delightful choice for keeping your child looking smart during warm weather and sunny spells. For a classic look, they can wear sweet gingham dresses available in various colours, from mellow yellow to baby blue.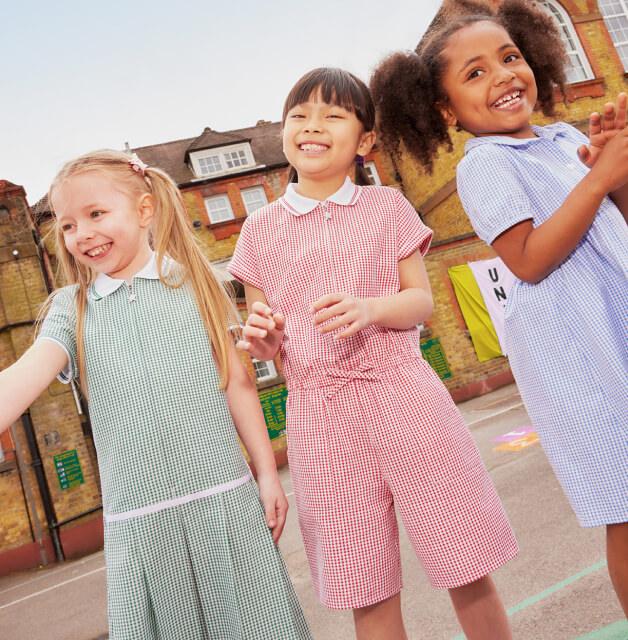 The Shoe Shop
Make walking to school a breeze with durable yet stylish girls' school shoes. Discover black shoes in ballerina styles or a comfy pair of school plimsolls and encourage your little one to put their best foot forward!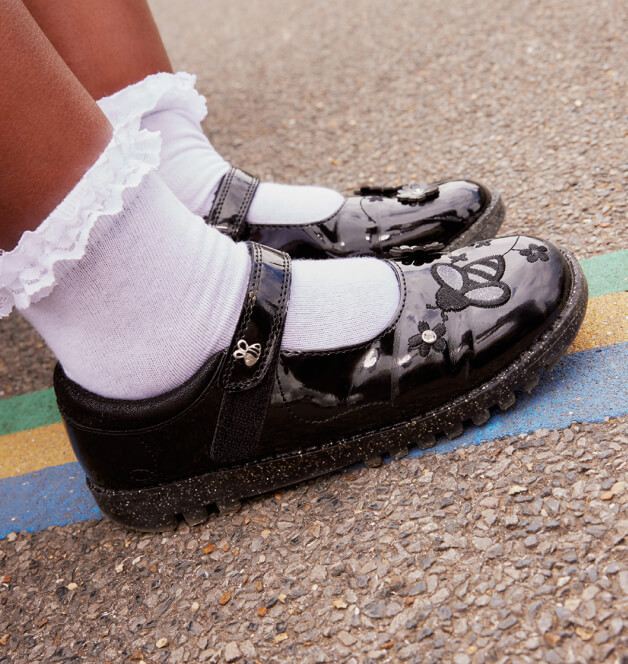 Essential Boys' School Uniform
Everyday Polo Shirts
Kit them out for every day of the week with a handy multipack of boys' school polo shirts.
Whatever their school colours, our collection features everything from classic white polo shirts to red, green and purple polo shirts.
They can mix and match these handy shirts to complete their boys' PE kit when it's time to shoot some hoops!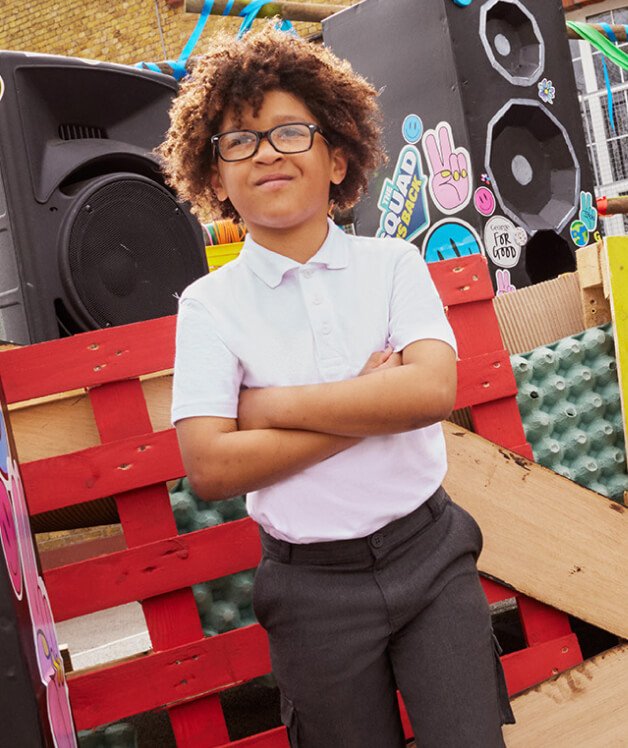 School Sweatshirts
During those first few weeks of September and nippy winter months, school sweatshirts are a key part of your child's school uniform. We've got boys' school jumpers in all colours and sizes to make sure they look smart and stay snug during the school day – whatever the weather!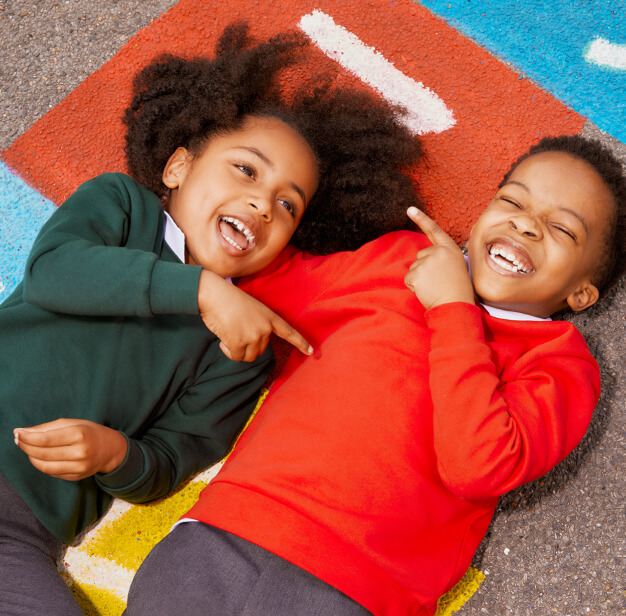 Smart Trousers
School is the ultimate environment for children to thrive, learn and grow, and our boys' school trousers are perfect for your little learner.
Browse black and grey school trousers with comfy elasticated waistbands – allowing plenty of room for movement.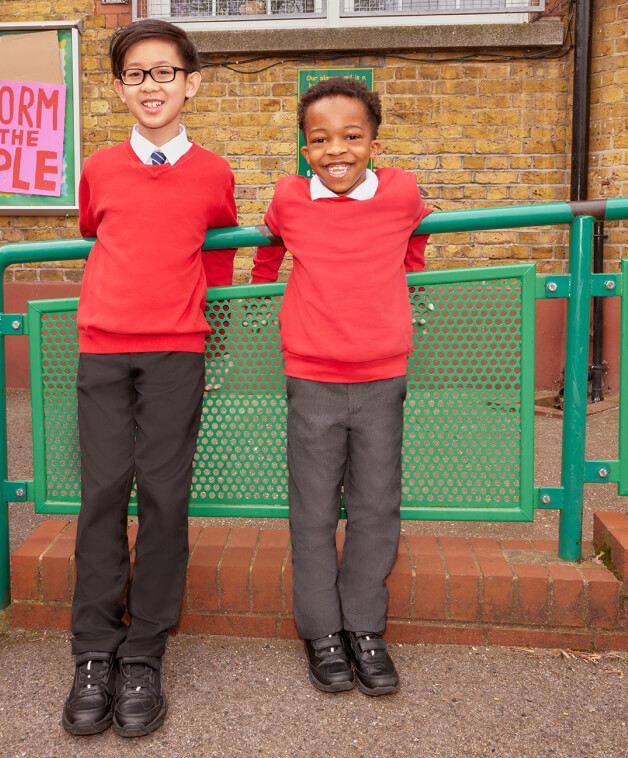 Comfy School Shoes
Whether they're kicking footballs at lunchtime or walking to science class, a pair of sturdy boys' school shoes will put a bounce in their step this term.
We've got everything from traditional leather school shoes to wide fit pumps – so they can find a comfy pair they'll love to pop on.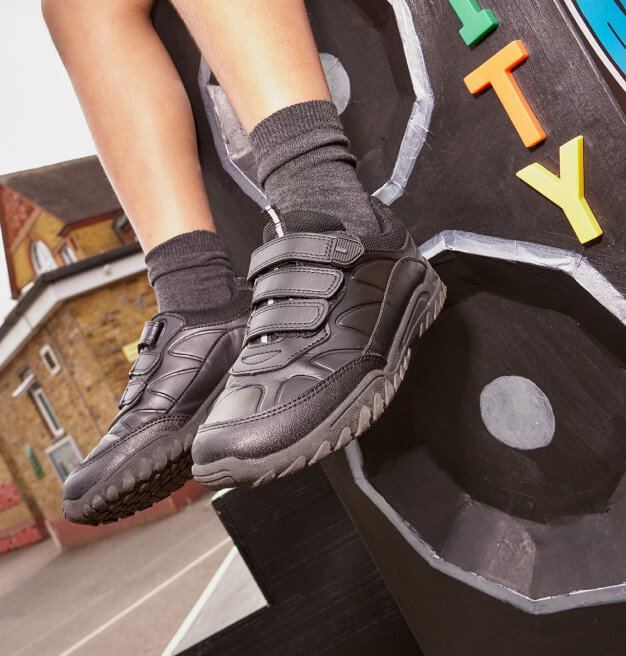 Blazer Refresh
School blazers are an essential piece of outerwear that can be worn instead of a jumper or layered with their usual school uniform in cooler weather.
They'll look sharp in navy and black blazers with button fastenings and neat pockets, which are ideal for storing pens and stationery.