You can't beat a family Halloween costume, and getting the whole team involved on 31st October is a fun way to bring everyone together. Dressing up isn't just for kids and there's nothing better than coordinating costumes for a memorable Halloween 2018. Selecting a family costume requires careful planning, with options to suit adults and children within your theme.
Life and Style have rounded up our top four options from George's wide range of fancy dress for the ultimate family costume. All these ideas will be immediately recognisable to anyone you meet on All Hallows' Eve.
Ghostbusters
Who you gonna call? The Ghostbusters are immediately recognisable from the moment you first zip up the iconic boiler suit. A Ghostbusters costume appeals to everyone; parents grew up on the Bill Murray classic, while newer generations were exposed through Melissa McCarthy's remake. Therefore Ghostbusters is the perfect Halloween costume for adults and children.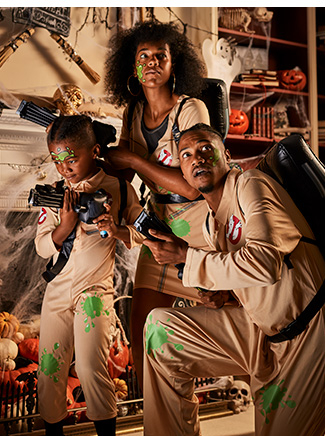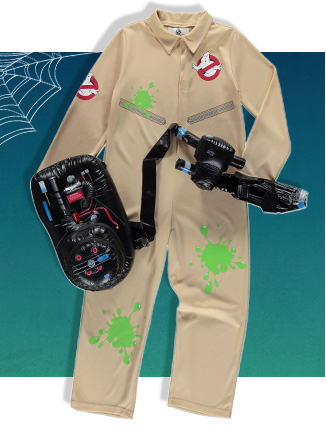 Prepare the family for paranormal activity with an inflatable proton pack strapped to your back. With the famous logo across your chest and ectoplasm splatter on the suits, these costumes feel like they've come straight from the films. Add some more ectoplasm splashes with a little bit of green face and body paint to really complete the look and give the impression of a hard day of ghost busting.

Day of the Dead
Day of the Dead or Día de los Muertos is a Mexican tradition which celebrates life with an annual two-day festival bursting with colour and life-affirming joy. Unconnected to Halloween, Day of the Dead dates back 3,000 years to celebrate life. Sure the theme is death, but with the purpose of expressing love and respect for those who are no longer with us.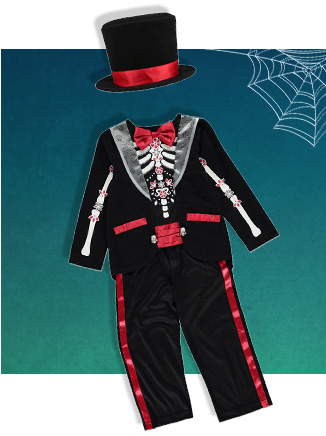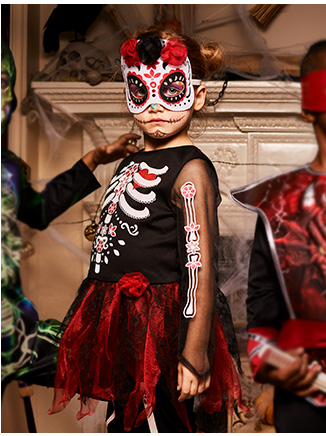 With deep roots in Mexican culture, Day of the Dead costumes are consistently one of the most popular fancy dress options. With frightening ghoulish designs, our costumes are ideal for kids, men and women who are looking to stand out. This look hinges on the accessories, so get creative with makeup, masks and small details for a truly on-point look.
Harry Potter
Harry Potter is one of the most successful book and film franchises of all time; the wealth of characters makes it perfect for a family group costume. Arranging costumes for each member of the family should make this one of the easier group costumes to sort.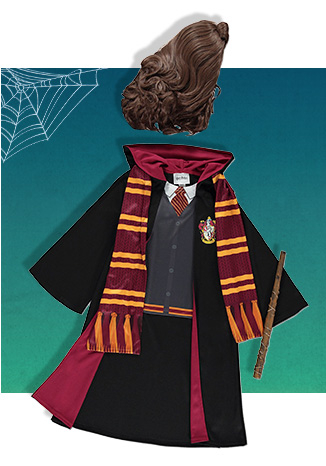 George have a vast range of Harry Potter Halloween inspiration with Quidditch onesies and robes from your favourite houses: Hufflepuff, Ravenclaw, Slytherin and Gryffindor. Bringing these competing houses together into one family costume makes for a great theme. This is before we get into the characters. With Voldemort, Professor McGonagall and of course 'The Boy Who Lived', there's a nice mix of costumes for adults and children to mix and match.

Classic
Halloween Costumes
Sometimes it's best to stick with the absolute classics, and George have the costumes to suit. With our help you can transform your family unit into a rogues' gallery of villains and ghouls that have been scaring people for years. We have skeletons, witches and werewolves; along with other options that are less obvious like dinosaurs and Vikings.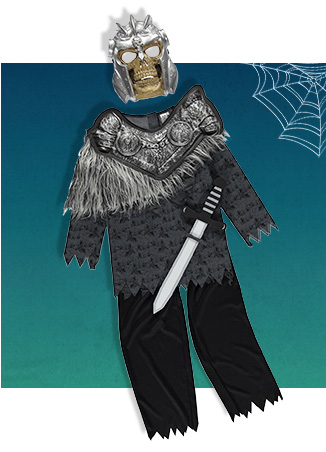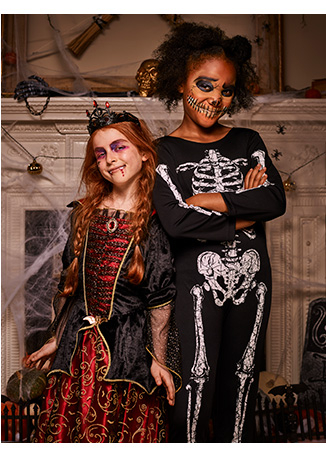 Let your imagination run wild with makeup to add those important finishing touches to the outfits. A few generous splashes of fake blood never go amiss and can add a sinister edge to transform your outfit. Be sure to read our guide to Halloween makeup for busy parents for more in-depth instructions.