Adding a snug and stylish touch to your space, textured home décor is one of this year's top trends. The perfect accompaniment to both traditional and contemporary homes, textured fabrics are a simple yet effective way of creating depth and interest.
Whether you want to relax on velvet cushions, get cosy with knitted throws or refresh your bedroom with chenille bedding, there are plenty of affordable and fashionable ways to master the look. Discover more about the trend and how to style it below!
Why Use Textured Fabrics?
Tempted by the trend but not sure how it will benefit your home? We've got lots of reasons to embrace textured décor!
Alongside giving your space a luxurious finish, textured fabrics transform otherwise drab soft furnishings into show-stealing items. All it takes to turn everyday cushions and rugs into statement pieces is to choose a textured design. You can even opt for textured wallpaper (yes, really!) and knitted pouffes for a unique twist.
Materials with depth are also the ultimate fabrics to have in your home for the colder months. Try layering different textures to make an inviting space to hibernate from the winter chill.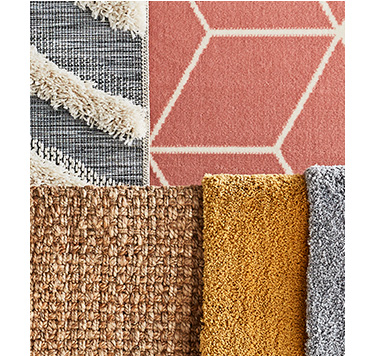 Which Are The Best Textured Fabrics?
With so many designs to choose from, it can be hard knowing where to begin. Luckily, we've got the run-down of the best textured fabrics to bring into your home:
1. Velvet
As popular on the catwalk as it is in home décor, velvet has fast become a fashion favourite. Even so, the fabric can look dusty and outdated when styled incorrectly. To use velvet in a modern way, make sure it's the accent of the room. For example, accessorising a cream sofa with velvet cushions is a wonderful way to tick off the trend.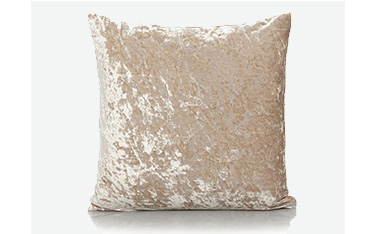 2. chenille
Soft and warm, chenille is famous for adding a cosy and plush vibe to any room. Hugely popular for winter 2019, the style also looks set to stay for 2020. We recommend stocking up on a handful of chenille throws to cuddle up in for family film nights.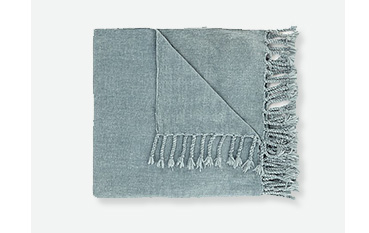 3. knits
Instantly giving warmth to your space, knitted materials are a traditional take on the textured fabric trend. Why not bring some fun into your décor by opting for knitted grey cushions and throws with tassels and pom-poms?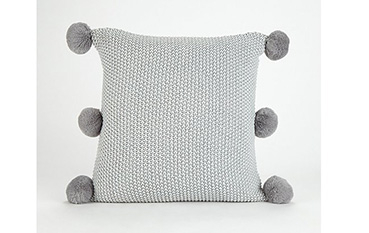 Room inspiration
Updating your home all at once can be expensive and time-consuming. Instead of doing everything in one go, begin by using a few textured pieces here and there. Thankfully, it only takes a little touch of texture to inspire a big change! Check out some of our room-by-room suggestions:
The Living Room
One of the easiest places to add texture, the living room is a great starting point to experiment with the trend.
For a budget-friendly way to incorporate texture, you can't go wrong with cushions and throws. For even more variety, mix up the sizes and fabrics of your soft furnishings. Why not pair a velvet pinwheel cushion with contrasting chenille designs? Throw in some soft lighting and you'll have a stylish set-up for cosy nights in.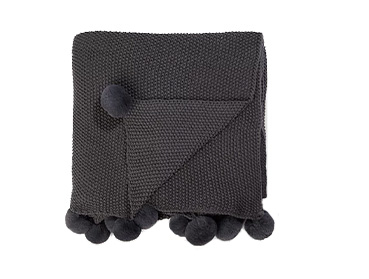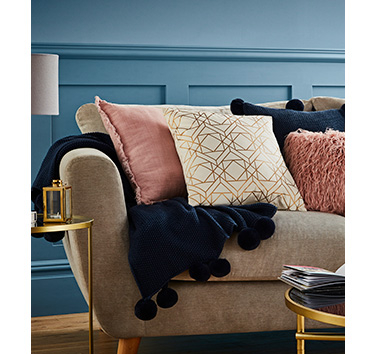 Or, for a stand out addition that will also keep out the cold, opt for a shaggy rug. Not only will the material be even more insulating, but a rug will be your best bet if you're looking for maximum impact with minimum fuss.
The bedRoom
Comforting textures on soft colours are brilliant for bedding. Think quilted throws, woven bedspreads and thick woollen blankets with decorative fringing, tassels and trims.
To ensure your textured soft furnishings are the centre point of your bedroom, team them with duvet covers in complementing colours.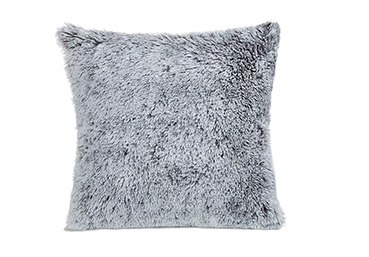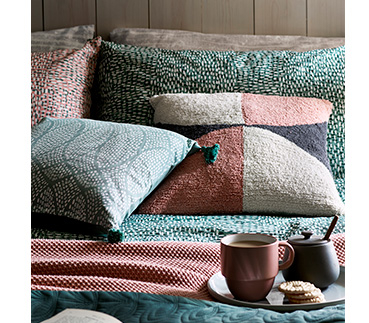 Some of our top colour combinations include pink faux fur throws with fresh, white bedding as well as grey duvet covers and mustard velvet cushions. The trick is to experiment with different materials and colours to find your favourite look.
The bathroom
If you think that bringing texture into your bathroom is impossible, think again. Simply choose a textured bath mat and you'll be good to go.
For something a little different, pick our pink shell bath mat. A quick and easy way to give your décor personality, this accessory is as fashionable as it is functional. Other décor tips include using artificial plants and flowers to bring some botanical bliss into your bathroom.