Over the last 150 years swimsuits has evolved more than any other garment. From full bodysuits, one-pieces, to bare body triangle bikinis, there are endless styles that mark different moments in the past.
Life & Style takes a look back at the history of swimwear, and how it has evolved and made an appearance in the fashion industry once again.
THE 1800'S MODEST
SWIM DRESS
Back in the Victorian era, wearing long dresses was normal at the beach. Imagine a dress with a corseted waist, mid-length hems and puffed sleeves. During those times, showing off too much skin on the beach was a crime, and would get you arrested for indecent exposure.
Nowadays, you can swap the bathing gowns for a figure-flattering, tummy smoothing skirted swim dress. It's perfect for accentuating your shape without having to bare too much skin. Go for styles in floral, tile, or polka dot prints to make a glam impression at the pool.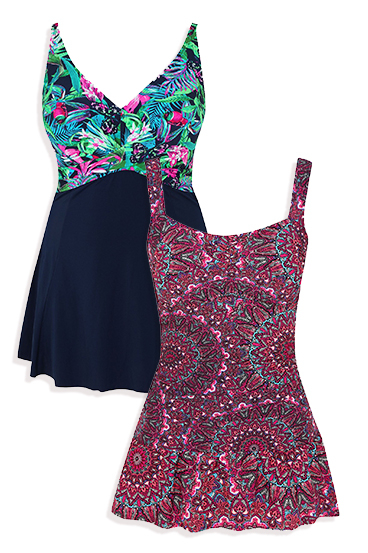 1930'S FLAPPER
ERA SWIMWEAR
Swimsuits became daring and sexy in the flapper era. The evolving trend ditched the long sleeves, raised the hemlines above the thighs, and became tighter around the bust.
The vintage-inspired swimwear boosts confidence and comfort at the same time. Pick a bandeau swimsuit if you want to create a gorgeous hourglass silhouette. The bandeau bikini top style allows you to wear it untied, so you don't have to worry about tan lines.
Mums-to-be can relax by the pool too with stylish maternity swimsuits. A gorgeous pin-up style in a playful polka dot print evokes the flapper vibe. The stretchy fabric will tuck, lift and cover you and your bump in the most flattering way.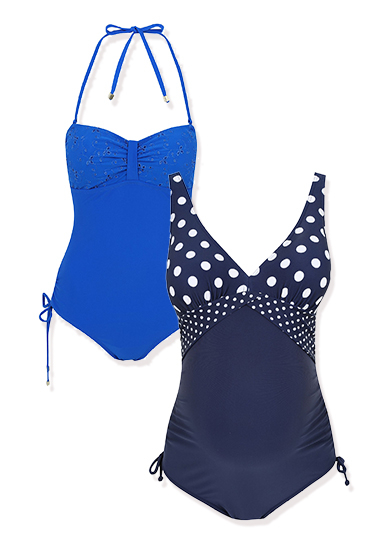 1950'S BIKINIS &
HIGH WAISTED
STYLES
Swimsuit designers introduced the creation of bikinis and high waisted two piece swimsuits in the 1950's. Now we're in the 21st century repeating the high waisted bikinis all over again, with a touch of a modern twist.
Mix and match your bikini separates and choose floral print bottoms to wear with multiway bandeau bikini tops. Not only will you love switching from strapless to halter neck designs, the high waisted cut is endlessly flattering, making those pins appear shapely and longer.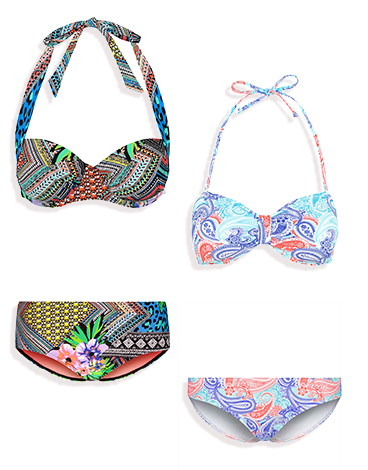 1980'S ONE-PIECE
SUITS & HIGH THIGHS
Fashion's fixation with slender physique gave way to more athletic, fuller-breasted bodies. Remember the red one-pieces worn by the Baywatch babes? We're still obsessing over the high cut swimsuits which are back in trend this summer.
Throwback to the 80's with a neon coloured swimsuit. Bright colours look great on sunny days when you're topping up your tan. Or why not add a dose of sparkle in a bright blue hue and a sequinned flamingo design to really make a statement?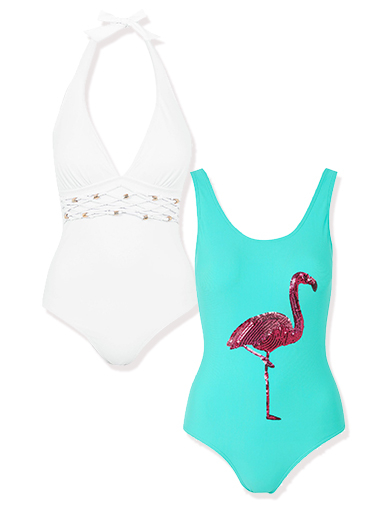 2000'S
MODERN TWIST
The 2000's are all about ultimate exposure! From patterns, cut-out one-piece trends, to some vintage high waisted bikinis and halter neck tops, the retro look has come back around again.
Whether you want to bare it all or wear something that gives you a little more coverage, look and feel fabulous with some vintage glamour on the beach this summer.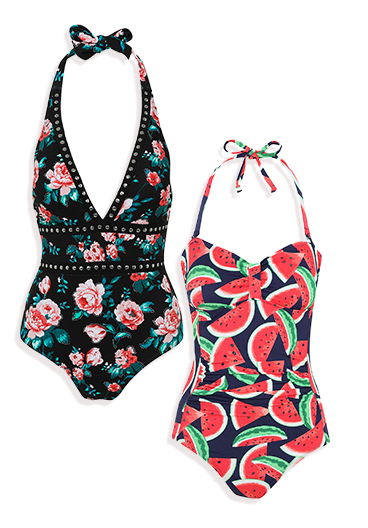 Head over to George and browse for styles that have made a comeback in our women's, men's and kid's collection this year.