There are lots of ways to update your bathroom. Whether it's on a budget or you want to go for a full-on makeover, Life & Style share tips on how you can add a splash of colour, so you can have a refreshing start to your morning routine.
Work With
Existing Palettes
Draw inspiration from an existing colour already in your bathroom palette and work around that. It could be that you like the colours on your tiles, or you recently placed a bunch of pretty flowers in a vase to brighten up your bathroom.
Neutral colours are better when you want to experiment with more shades. This will inspire you if you're looking for big or small bathroom ideas to bring everything together.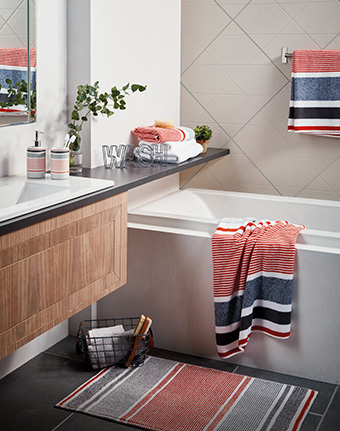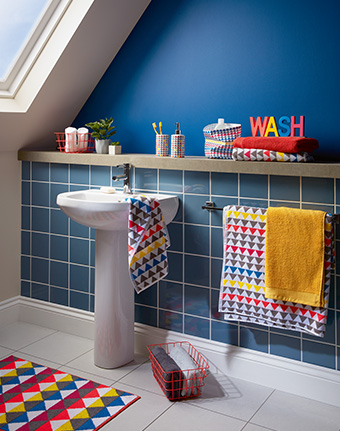 Repaint Your
Bathroom
Bathrooms are a space to freshen up in the morning and to unwind in the evening. Repainting your bathroom will help you create a mood you can enjoy each day. It's an easy and affordable way to add a touch of colour whenever you need to update your space with new seasonal trends.
You can paint your bathroom with ocean blues, forest greens and greys to create a tranquil feel. Or summer yellows work well as a feature wall to uplift the space.
Tips For Small
Bathroom Ideas
There are plenty of small bathroom ideas that can work too. Like neutral shades running along the floor, or using the same tiles on the floor and walls create an open space. This will keep the colours fluid, instead of separating them which can make the room feel boxed in.
You can make small bathrooms appear bigger with mirrors. They are an easy and affordable way to transform the look and feel. Make a statement by choosing mirrored tiles, or hang one in a geometric shape for a modern touch. The light reflection will create the feeling that the bathroom is not only larger, but brighter as well.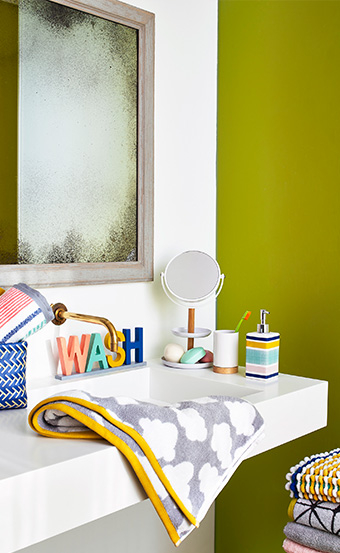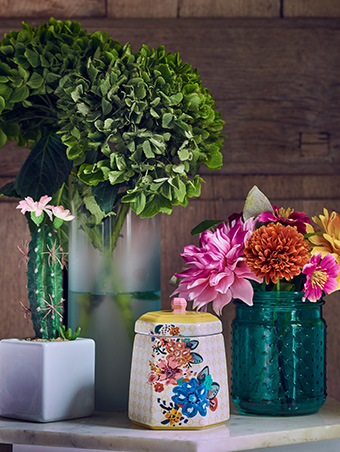 Add Houseplants
To Help You Relax
The latest interior trend is keeping houseplants in your bathroom. Whether you have a white, pink or purple orchid, lush green plants or succulents, they are an easy and budget-friendly way to introduce colour in your bathroom, without having to commit to a full makeover.
The best places to display them would be on a stool, a windowsill or a bathroom unit. Or get crafty and have one hanging from the ceiling or the wall. Greenspaces are a great way to welcome relaxation and a pleasant start to your day.
Try Themed Bathroom Accessories
Colourful bathroom accessories can create a big impact when you're looking to upgrade your space. Instead of a transparent shower curtain, look for prints and colours that can flow into your theme. For example, a beautiful butterfly print alongside plants will feel like you're bathing in the outdoors.
For white and neutral spaces, bring a cool ocean feel to your bathroom with an aquatic shower curtain, soap dispenser and bath towel set to create an underwater theme.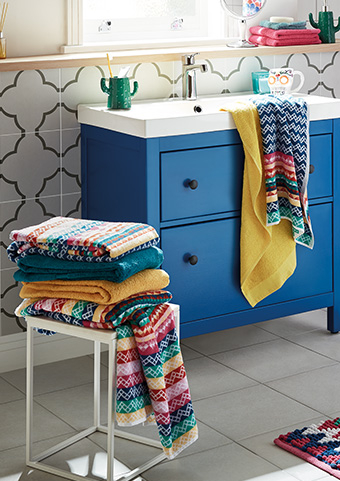 Use Colourful Towels To Add Visual Interest
Replace old towels with a fresh new set to match your colour scheme. You can match shower curtains, bathroom accessories and bath mats for a consistent look. Think about hanging them on the radiator, or keep them folded in a tiered storage to add visual interest to your space.
Wall décor over your heater or on a feature wall can create a focal point in your bathroom. This will instantly brighten up your space and add character to your bathroom.
Looking for inspiration for the rest of your home? Breathe colour into your living room and bedroom with bedding, cushions and throws.