There's no better way to bring some Christmas cheer into your home than decorating your Christmas tree. A merry activity for the whole family to enjoy, decking your tree with baubles and Christmas lights is the ultimate hallmark of the season.
Even so, designing a tree that looks both festive and fashionable is often easier said than done, especially if you want to improve on last year's creation.
Luckily, we've got plenty of tips and tricks to help you decorate your Christmas tree like a pro. Featuring the benefits of real and artificial trees, as well as colour scheme suggestions and ornament recommendations, our "treetorial" will guarantee standout seasonal results.
Picking The Perfect
Christmas Tree
When it comes to picking the perfect tree, the first thing to decide is whether you want a real one or an artificial one. There's no right or wrong choice here, but there are a few pros and cons to consider.
Artificial Trees
Versus Real Trees
Although many real Christmas trees fill your home with an authentic seasonal scent, they can be difficult to maintain and usually leave pine needles covering your carpet – not ideal!
While artificial trees involve much less clearing up, some people worry that they don't look as natural. However, as long as you spend some time fluffing and shaping the branches before you decorate, artificial trees can look just as realistic.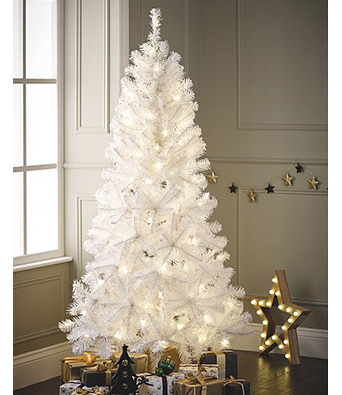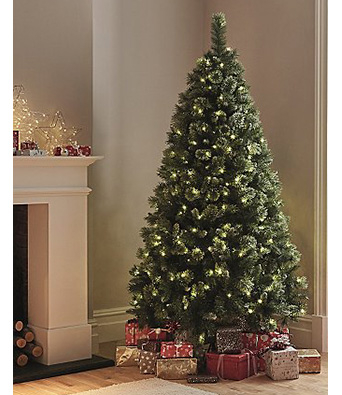 Going artificial also allows you to experiment with contemporary white Christmas trees and alternative shapes. Plus, you can always use a candle to achieve that precious pine and citrusy scent!
Whatever you decide, make sure you source a high-quality design. After all, it has to be sturdy enough to support all your ornaments, as well as any candy canes, crackers and chocolate treats.
The last thing to remember is to pick a prime location to showcase your tree.
Step-By-Step Tree
Decorating Guide
Here comes the fun part: decorating! Follow the below steps to style a statement Christmas tree that any professional would be proud of.
Plan Your Colour Scheme
While it's tempting to dive straight into decorating, this tactic can lead to a merry mess. Instead, organise a colour scheme in advance. Whether that's traditional reds and whites or glamorous golds and rose golds, choosing a theme will help give you a clear plan of action.
Even so, since the whole family will want to have an input, you might have to compromise on colours!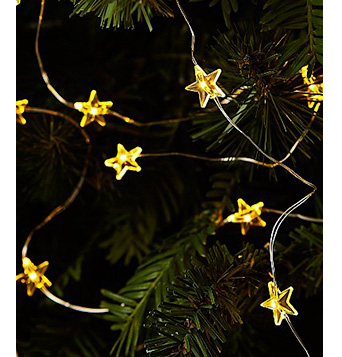 Add Christmas Lights
Artfully arranging Christmas lights on your tree can seem like a daunting and time-consuming task. For a stress-free method, we recommend wrapping string lights evenly around the bottom branches before moving upwards. This way, you can be sure your whole tree twinkles.
You can also skip the fuss by investing in a pre-lit Christmas tree. Effortless and just as elegant, decorating will take half as long!
Coordinate Christmas
Tree Decorations
The right Christmas tree decorations can make the difference between an average and an outstanding tree. Although the ornaments you select are all about personal preference, it's a good idea to add depth and variety with baubles in different shapes, sizes and finishes.
From glass baubles and wooden options to glittery trinkets and homemade favourites, play around with unique combinations and colours. You can also take a tip from the pros and try clustering baubles for a touch of festive flair.
Don't forget to ensure your tree decorations are well balanced and evenly spaced. To easily check your design as you go, start arranging baubles from the top of the tree down. Simple!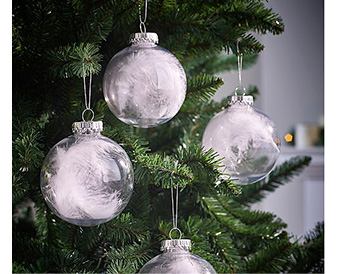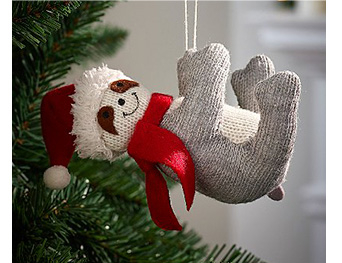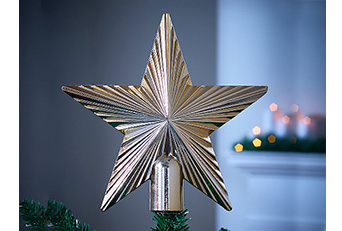 Choose A "Ta-Da" Tree Topper
An expertly decorated tree isn't complete without an eye-catching tree topper. Whether you opt for a seasonal star topper, a sparkly moon or a beautiful angel, pick a style that will allow you to stand back and say "ta-da"!
Festive Finishing Touches
The decorating fun doesn't need to stop at your tree. To transform your home into a winter wonderland, deck the halls with Christmas room decorations and festive finishing touches.
From Christmas candles and garlands to decorative lighting, it doesn't take much effort to fashion an enchanting display.
While you accessorise, wear a cosy Christmas jumper to help you get into the seasonal spirit!