From lunchbreak football matches and climbing frame antics to paint-themed art classes and fun-filled drama lessons, your child's school uniform goes through it all. Make sure their school clothes are up to the test by following our top tips to keep their uniform looking brand-new.
Whether you're searching for top quality boys' school uniform or girls' school uniform, our thoughtful collection has everything they need. From school shirts and school trousers to PE kit essentials and sixth form outfits, keep scrolling to discover how to keep their uniform looking spick and span.
How To Keep School Shirts White
It's the start of a new school year, but we know it doesn't take long for kids to put their uniform through its paces! One of the hardest parts of their uniform to keep clean is their school shirts. Luckily, here at George, our designs are made with Stay White technology to keep their whites looking fresh, wash after wash.
You can also try some of the below tips and tricks to keep those white boys' school shirts and girls' school shirts and blouses looking pristine.
Get some stain removal powder and add a generous scoop to a sink full of warm water – leave to soak for several hours and then put the shirts through your usual washing cycle.
Another tip to keep school shirts sparkling white is to use white wine vinegar. Perfect for removing marks around the collar, simply combine 1/3 of a cup of vinegar with 2/3 of a cup of warm water soak a clean cloth in the solution and dab the stains to remove any marks.
Lemon juice is also an effective whitener! Slice up a full lemon and drop the slices into near-boiling water. Next, remove the lemons and water from the heat and leave the shirts in the solution to soak for two hours.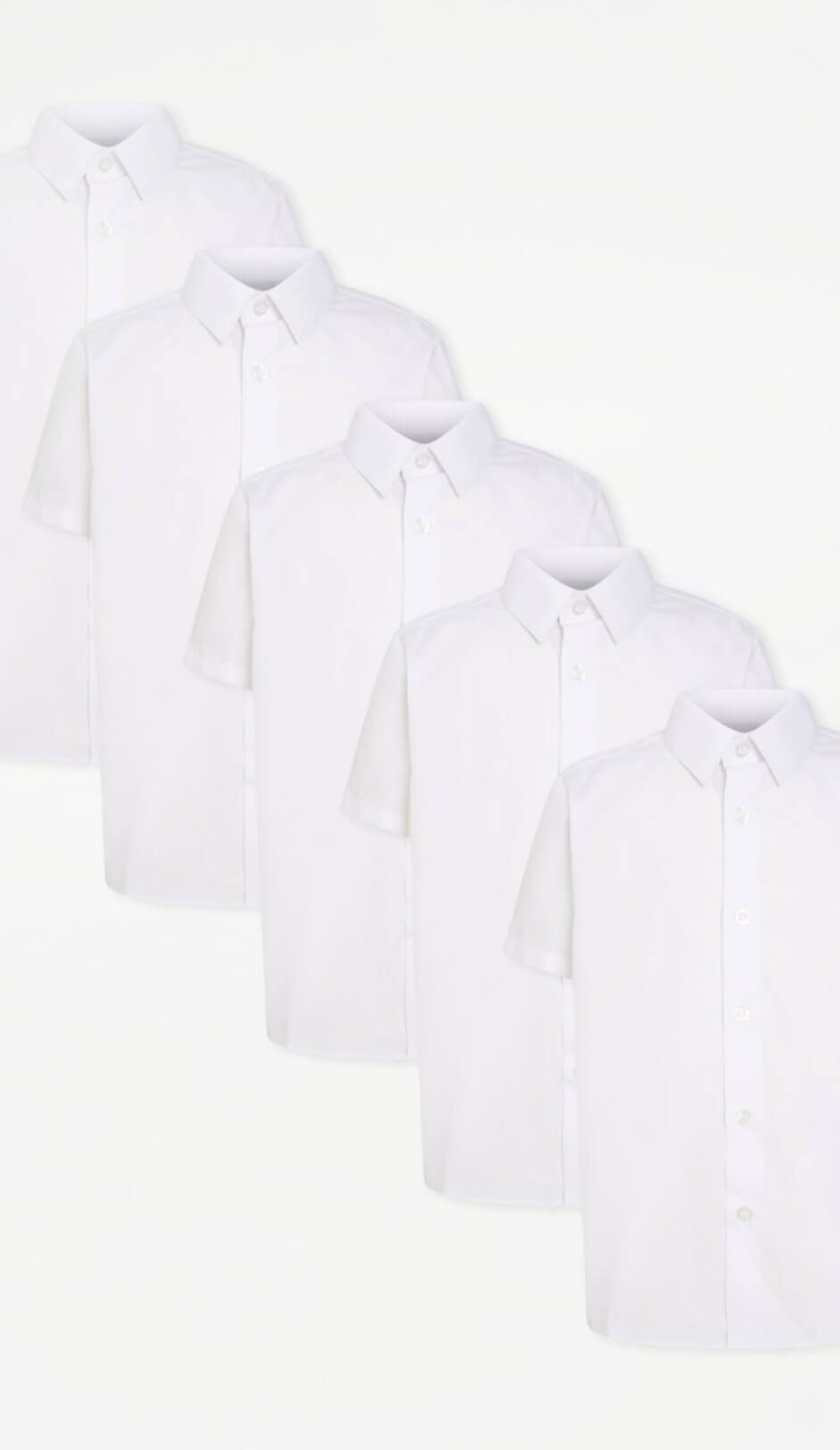 How To Care for School Trousers and School Shirts
They might be made from darker fabrics, but school trousers and school skirts still endure wear and tear after endless use and washing. The most effective way to extend the life of your kids' school trousers and skirts is to wash and dry them carefully.
Avoid washing their uniform at a high temperature, air-dry on airers whenever you can. Check out our cleaning and laundry selection for all the handy essentials. It might save time, but tumble-drying skirts and trousers repeatedly 'can slowly damage the fabrics – not ideal! Instead, line dry them where possible for crisp and fresh-smelling results. Psst – if you need a restock, drop our girls' school trousers and boys' school trousers collections a visit.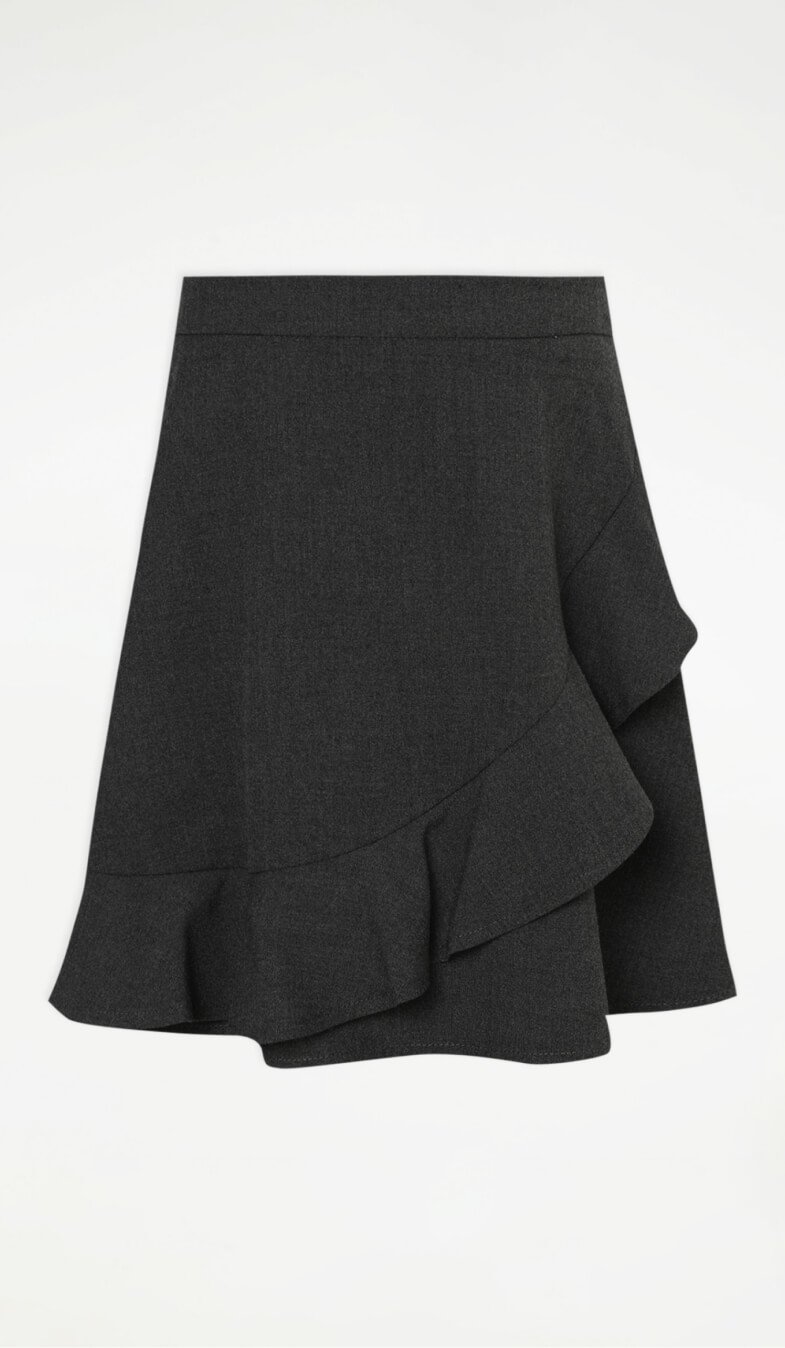 Regular Uniform Rotations
The easiest way to ensure your kids' school uniform lasts longer is to make sure they have enough sets to rotate regularly. This will also help reduce your laundry load – result!
For boys, we recommend stocking up with at least five white school shirts and three pairs of school trousers to last the week.
Girls should also have enough gingham dresses and shirts and blouses to keep them smart through Monday to Friday. Don't forget about our girls PE kits – make sure you've got two sets for each child so they can make the most of any after school sports clubs!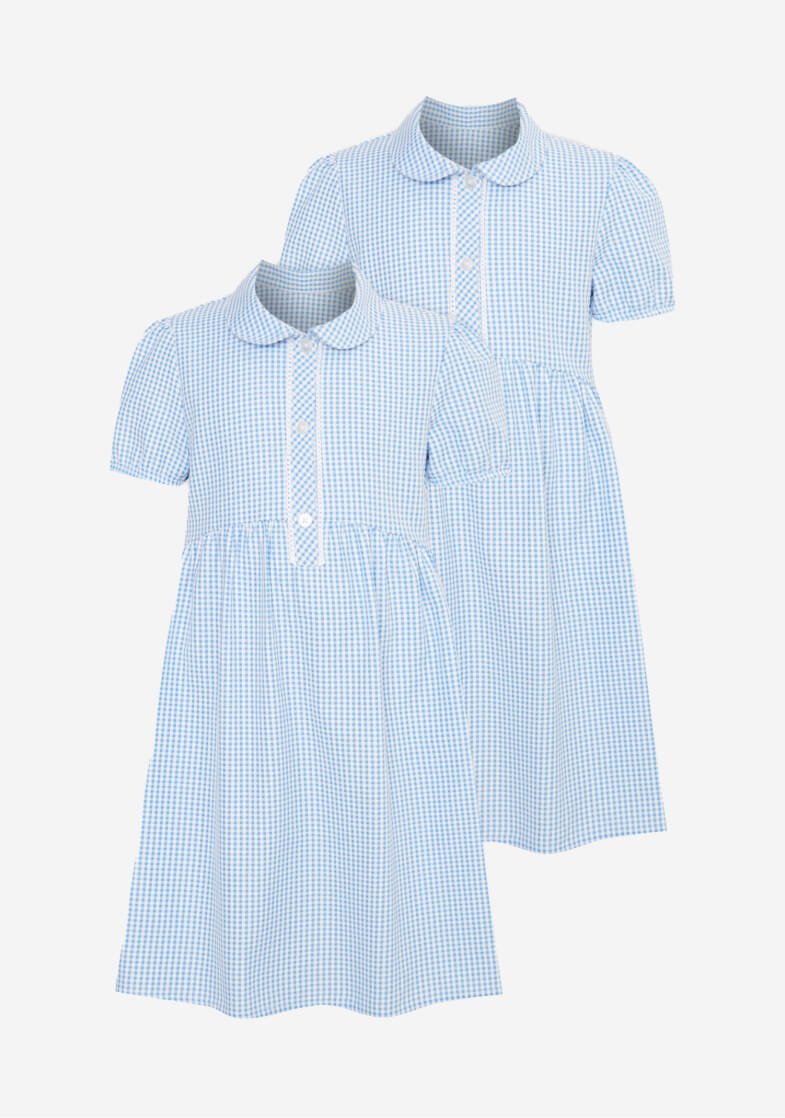 Shop Sustainable School Uniform at George
Here at George, we're all about helping kids get a flying start to a new school term with our comfy and stylish uniform. As part of our George for good initiative, we're committed to improving the sustainability of our clothing lines – including our school essentials.
This year, we're proud to be the first supermarket to launch a sustainably sourced school uniform range. So, whether you love our recycled school trousers and shorts or you can't get enough of our responsibly sourced cotton polo shirts, you can prepare for the new school year knowing you're doing your bit to help the planet. It's also a great way to teach children about the importance of shopping more sustainably.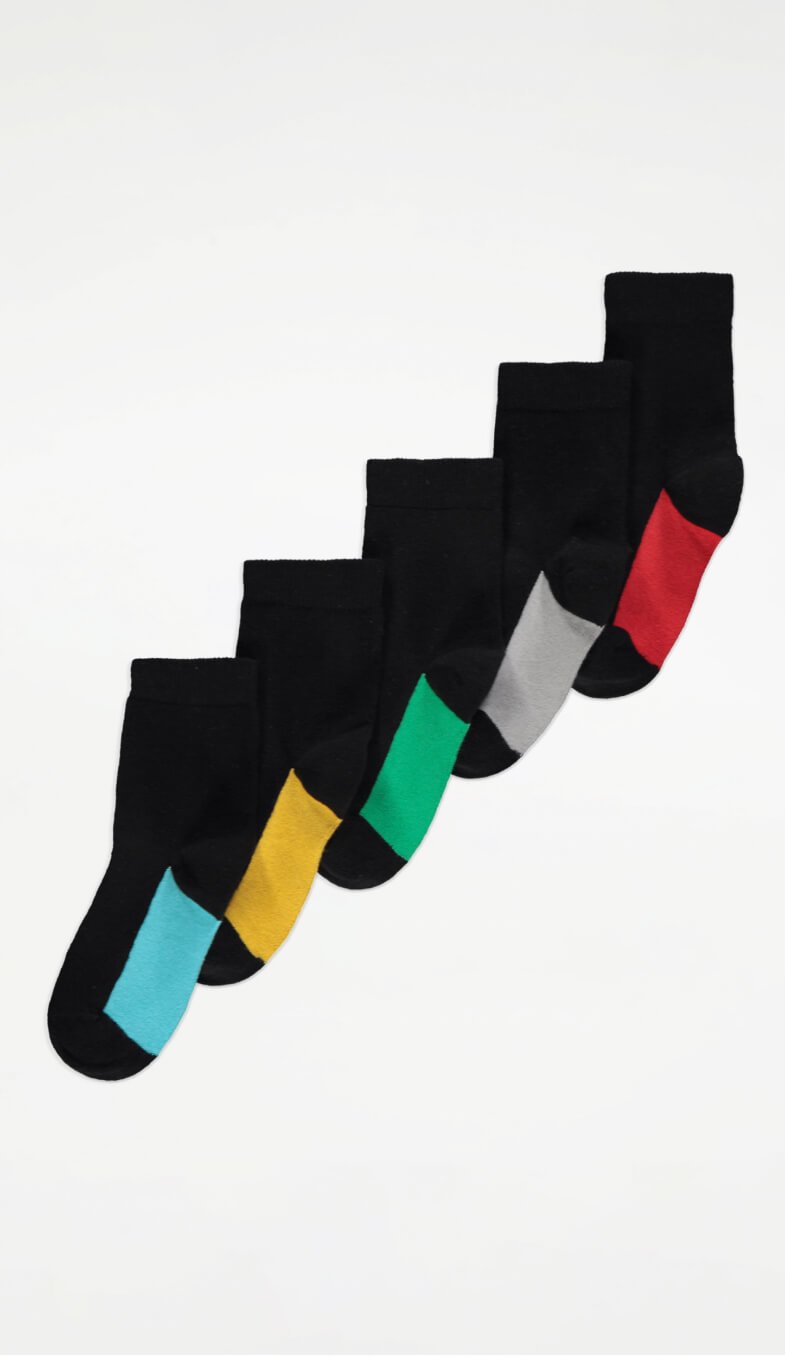 Make School Shoes Last Longer
When it comes to kids' school shoes, it's hard for parents to keep up! Not only do kids' feet grow rapidly, but their school shoes need to be multi-purpose to see them through everything from playground antics and puddle splashing to after school clubs and PE lessons.
To help avoid school shoe mishaps and to keep them looking brand-new, scroll our top tips below.
The first thing you should do when buying a new pair of school shoes is spray them with a protective layer of shoe protector – this will proof them for the playground and prevent scuffing.
Regularly clean and polish girls' school shoes and boys' school shoes using a wax cleaner and black shoe polish. Doing this once a fortnight will help kids stay smart from top to toe.
Finally, our favourite tip is to label your kids' school shoes! To prevent any shoe confusion after PE lessons, name labels are an absolute must. Don't just stop with shoes – labels are essential for the rest of their school kit as well.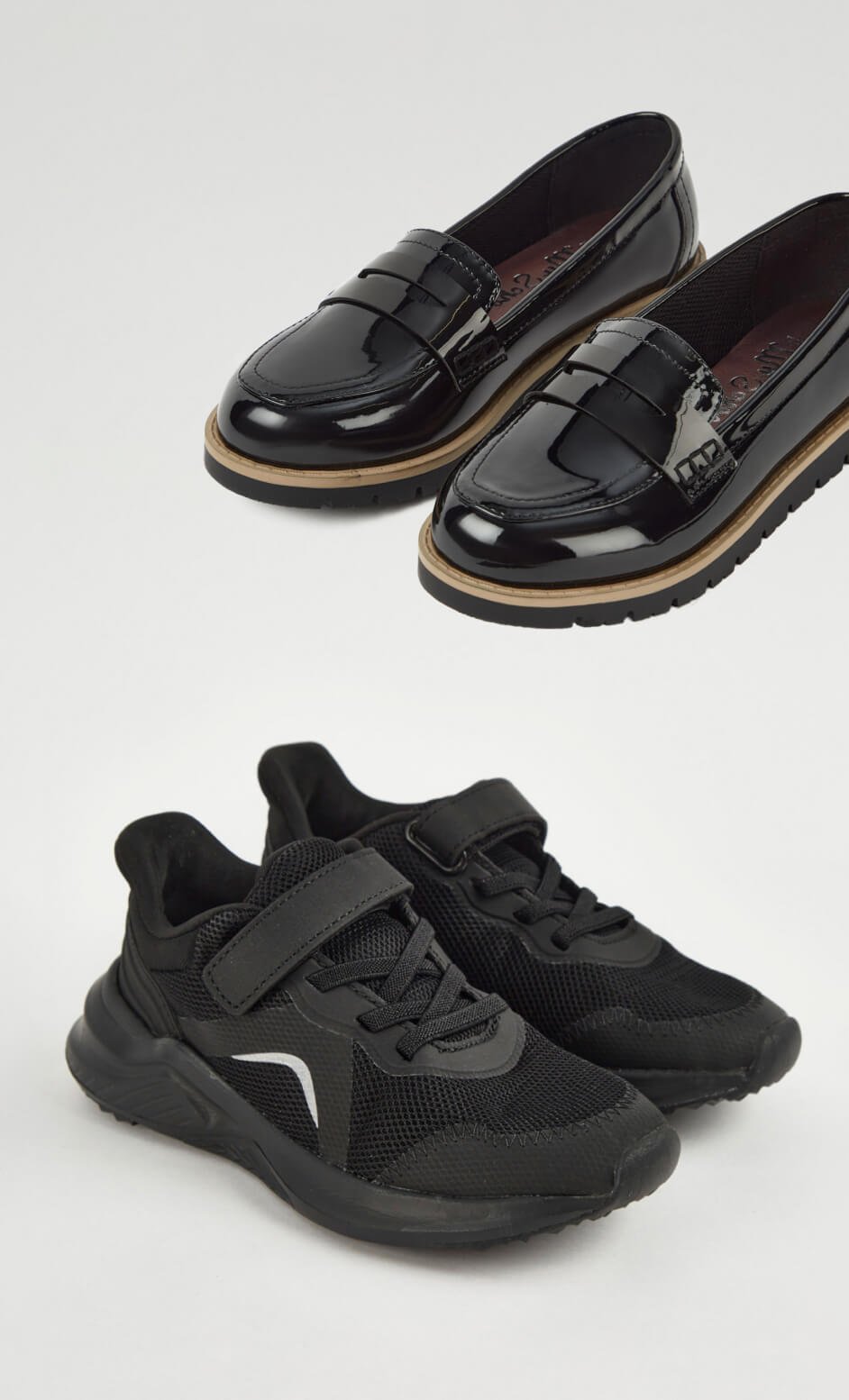 For expert styling advice to help complete your little ones schooltime look, don't miss our School Style Made Easy blog.