After a summer spent outside playing with trampolines, playhouses and sports toys, it's disappointing for kids and parents alike when the temperature starts to drop. The question of how to entertain your child becomes that bit harder when running around in the garden isn't an option.
Luckily, you don't need to let bad weather become a barrier to playtime. All it takes is a little creativity and a few specialised toys to transform your home into a haven for indoor play.
So, if you're searching for 2019's top indoor toys for kids, including the latest LEGO sets and character costumes, check out our favourite picks below. The best part? Your kids will be able to learn, laugh and play for hours – all without using a TV!
Why Is Indoor
Play Important?
The challenge of keeping your kids interested, safe and happy can often feel like juggling. It sometimes seems like a lot less work to simply let them sit on the sofa – especially when it's tipping it down outside! Even so, the importance of indoor play shouldn't be underestimated for children of all ages.
Play is an essential part of brain development, particularly for kids in their early years. Not only does it help nurture your child's social skills by encouraging them to build friendships, share ideas and express feelings, but it also boosts their motor and cognitive abilities as well. A win-win! Crucially, through experimenting and being imaginative, playtime also enables children to gain confidence – a skill that will serve them well as they mature and grow.
Whether your little one prefers playing make-believe with dolls, learning with PLAYMOBIL or getting stuck into arts and crafts, there are plenty of stimulating and enjoyable indoor toys to support their development.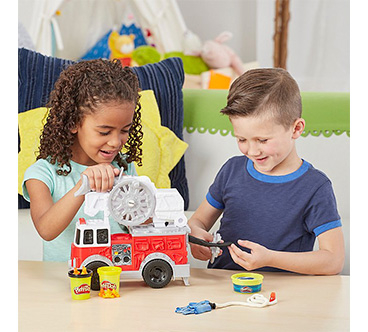 LEGO Sets Fof
All Ages
When it comes to finding an indoor toy that's going to keep your kids occupied without a fuss, LEGO is your best bet. Available in a whole host of different designs to suit both beginner builders and more advanced builders, there's no shortage of options to select on a rainy afternoon. In fact, the struggle is often which one to choose!
To help you strike the right balance and pick the perfect set for your child, we've highlighted some toys not to miss. Just remember to keep the small bricks out of reach of very young children.
The Most
Creative LEGO Set
The beauty of LEGO is that you can either follow the instructions or create something completely unique. It's not surprising that some of the most popular sets are the free-building packs that keep kids coming back to construct more and more creative builds. Not only will kids stay inspired, but you'll also get your money's worth.
Filled with 900 pieces and suitable for 4+ years, the LEGO Classic Creative Fun set is a great choice for open-ended play. From building forts and castles to fashioning animals and cars, the sky's the limit!
The Most Difficult
LEGO Set
Whether they're asking for another biscuit or trying to stay up past their bedtime, kids love a challenge. Thankfully, LEGO requires children to practise their problem-solving abilities.
For the next brick up in your child's LEGO journey, try the LEGO Technic Forest Machine.
Recommended for ages 10 to 16 and complete with intricate details, this set is a rewarding option for your child to crack.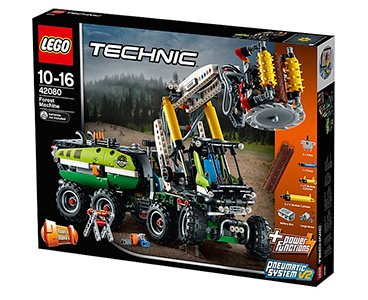 The Best
Film-Inspired
LEGO Set
Branded toys are a fantastic way to engage children who would otherwise be stuck in front of a screen. Letting their favourite characters come to life, they'll feel extra excited knowing they get to build adventures based on their beloved film and TV shows like Star Wars and Harry Potter.
Suitable for ages 9 to 14, the LEGO Harry Potter Hogwarts Great Hall is an enchanting choice for any budding wizard. Whether they re-enact scenes from the film or come up with their own quests, franchise-themed sets are a wonderful way to encourage them to get inventive.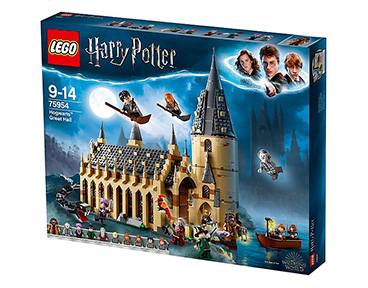 LEGO Sets For
Beginners
LEGO blocks are ideal for strengthening your child's fine motor skills. Even so, the tiny bricks can be tricky for little hands and also pose a choking hazard. We recommend starting toddlers and beginner builders with LEGO DUPLO instead.
With larger bricks, adorable animals to play with and a Savannah to explore, LEGO DUPLO World Animals is excellent for introducing your child to constructing.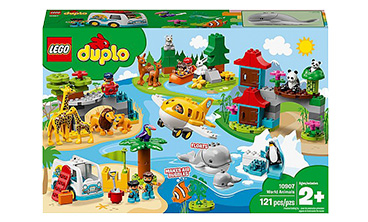 Imaginative Indoor
Play: Character
Clothing
Indoor play doesn't always have to involve sitting down with a particular toy or game. It can be just as stimulating for children to come up with their own storylines and adventures while wearing character costumes and fancy dress outfits.
Ideal for individual playtime as well as with friends and siblings, dressing up in costumes is brilliant for nurturing your child's imagination. From Disney Princess dresses and Batman costumes to Marvel fancy dress and DC Comics designs, your child can live out their dressing up dreams while getting creative.
Plus, with Halloween costumes to start considering, stocking up their dressing up box can only be a good thing!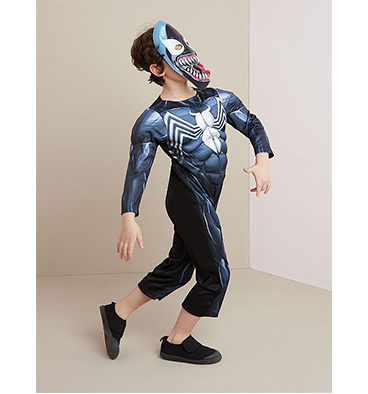 Perfect Picks
For Pretend Play
Having a few pretend play toys at the ready is another foolproof way to inspire your child's social and emotional growth. Helping them experiment with different roles, pretend play builds on many essential development areas including critical thinking and problem-solving skills.
For a timeless pick that will take you back to your own childhood, why not try a wooden kitchen set? Colourful and durable, this fun playset is sure to be a winner with mini master chefs and star bakers.