After a long and exciting summer packed with plenty of fun-filled activities (and sunshine!), you'll be just as excited as your little learner for their return to school.
Whether they're well into their studies or at the very beginning of their journey into education, our handy checklist is packed with all the essential kids' school uniform to see them through the academic year.
From boys' polo shirts to girls' trousers, we've pulled together a run-down of all the must-have kids' school clothes to prep your little learner for an exciting return back to school.
How Many School Shirts Does a Child Need?
A good rule of thumb is one school top for each day of the week. Starting their collection with around five school shirts is perfect for Monday-Friday action. Choose a mixture of short-sleeve polo tops and long-sleeve polo shirts so their little look matches the weather.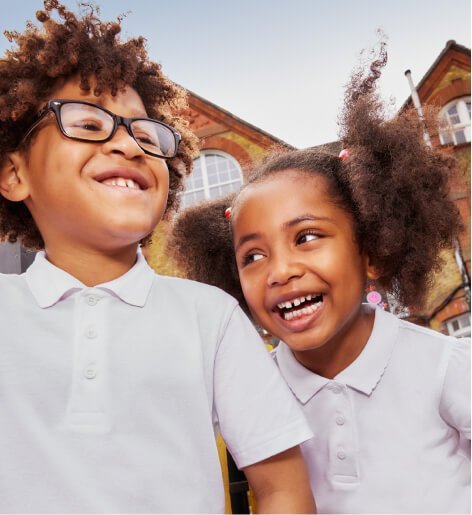 School Uniform Name Tags
Okay, so name tags might not be the first thing you think of when it comes to your child's uniform, but labelling your kids' school clothes will make them easy to identify and avoid any mix-ups at the end of the day…
You can find them in a variety of styles such as sew-in name tags, iron-on labels, stickers or for a neat hack just whip out the arts and craft box, grab a permanent marker and jot their name inside the existing clothes tag. Happy days!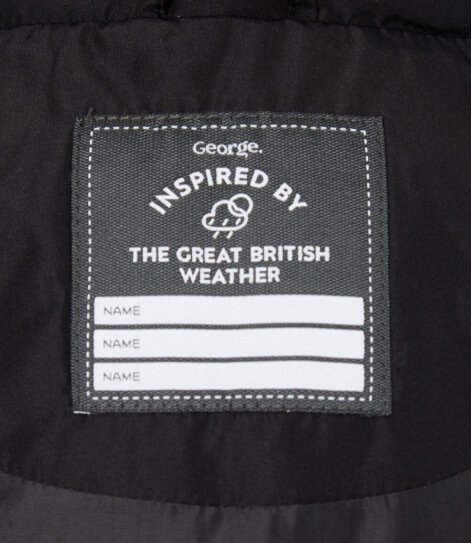 Staple School Shirts & Blouses
From science experiments to art lessons, your child is sure to put their school shirt to the test!
Don't worry – we've got you covered for all the activities with our boys' school polo shirts and girls' school polo shirts. Available in an array of colours, styles and fits to match their school colours, get prepped for whatever the day has in store for them… (washing powder at the ready!).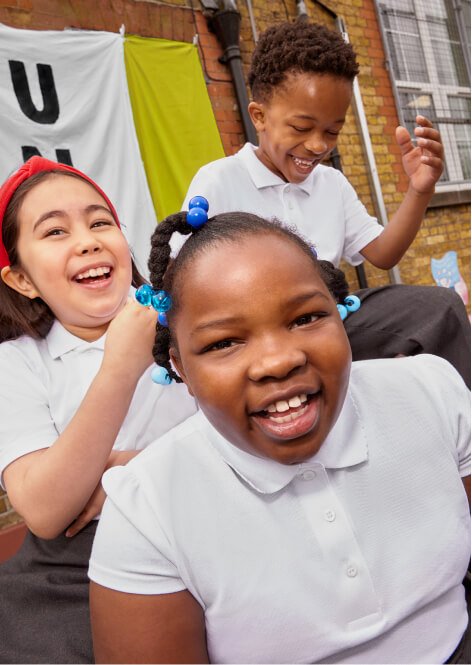 Smart School Jumpers & Cardigans
Before hitting the shops, be sure to double-check the school uniform policy for any specific requirements for your child's school sweatshirts.
When shopping for the new school term, you'll want about three school jumpers and a few school cardigans (depending on what your child finds most comfortable).
Check out our range of boys' school jumpers and girls' school cardigans for cosy school knitwear in great-value multipack sets and ALL the smartest shades.
Trusty School Trousers & Skirts
Our mini masterminds are forever growing – just like our selection of girls' school trousers and boys' school trousers, featuring elasticated waistbands with plenty of stretch.
Whatever their preferred fit, there's something for every star student with straight leg, slim leg and skinny fit school trousers in classic black and grey. We suggest stocking up on three pairs of trousers with a couple of school skirts on reservation for brighter weather or worn with tights all year round.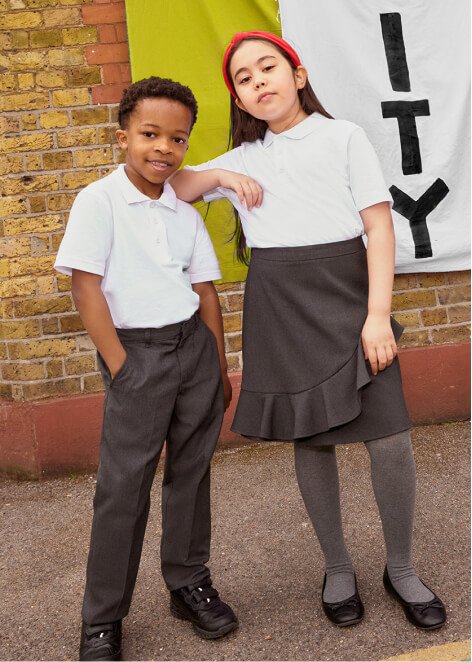 Made To Last School Shoes
Kids love learning and will have the world at their feet with sturdy school shoes from George. Black plimsolls and ballerina shoes are a sweet choice for girls' school shoes, and for boys' school shoes, put their best foot forward in twin strap or triple strap pairs.
Don't forget! Your little go-getter will need one smart set of shoes for everyday wear and a pair of comfy trainers for PE.
Get Prepped For PE
Children are always ready to burn off some energy, and PE is fab way to learn about the importance of teamwork while keeping active, too! There are SO many fun sports they'll get a chance to try – from joining the football league to shooting hoops at basketball.
Pack a t-shirt, pair of shorts or joggers, socks and trainers in their PE bag and a hoodie if it's chilly outside. Check out our girls' PE kits and boys' sportswear for our winning picks.
When it's time to make a splash during swimming lessons, kit them out with appropriate swimwear and a waterproof bag (just remember, no running on wet floors, please!).
Too Cool for School Bags
Set them off for their day with a trendy bag that's (almost) too cool for school! They'll be making love heart eyes at our star-studded collection of school bags, featuring all their favourite characters and super-fun designs.
Transport them to the Marvel universe with Spiderman and Avenger backpacks, or whizz them off to a magical kingdom with Disney Frozen-inspired rucksacks. Once they've found their dream design, pop in their lunchbox, water bottle and study materials and off they go!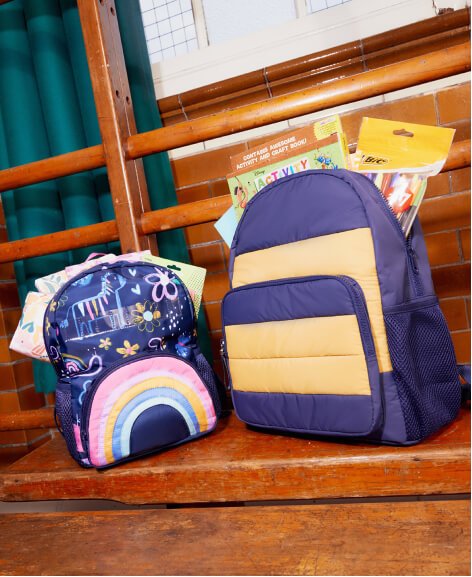 Weather-Friendly Coats & Jackets
No school kit is complete without the appropriate outerwear. For winter months and cold temperatures, wrap them up in snug school coats – we suggest choosing a hooded style to protect them from drizzly showers. Check out our girls' school coats and boys' school jackets for the latest looks. During the summer, they can ditch the raincoat and switch it up for a school blazer or a lighter jacket depending on their uniform policy.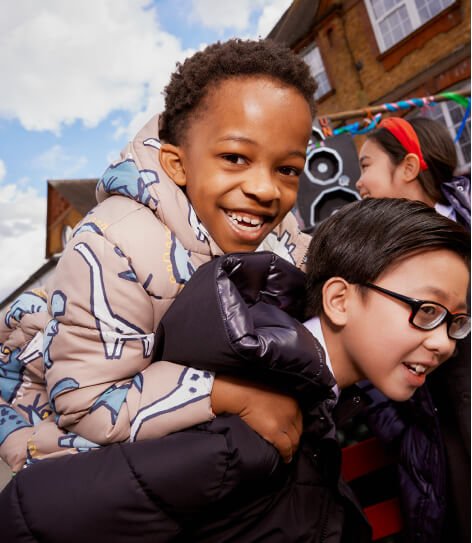 Essential Socks, Underwear & Tights
Socks, socks and more socks! They'll want a minimum of five pairs of school socks and can choose from a variety of styles to match their school clothes and their footwear.
Whether they're on the lookout for black socks, frilly socks, trainer liners or ankle socks – we just hope your new pairs don't get (mysteriously) eaten by the washing machine.
Our girls' school socks and boys' school socks are packed with fab value multipacks in a range of colours and are crafted from soft cotton – perfect for precious little feet. Whilst you're here, refresh their underwear collection or grab a few pairs of tights, too!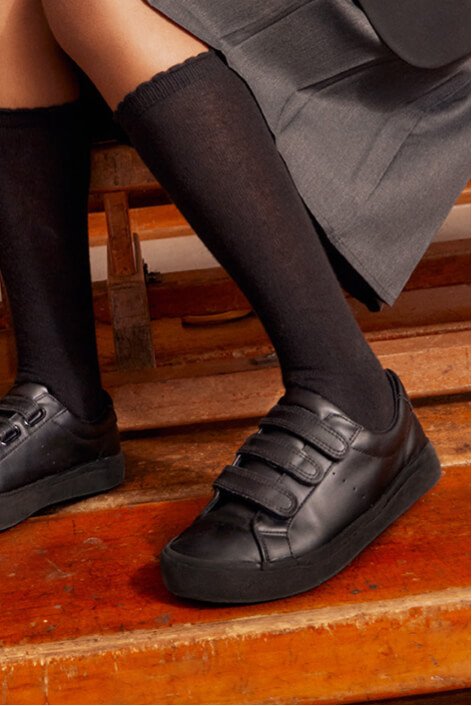 School Uniform for All
Here at George, we know that every child is different and so we're dedicated to making inclusive school uniform everybody will feel comfortable and confident wearing. Discover a range of different fit solutions, including longer length, plus fit and slim fit school uniforms.
We've specially designed our School Easy on Easy Wear to include kids' adaptive clothing, supporting independent dressing and sensory-sensitive needs. Tap into sensory clothing featuring soft threads, wider neck openings and easy fastenings.
Wherever the new term takes them, they'll be out of the door before you know it with our school uniform collection. We can't wait to find out what they've been up to on their way home…
Snapped the cutest back to school photo? We would love to see it! Tag @GeorgeAtAsda on Instagram or TikTok for a chance to be featured on our grid (we always ask permission before posting!).