31st December is swiftly approaching, and it's one of the biggest nights of the year. New Year's Eve celebrations are always lots of fun, whether you spend them at home or head out for the evening.
No matter the occasion, it's always tricky figuring out how to do that last-minute prep. But worry not; we're here to help you celebrate New Year's Eve 2022 with ease.
With so much going on during this sparkly season, it's easy to forget a few things you might need. We're here to guide you through with inspo on how to celebrate the big night!
How Can I Celebrate New Year's Eve Last Minute?
If you've been too busy over the holiday season, filling up on tasty treats and watching festive celebrations, NYE plans, might have slipped your mind.
There are plenty of ways you can ring in the New Year from the comfort of your own home that will keep your family and friends entertained before the countdown to midnight.
We've come up with a few last-minute New Year's Eve party ideas to make party prepping that little bit easier and our inspo is sure to be a hit with your guests!
Why not host a games night, cook up a fancy dinner, order a takeaway, or sit back and relax on the sofa and watch the fireworks? The options are endless.
Magical New Year's Eve Decorations
Nothing creates a party vibe quite like dazzling party decorations. Grab the arts & crafts box, your team of trusty volunteers, and make some handmade NYE decorations.
Got some coloured paper around the house that you'd like to put to good use? Well, a paper chain decoration is perfect for making the most of your crafts and doubles up as charming party décor.
If you're keen to put a sustainable spin on your decorations, grab any leftover wrapping paper, old magazines and recycled paper to create some quirky paper chains.
For traditional ways to brighten your home for party season, tap into our home accessories drop and take your NYE set up to the next level.
Once you've picked out a few statement pieces, grab your ribbons, garlands, confetti and balloons and get the celebrations started!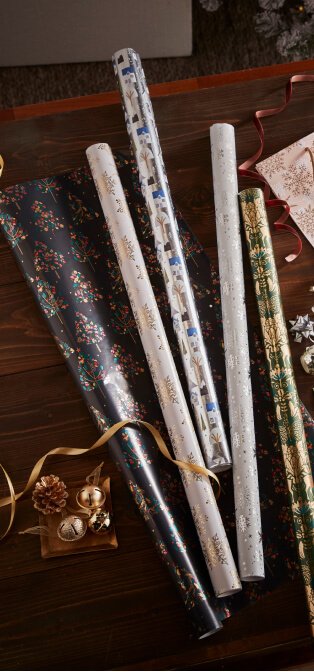 Ambient Lighting
Set the scene for your festivities with dreamy lighting and sweet-smelling candles.
Candles are party lighting that never goes out of style. Place them on tables, along the mantelpiece, or in decorative holders to add a warm and inviting glow to your party. They also have the added bonus of making your home smell wonderful, too!
Want to take the celebrations up a notch? Disco balls are a fun and nostalgic way to add some sparkle and shine to your party. Feeling extra? Dangle a light-reflecting disco ball from the ceiling to inspire a lively and energetic atmosphere. Here at George, we've got loads of cool decorative lighting to get you into the party mood…
Tasteful Tableware
Dress your table just as glam as you with a beautifully set table. Indulge in style and a welcoming space destined to impress your guests.
You've probably locked down a colour scheme for your party, so keep this in mind when adorning your table with a tablecloth or table runner.
Add a touch of decoration by placing a centrepiece on the table; it's a fab way to create a focal point and catch those envious eyes.
With plenty of food and drinks on the menu, it's the perfect opportunity to show off your best tableware. And we've got plenty of chic and sophisticated designs across our collection. Look out for traditional styles with dashes of colour and intricate design work.
Lay out your crockery and place a napkin to the left of the plate and complete with glitzy glassware. Ta-dah – dinner is ready to be served!
Dress For The Occasion
Dressing up for New Year's Eve is a fab chance to celebrate the end of one year and the start of a new one.
First things first, consider the theme or dress code of the party. Heading to a fancy dress event? We've got you covered with our adults' fancy dress costumes.
If your NYE plans involve chilling on the sofa, (no judgement here), then why not scroll our women's loungewear and men's loungewear for fits you'll be proud to open the door in (did someone say pizza?).
And if you're ringing in the new year in style by dressing up to the nines, then we've got plenty of vibrant pieces across our women's partywear drop and loads of dapper men's formal shirts with your name on 'em.
Choose an outfit in your favourite colour and feel like the very best version of Y-O-U! Dreamy NYE colours include shimmery gold, silver and classic black – oh-so-fancy!
And by all means, remember to accessorise! New Year's Eve is an excellent opportunity to wear statement pieces like sparkly jewellery and accessories or show off your fanciest bag.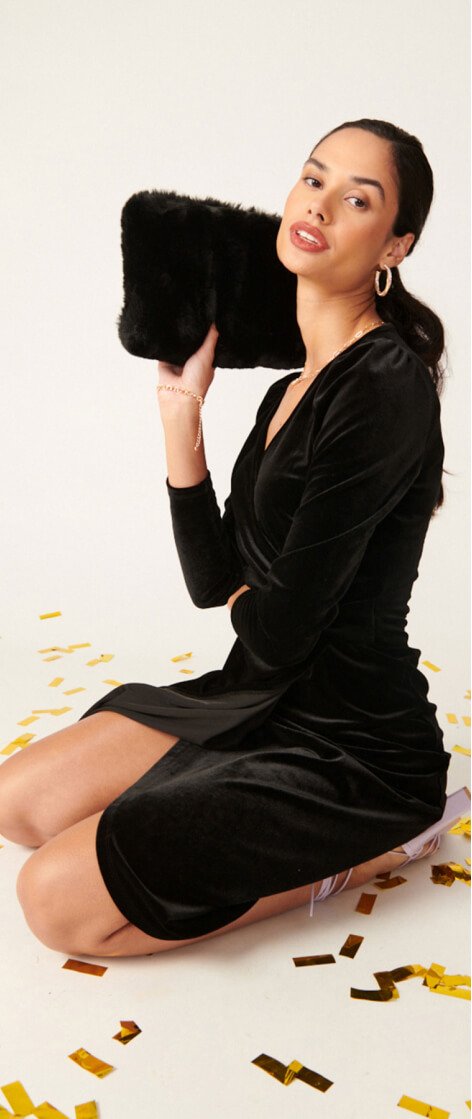 Play NYE Games
Start the celebrations with exciting New Year's Eve party games. Whipping out some games is a great way to bring everyone together. If your guest list is a mixed bunch, games are a fab way to break the ice and to spark conversation (and loads of giggles!).
Go for classic board games, such as Monopoly, Trivial Pursuit and Articulate, which are perfect for all the family, or encourage attendees to show off their flexibility in a game of Twister!
No NYE celebrations are complete without a party playlist, so grab your speakers and blast your fave tracks all evening long.
For more light-hearted entertainment, why not pop on the games console and have a boogie with Just Dance or challenge the gang to a race on Mario Kart? It's also a fab way to keep mini gamers as good as gold!
Host A Movie Marathon
Enjoy the NYE celebrations from the comfort of your sofa and have a cosy movie night. Although it sounds pretty simple, choosing a movie is one of the biggest challenges of hosting a moving night!
Take your pick of new release, an old classic or a family favourite and start streaming on the big screen.
Create a snug set-up and kit out your pad with plush blankets, fluffy throws, cosy cushions, and dreamy décor.
Keep your guests happy with tasty snacks and drinks (plenty of popcorn, of course!), and make the evening more magical by popping on some comfy PJs. Check out our matching family clothing drop for the sweetest looks!