From pram strolls in the park to running around in the woods, it's great to get your little one outside enjoying nature. While this can mean muddy boots and a very tired child at the end of the day, enthusiasm for fresh air and nature should definitely be encouraged and there's nothing better than bringing the whole family together to explore the great outdoors.
If you're worried about your little one staying warm while you're both out walking and having fun, Life & Style have picked out some key outdoor pieces, including clothing for baby boys and baby girls such as coats and wellies, to help them stay snug.
COSY COATS
If you're looking to take your little one on a trip outside, but they're too young to walk around by themselves, we have plenty of winter-worthy baby clothes to keep out the cold while they're sat in their pushchair. Our pramsuits are fleece lined for extra warmth and come in a range of different colours and styles for baby boys and baby girls. For a unisex pick, our white cloud pramsuit features a hood to keep their ears protected from the chill.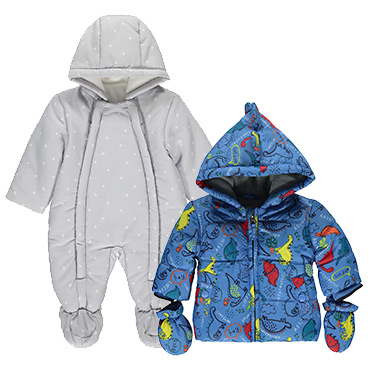 Our padded coats are brilliant for toddlers who are able to run around exploring nature. With faux fur body lining and a front zip, these coats will help them keep cosy on their adventures. Whether you prefer floral, star or dinosaur designs, all of our padded coats come with matching mittens to protect their hands during those extra crisp walks.
WET-WEATHER
WELLIES
Letting your child experiment with jumping into puddles can be a great outdoor activity – but only if they're properly dressed for it! For shoes that will offer protection as they splash about, you can't go wrong with a pair of wellies. Able to withstand rain, leaves and mud, they're just the footwear for curious little ones exploring nature.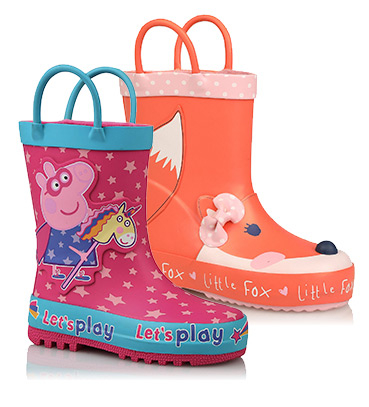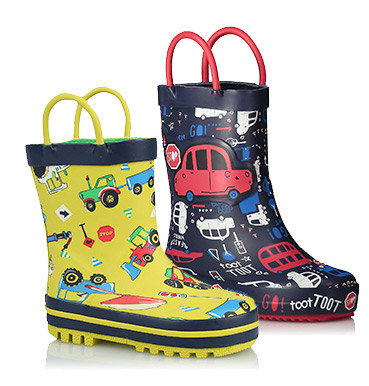 Our First Walkers wellington boots are a durable and pocket-friendly choice, coming with handles to help your little one pull them on themselves. For baby girls' shoes, why not try our pink Peppa Pig Wellingtons? Thanks to the gripped and flexible soles, they're the perfect outdoor footwear for new walkers navigating slippery surfaces, mud and wet playgrounds.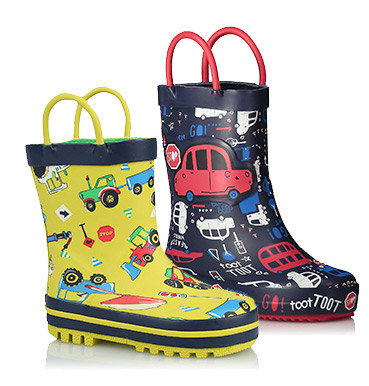 BLANKETS FOR
WARMTH
Battling against the elements can be tiring for babies and it doesn't take long for them to cool down if they're sat still. Keep one of our baby blankets close at hand to help them stay snug in their pushchair as the temperature drops. From chevron designs to knitted styles, tuck them up with one of our super-soft baby blankets and rest assured that they'll be protected from any cold chills as you embark on your journey home.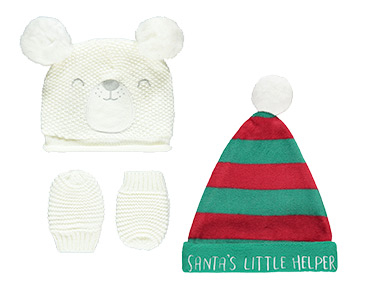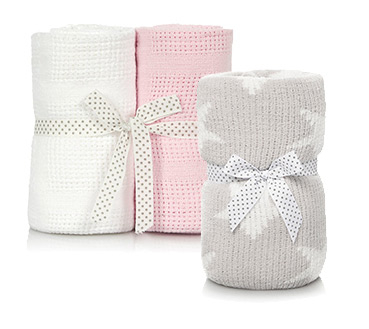 For an extra protective layer, why not try our unisex knit bear hat and mittens set? Featuring a cute stitched bear design and soft cotton lining, these warm accessories will prevent your little one's hands and head from getting cold.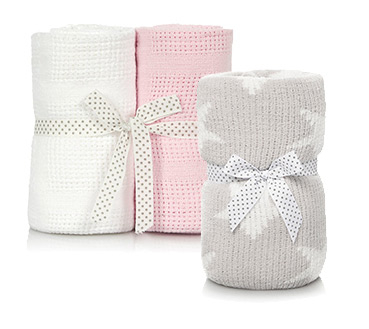 Exploring nature with your little one has never been easier with these outdoor baby essentials. To keep your child knitted out for the winter months, explore our seasonal collections for babies and kids.