With summer well underway (yay!), there's no time like now to make the most of your outdoor space.
Soaking up the sunshine and spending time with family and friends from the comfort of your garden is THE best way to enjoy the sunny season.
Our guide has plenty of inspo on all the trending outdoor furniture, accessories and ornaments to give your outdoor space a garden glow-up!
Prettify Your Garden
Here at George, we believe every garden can be picture-perfect. The first step? Having a quick blitz and removing any obvious litter, worn-down furniture and old toys.
Once your space is clutter-free, investing in timeless garden furniture and keeping them in tip-top condition with handy garden furniture covers, will bring a modern feel to your outdoor haven.
Beautiful hanging plants, tasteful garden accessories and twinkly outdoor lighting are all perfect ways to add some pizazz to those all-important final touches!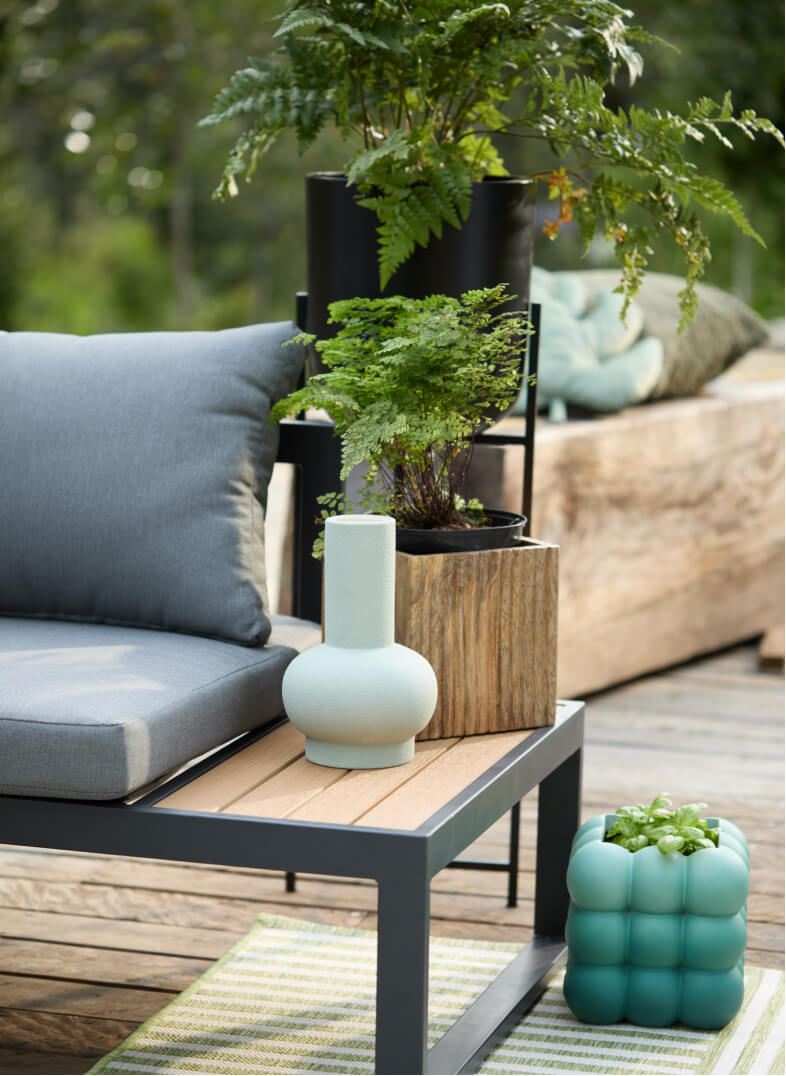 Pick Out The Perfect Patio Set
Whether you're hosting a daytime get together or an evening do, your first port of call should be kitting out your space with a new patio set. Bring your garden to life with our contemporary collection and secure a seat for every member of the family with our comfy four-seater and six-seater patio dining sets.
On those wonderfully bright days, protect yourself from sunny rays with a nifty gazebo or parasol. Once you've popped it up, enjoy squint-free smiles!
For more stylish outdoor inspo, explore our metal garden furniture and rattan-effect garden furniture collections.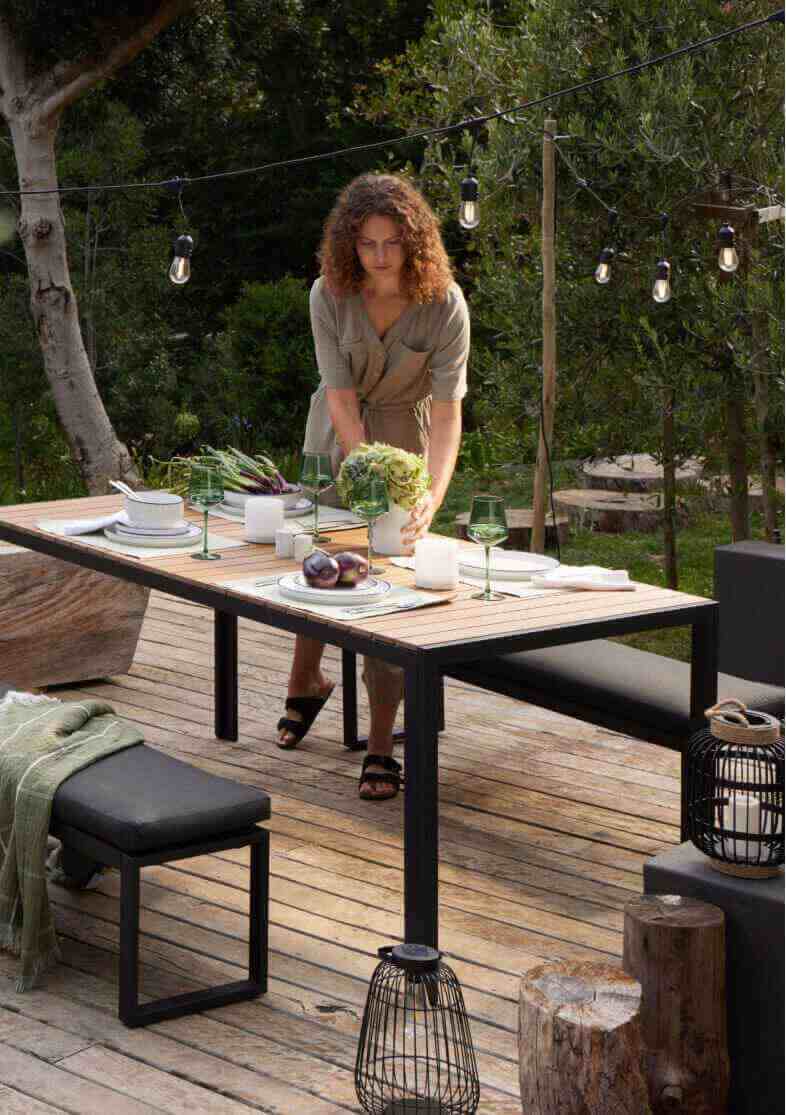 Hit The Tiki Bar
Transport your guests to an exotic location by welcoming the fun addition of a tiki bar into your garden! With earthy textures, this quirky piece of kit is a sure-fire way to impress your guests, and THE backdrop for summertime selfies (remember to tag us @GeorgeAtAsda on Instagram and TikTok for a chance to be featured on our grid).
Keep the tropical feels flowing by stocking up on your best outdoor glassware, and get ready to serve all your fave cocktails, mocktails and more! We're loving anything coconut-flavoured – major yum.
For themed parties and festival fun, grab some colourful lighting, decorations and streamers, and a coconut or two (if we're invited!).
Set The Vibe With Outdoor Lighting
Bring them party feels to your garden with atmospheric garden lighting – our latest collection is a total mood. Scatter string lights, drape net lights, and dress foliage with rope lights to inspire a space with some serious sparkle.
Up your eco-conscious credits and discover all your fave decorative garden lighting in solar-powered options. To illuminate your garden path in enchanting style, scroll everything from twinkling candle lights to stake lights.
Transforming your garden to a glitzy hangout, our lighting hints and tricks are destined to bring feel-good vibes all evening long.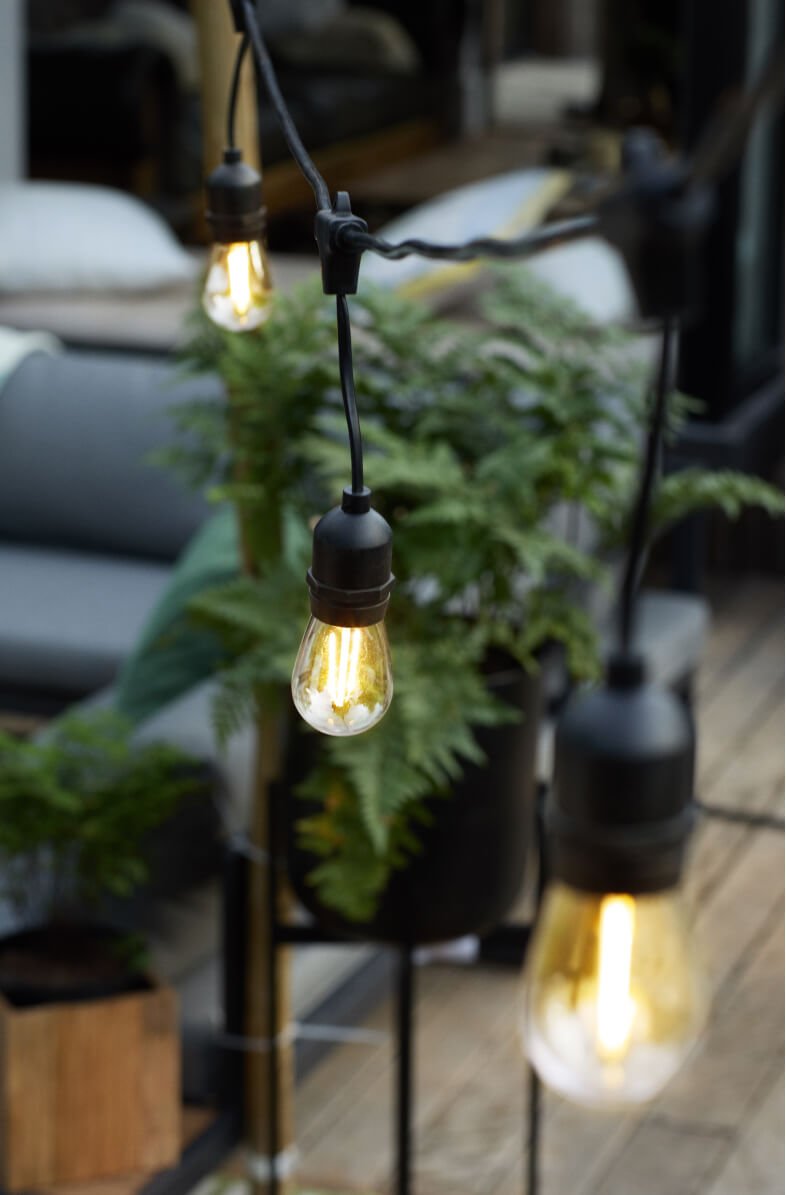 Set Off For The Seaside
Nothing says summer quite like sandy beaches and the sea. Whilst you might not be lucky enough to have a beach in your back garden, you can bring the feels home by giving your garden a staycation style-up.
Sandpits can be enjoyed by little ones and grown-ups alike – who doesn't love the feeling of sand between your toes!
Channel beach vibes for nautical-themed summer parties, keep the kids busy, and get building some sandcastles – prizes for whoever makes the fortress that stays up all day!
Next on the list, but by no means least – a pool. A pool party is always a winner and the ultimate retreat to cool off during peak sunshine hours (and after tons of fun!). If you prefer a little more luxury (you totally deserve it), scroll through our hot tubs.
Al Fresco Dining Done Right
When it comes to outdoor parties, BBQs are always top of the agenda!
Treat your guests to ultimate comfort with plush garden sofas and dining sets. Be sure to lay out all your delicious grilled grub on our enviable summer tableware.
As the old saying goes – the more, the merrier and when you're feeding a few more heads than usual, stock up on a few garden chairs that you can pop in the shed during winter months (and when the celebrations head indoors!).
For a more laid-back atmosphere, guests can chill out on snug outdoor cushions and rugs, stylishly placed on garden decking.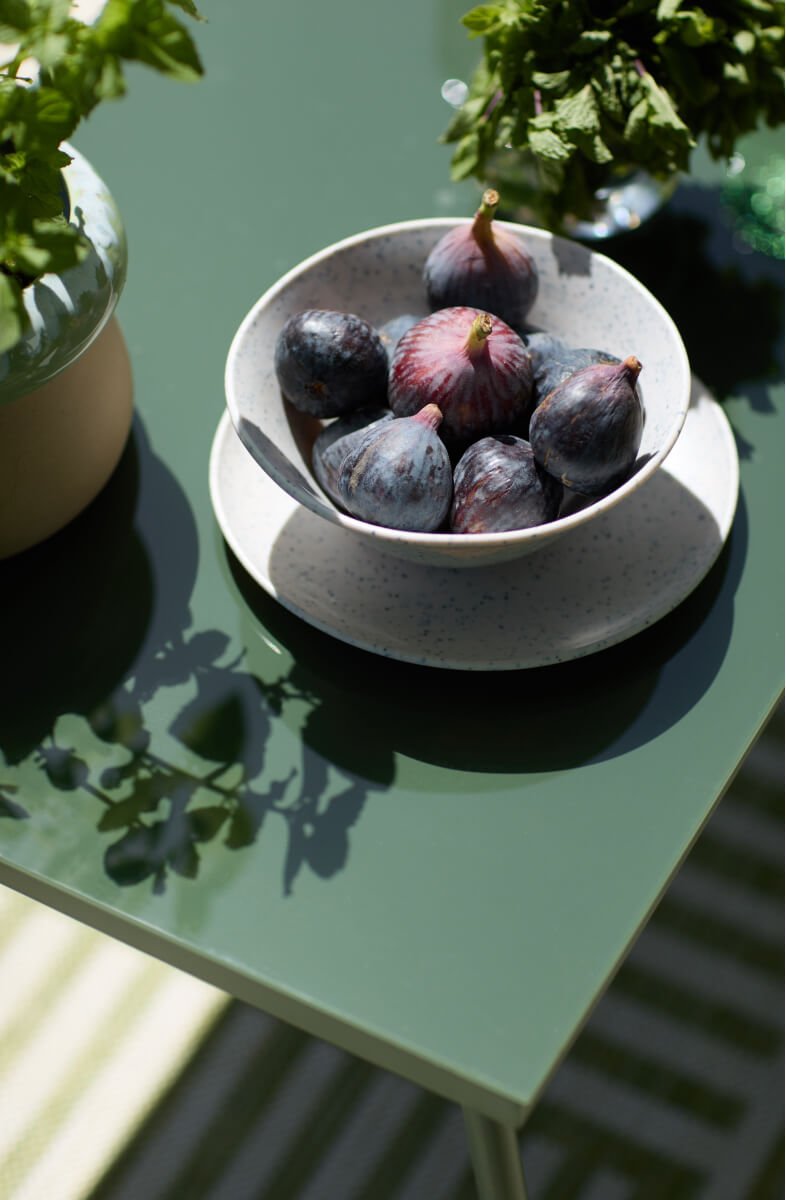 Keep The Kids Entertained
Kids will love a space of their own and our shiny and new collection of kids' garden furniture, means little explorers can host everything from tea parties to table game tournaments in their own cool spot.
Your mini bestie won't be able to get enough of our dazzling outdoor Disney drop, with picnicware decorated with all their fave characters.
Bring some adventure to your backyard, and watch as kids swing and slide into action on our fun-packed outdoor toys.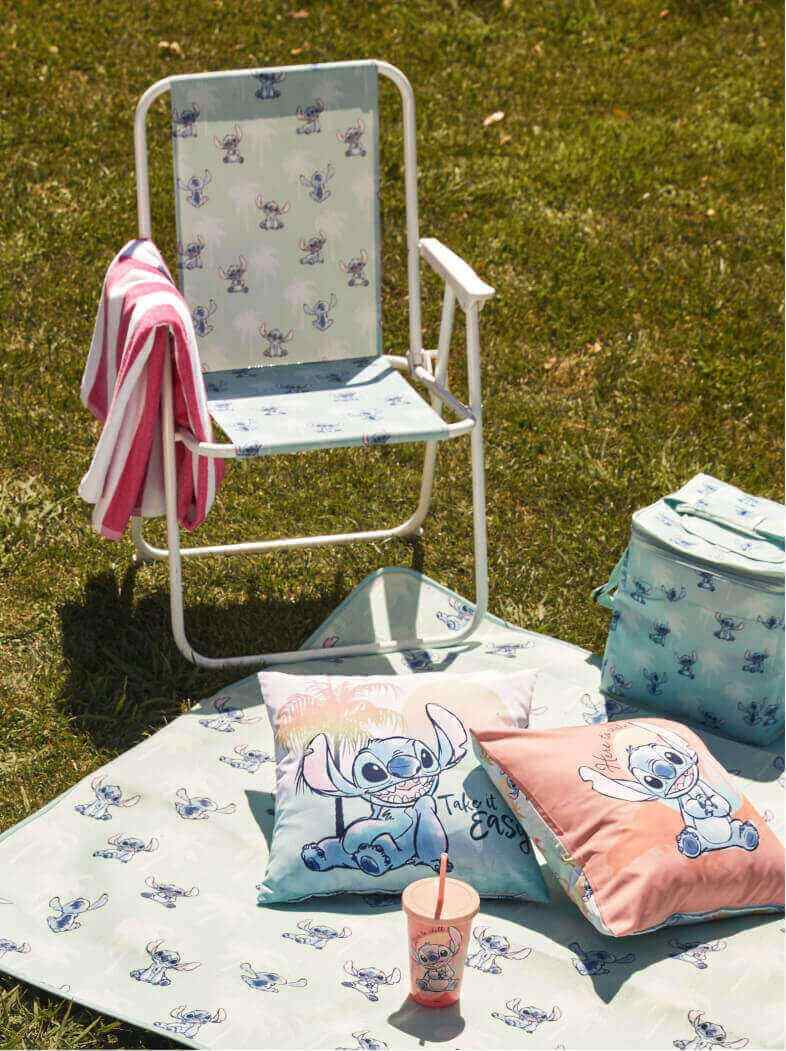 Gather Round The Fire Pit
For summer soirées that will create memories to last a lifetime, investing in a fire pit is a fab way to welcome a warm glow in your garden.
Creating an inviting and wholesome space to relax and catch up with friends, stay warm on summer evenings while you reminisce (or plan your next social!). Up your cosy game with the addition of blankets and throws, perfect for curling up under the stars – dreamy!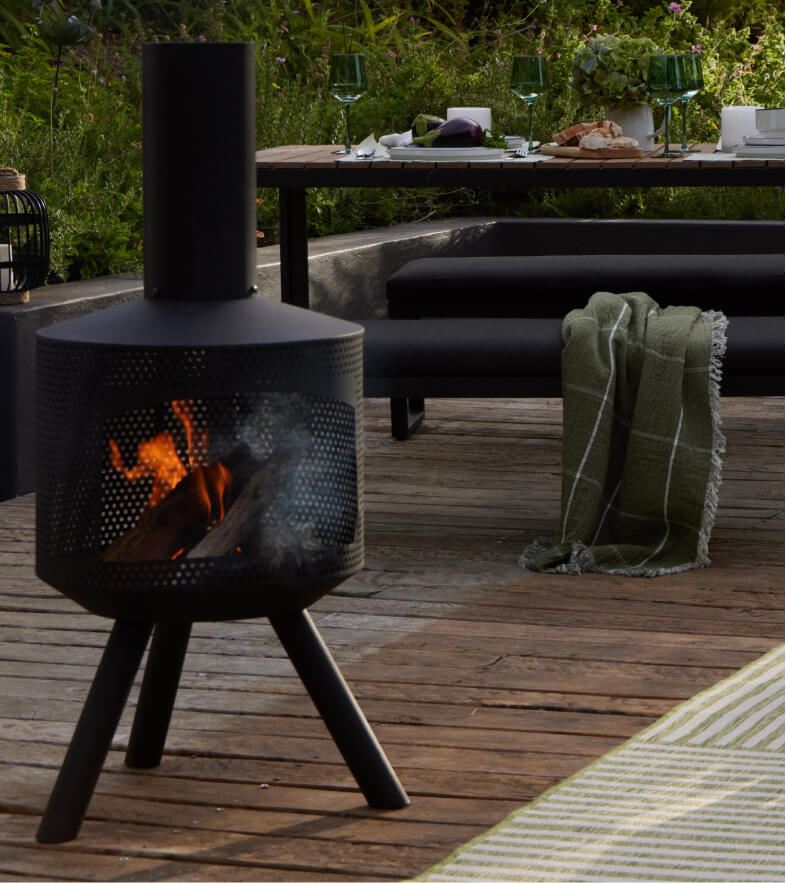 Love To Sun Lounge
For day parties or the day after, relaxing in the sunshine is a breeze with our sun loungers. Indulge in a carefree summer from the comfort of your back garden with must-have deck chairs, dreamy Disney designs and two-piece sets.
From taking a mid-boogie sit-down to sunbathing and siestas, garden loungers are what dreams are made of – and we've got plenty of new styles to liven up your outdoor space.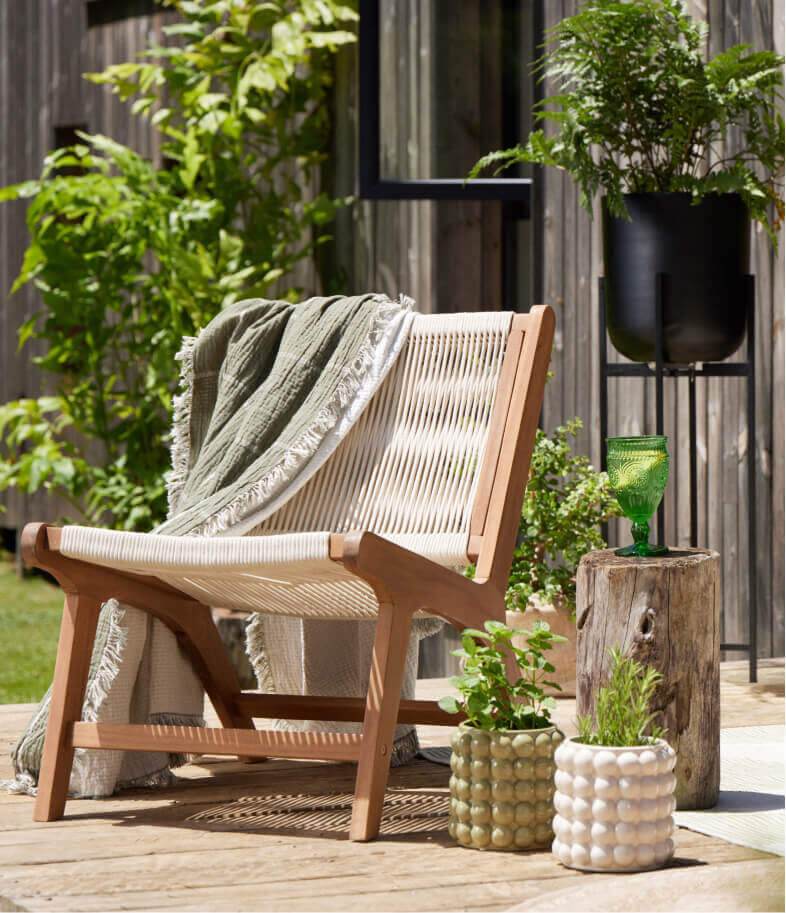 Grow Your Garden
Elevate your garden party with home-grown plants and a well-kept garden. Transform your outdoor space into a captivating backdrop for unforgettable gatherings with our lawn care and gardening tools. Create a lush green haven by taking care of your space with our handy tool sets, compost, lawn feed and after-care solution. Whether you're just getting started or are naturally green-fingered, check out our plant pots and planters to get your garden growing and glowing.