Bored of making the same meals? Want to try something new, but not sure how? Now's the time to kick your cooking up a gear with our pick of the best appliances to help you get creative in the kitchen.
SCRUMPTIOUS
SLOW COOKERS
Experimenting in the kitchen might bring to mind scenes of messy counters and plenty of dirty pots and pans. Luckily, this doesn't have to be the case. In fact, you can bring a little creativity to your cooking with half the hassle (and mess!) by using a slow cooker.
Helping you to cook up a storm without spending hours trying tricky recipes, a slow cooker is a cost-effective way of creating healthy meals for the whole family. From tender meat curries to hearty stews and soups, batch cooking will have never seemed so easy.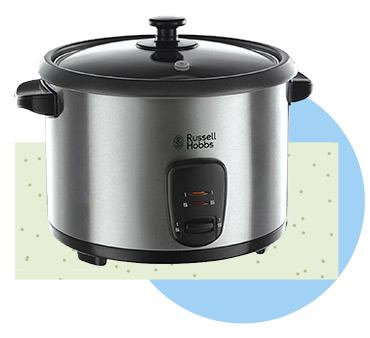 To reduce waste, why not freeze some of your slow cooked creations in our food storage containers? Packing away delicious dinners that can be brought out on busy evenings will be a breeze with our Pyrex storage sets.
CONVENIENT
COFFEE MACHINES
When it comes to cooking and finding new recipes, it can be nice to sip a warm drink to encourage your creative side. If you're tired of the same old instant coffees, why not mix things up with a coffee machine?
Whether you prefer lounging with a latte, crafting cappuccinos or making the world's very best espresso, a coffee machine will help you embrace your inner barista with minimum fuss.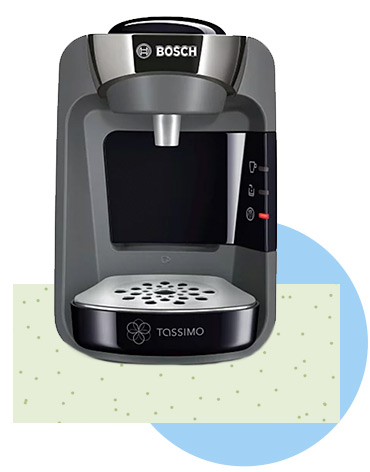 For a pick that'll add some sophistication to your kitchen counters, give one of our Tassimo coffee machines a try. With their sleek designs and super-speedy brews, relaxing with a beverage will become your favourite post-cooking pastime.
LET THE BAKE
OFF BEGIN
What's a great coffee without a slice of something sweet to go with it? While the Great British Bake Off might have been and gone, that doesn't mean you can't practice making muffins, meringues and mousses for the whole family to enjoy on your days off.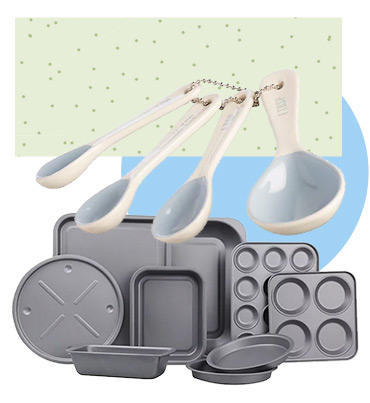 To share the fun and get your little ones involved too, why not try your very own bake off with our non-stick baking ranges? If you're in need of extra space to keep your ingredients, our mini fridges are just the thing. Compact and fashionable, you'll have no trouble storing essentials with our fridge models.
BON
APPÉTIT
Every cook knows that half the fun of making something new is serving it to friends and family. To add a tasteful touch to your delicious creations, why not dish them up in stylish tableware?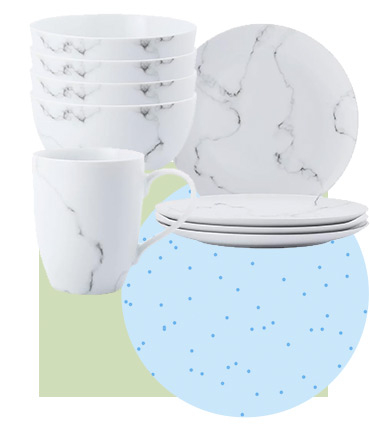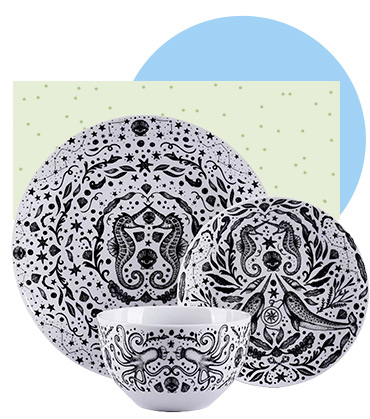 Whether you're feeding the kids after school or treating your partner to a special date night meal, we have tableware for every occasion. From marble-effect designs and geometric styles to pretty patterns, simply use our selection to take your dinners to the next level.
Give your bedroom a refreshing update for spring with our Offline, Copper and Unicorn home collections. Featuring plenty of dreamy designs, including super-soft bedding and beautiful ornaments, there's lots to love in our trendy ranges.