Fuss-free and fashionable, rustic home décor is one of our favourite interior trends for 2021. With its informal vibe, subdued colour scheme and comfortable soft furnishings, rustic home décor offers modern living at its very best.
From picking the perfect bedding to transforming your space with warming rugs and cushions, discover how to give your home a rustic update with our guide.
What Is Rustic Home Décor?
Rustic home décor is all about creating a cosy aesthetic with harmonising hues, inviting soft furnishings and natural materials. Think burnt orange curtains and warm-toned lighting in living rooms and textured duvet covers in bedrooms. Scroll down to find out the trend's top three features.
Down-To-Earth Colour Palettes
Bring a touch of the outdoors inside with a rustic colour scheme in muted shades of ochre, moss green, brick red and warm cream. Giving your space a breath of fresh air for the new season, this down-to-earth colour palette will completely transform your home for 2021.
Rustic Textures
Rustic décor is famous for its comfy, cosy and homely atmosphere. From knitted throws and tufted cushions to brushed cotton duvet covers, this tactile trend uses textured furnishings to create a space that's ideal for relaxing.
Cuddle up with a waffle knit throw for lazy afternoons on the sofa. You can also bring warmth and interest to hardwood floors with a woven rug in natural tones.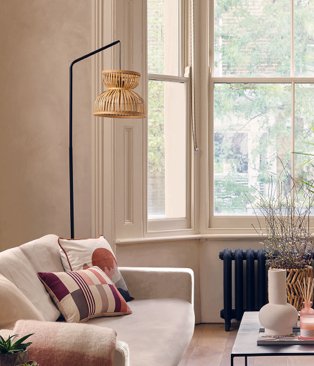 Welcoming Lighting
One of the most distinctive features of rustic décor is its warm and welcoming glow. Thankfully, all you need is a mixture of table and floor lamps to give your space a soft and inviting ambience.
To master the look, opt for rattan or wooden tripod lamps to create some rustic radiance in living areas and bedrooms.
How To Add Rustic Décor
To Your Home
Whether you're updating your bedroom, your living room or your workstation, adding rustic décor to your space is easy with our guide.
1. Create A Cosy Bedroom
With the night's still cold and dark, creating a cosy bedroom is a top priority. Fortunately, rustic décor is the ultimate way to give your sleeping set-up the snug-factor.
Refresh your bedding with textured duvet covers in brushed cotton or tufted designs. A knitted throw in earthy tones will make the perfect finishing touch. With bedding this inviting, breakfast in bed and duvet days will have never been so tempting.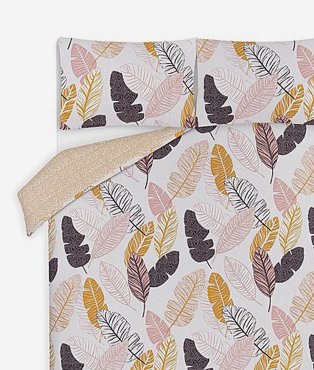 2. Maximise Comfort In Living Rooms
Whether you're kicking back in front of the TV, cuddling up for a family film or catching up on your latest book, every home needs a comfortable corner to unwind. This is where rustic décor comes into play.
Take your pick between textured cushions, super-soft throws and scented candles to create a comfy spot that's tailored just for you. A few warm-toned table lamps are all you need to tie together the look. Oh, and a mug of hot chocolate!
3. Stick To Neutrals
Adding timeless elegance to your space, wooden furniture and neutral home accessories are the ideal accompaniments to the earthy reds, oranges and browns of rustic décor.
To bring depth to living rooms and bedrooms, accessorise coffee tables and bookcases with wooden ornaments. You can also elevate your space with textured macramé wall hangings for a stylish accessory with a neutral twist.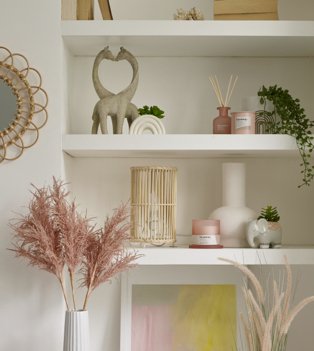 4. Refresh Your Home Office
Dreaming of a workstation that's fashionable as well as functional? Transform your home office for 2021 with wooden photo frames and textured cushions in subdued shades of cream, rust-brown and moss green.
We can't promise that new office décor will have you racing to your desk (or kitchen table!), but it might just brighten up those Monday morning meetings.
5. Add Decorative Details
It's the little extras that can make or break your home décor. To take the rustic trend to the next level, draw inspiration from nature with artificial plants.
From palm trees and cheese plants to hanging eucalyptus plants, botanical flourishes pair perfectly with the earthy tones of the trend.