Summer is here, and with just a few months left of the school term it's important to keep kids cool and comfortable with the right school uniform. Here at George, we've got plenty of school uniform options – totally perfect for the warmer weather.
Scroll through our blog for our top kids' uniform picks for brighter weather. Polo shirts, school skirts, school shorts, gingham dresses – we've covered all bases!
Summer-Ready School Uniform
When it comes to summer school uniform, it's important to choose breathable fabrics that will keep kids cool. Cotton and polyester blends are the perfect choice as they are equally lightweight and comfortable.
Top tip: if your child's school uniform allows, avoid darker colours that absorb the heat and reach for lighter shades that reflect the sunshine.
Preppy Polo Shirts
Polo shirts are a summer school uniform staple. Lightweight, comfortable, and made for warmer weather, choose short-sleeve designs to keep little learners cool during warmer climes.
We've got plenty of fits and colour options across our boys' polo shirts and girls' polo shirts ranges to keep them covered from Monday to Friday.
P.S. Look out for Easy On Easy Wear pieces that feature sensory-kind soft threads at seams for extra comfort.
Smart School Skirts
Keeping kids feeling breezy and free, school skirts are the ultimate choice when the sun makes an appearance. They're ideal for keeping children cool and comfortable throughout the busy school day.
Be sure to choose skirts made from lightweight materials like kind cotton or a polyester blend. We've got plenty of smart designs, including pleated looks, skater skirts and pencil skirts – perfect for any little fashionista!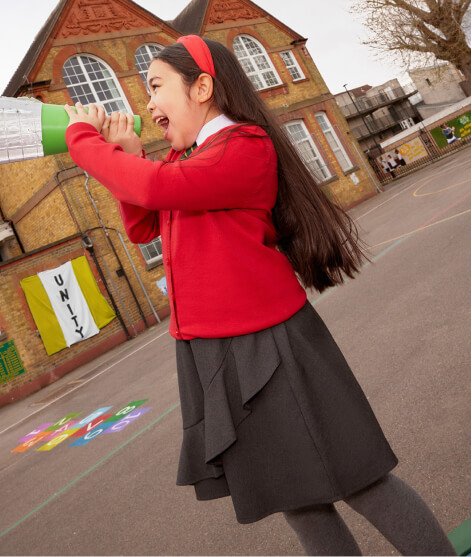 Savvy School Shorts
When the sun comes out to play, there's no doubt the kids will want to do the same! School shorts are a great option for the summer months. Made for every eventuality, they're perfect for everything from walks to school to lunchtime fun with their pals.
Cargo shorts, slim leg designs and adjustable-waisted pieces, we've got plenty of choices across our school shorts collection. Stock up for summer with our easy-wear pairs and give your little explorer room to grow.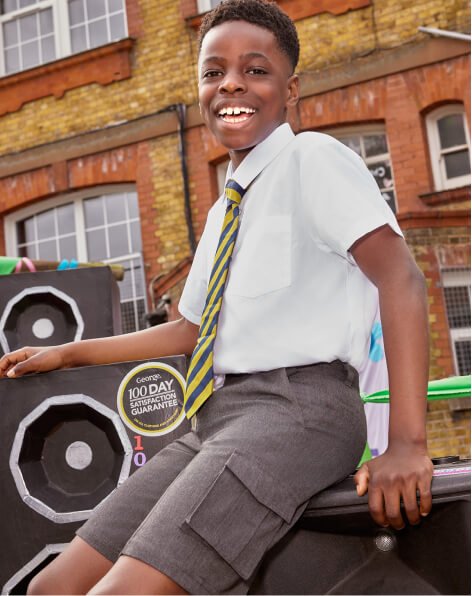 Sweet Gingham Dresses
Gingham dresses are a timeless addition to any school uniform collection and made for summer!
Our range of gingham school dresses is sweet, stylish, and super-durable, too! Crafted from easy-wear materials, our dresses are totally perfect for everyday wear whilst standing up to the demands of an active school schedule.
Available in a range of sizes and styles (and colours!) – blue, green, yellow, red and more… you're sure to find the perfect fit for your mini mastermind.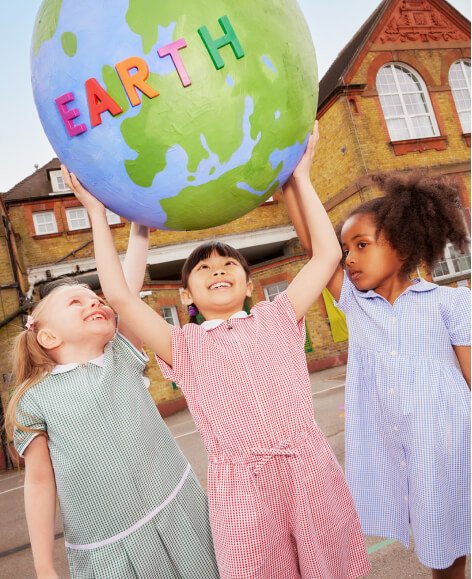 Summer School Shoes
Step up their shoe game and encourage your little one to conquer everything one step at a time with our girls' school shoes and boys' school shoes. Ballet shoes, plimsolls and trainers are all super choices for a summer school shoe.
Don't forget, your child will need one pair of smart shoes for everyday wear and a comfy pair of trainers for PE class. And… here at George, our shoe collection will make sure their little feet are ready to take on anything!
Practical PE Kit
From scoring goals at football matches to shooting hoops at basketball, your little champ will have a blast trying out new sports and staying active. Thankfully we've got the coolest kit for their PE bag.
With summer lessons taking place outside, we recommend t-shirts, shorts, trainers, and a water bottle to keep your child hydrated on the go. Scroll through our girls' PE kits and boys' sportswear for all the essentials.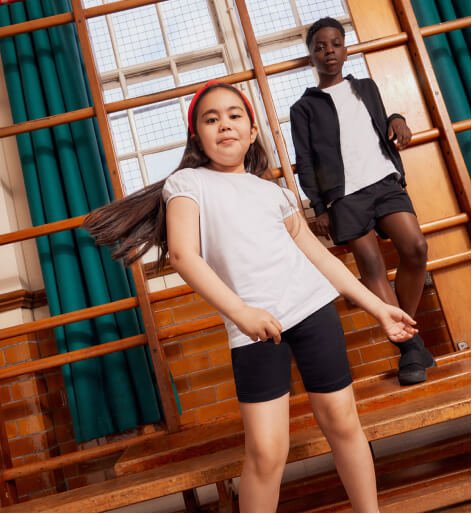 Inclusive School Uniform
Here at George, we know that every child is unique, and that's why we offer a range of different fit solutions to ensure children feel comfortable and confident. From longer-length designs to plus fit and slim fit options, we've got something to suit your child's needs.
…And a little reminder about our kids' adaptive clothing! Our School Easy on Easy Wear collection is specially designed to support independent dressing and sensory-sensitive needs. Our range features soft fabrics, wider neck openings, and easy-to-use fastenings for ultimate comfort and convenience.