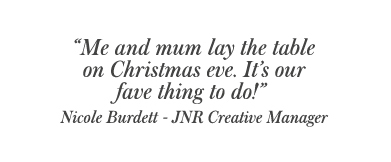 There are two types of people when it comes to Christmas lunch or dinner. The ones who just get involved in the eating and the other who loves to lay the table and serve up Christmas dinner in style. And we all have different ways of doing the latter, whether it's bringing out the best cutlery and plates or just by adding some carefully placed crackers.
First time hosting dinner, or just looking for a change? We've got some great inspiration for you.
When it comes to setting your table the world is pretty much your oyster. However, there are some things to keep in mind. Simple and complimentary colours usually work better than throwing every festive trend you can onto the table. Stick to two key colours and then add a few more – if you like – with coloured glasses, napkin rings and placemats.

Planning to use your everyday plates? Add some Christmas cheer with some gold placemats or simply add a few carefully placed candles to really bring Christmas day to your table. Looking to go the extra mile? Fruit bowls filled with coordinating coloured Christmas baubles give a special decorative take for your Christmas table. Now all that's needed is the turkey – and don't forget the bread sauce!