While the kids are on summer holidays they can enjoy their freedom, while parents' minds turn towards the unenviable task of sourcing new school uniform for the upcoming school year. Which means you'll need to audit their clothes to see which ones still fit or are in acceptable condition for the new term.
Avoid the stress of the last minute back to school shopping rush by sorting out your child's uniform early in the summer holidays. There's nothing worse than spending all day queuing on the Saturday before the new school year starts. This Life and Style guide will help you decide how to shop for the coming 2018/19 school year.
Basic School Uniform Shopping Tips
Let's begin with some general tips which are applicable to most situations that you will encounter on your annual uniform shopping expedition:
Ensure that the clothes are comfortable and easy to get on or off.

Practice changing a couple of times and ask your child for their opinion, they'll be the ones wearing the clothes after all.

Get detailed measurements from your children before shopping, having accurate measurements will save time. More details can be found on our helpful size guide.
Sometimes buying clothes in a slightly larger size can future-proof your shopping.
The most basic items you'll likely need are shirts, smart shoes, dresses, skirts and trousers.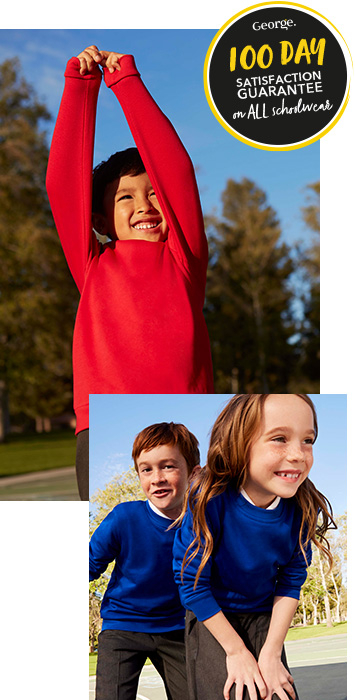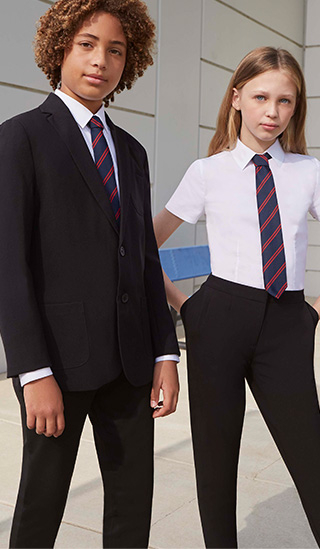 How to Buy
School Shirts
Broadly-speaking, the uniform code for the school year is roughly divided in to two; the first two terms are typically the coldest times of the year, making long sleeves and trousers a necessity. The third term typically begins in April and is likely to be tolerant to short sleeves and shorts or skirts. Of course, different schools have different polices, so your mileage may vary.
Savvy shoppers will keep seasonal school uniform practicalities in mind and invest in summer and winter gear, maximising preparations for the coming year. With the right forethought and planning in the warmer months you can make sure your child can decide whether it's a dress or shorts kind of day when they wake up.
Be sure to browse George's full range of polo shirts and school shirts, to keep yourself prepared for either scenario.
How to Buy
School Dresses
When it comes to school uniform for girls, there's plenty of choices to consider, do they want a dress, skirt or trousers? In some cases it might be safer to even purchase all three options for additional levels of preparation.
Browse George's range of gingham dresses in various colours for a vibrant option in warmer weather; while our pinafore dresses are made from durable material to see her through the whole school year.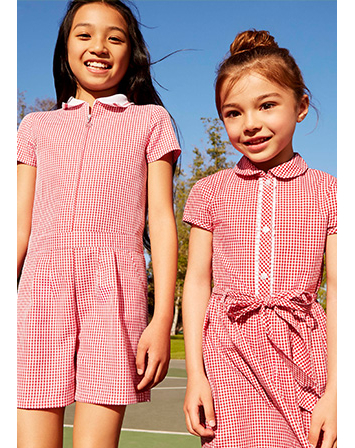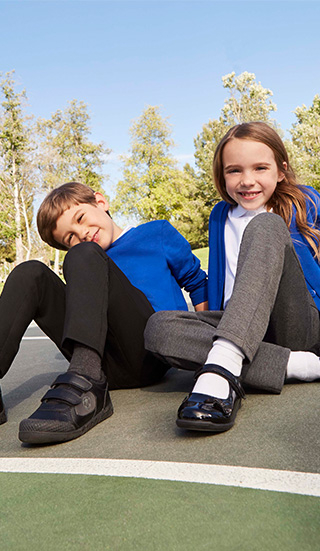 How to Buy
School Shoes
If you have young children who aren't confident tying their shoes up, Velcro or buckles could be a safe option. Last thing you want is for the laces to come undone at school and risk them falling over.
It's always a good idea to purchase school shoes in person, while enlisting the services of an experienced fitter, who can recommend footwear to suit growing little feet. A fitter can help select appropriate shoes for your need.
Once you get home, have your child wear the shoes for a few days prior to school to break them in and ensure they're definitely comfortable in. Again for young children, marking the left and right shoes could be a helpful teaching tool.
All George school uniform comes with a 100 day satisfaction guarantee, so you can rest assured of the quality of purchase. Our uniform range is a cost-effective way to kit your child out for the upcoming academic year. Browse our range of school uniform for boys and girls to see our entire range.