From chilly mornings and bright afternoons to rainy evenings, spring weather can be unpredictable at the best of times. One minute you need an umbrella and the next you're taking off your jumper to catch some sun.
Thanks to all this toing and froing, deciding what to wear can feel a little confusing. How many layers is right? Tights or no tights? What about boots?
Luckily, we're here to solve all of your spring style dilemmas with our fashionable and affordable outfits that will help you look and feel fantastic whatever the weather.
ADD A TOUCH
OF COLOUR
What better way to see in spring than with a touch of colour? From vibrant reds and sunny yellows to luscious greens, adding rainbow tones to your wardrobe is a guaranteed way to get you ready for warmer weather.
Our favourite way to brighten up an outfit is with a colour-pop knit. Opt for jazzy jumpers in block shades to refresh your favourite jeans. Or, for a patterned look that will pack just as much punch, try bold stripes and spots.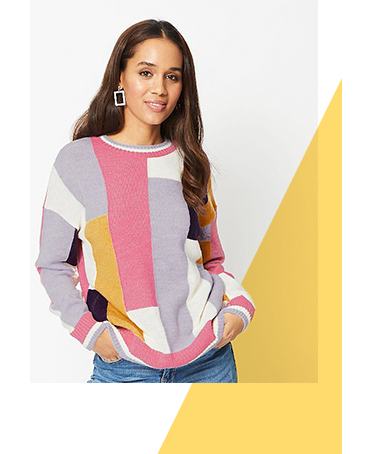 TRY DREAMY
DAY DRESSES
It might still be too cold to go outside without tights, but that doesn't mean you can't debut a brand new day dress. Relaxed and comfortable, day dresses will take you from work to weekend with ease.
Why not let out your wild side this spring with an animal print midi dress? Very much the cut of the season, the longer hem will help protect your legs from the worst of the chill.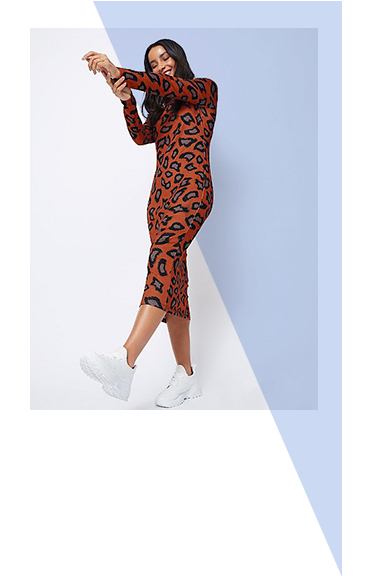 Whether you prefer classic leopard spots, snakeskin patterns or a fierce tiger print, think the more the merrier when it comes to daring designs.
Finish off the look with some statement jewellery, and you'll be good to go.
CHOOSE FABULOUS
FOOTWEAR
While it's easy to chop and change your layers depending on the weather, footwear can prove a little more difficult. After all, it's just not practical to pack away multiple pairs of shoes for a quick walk to the shops.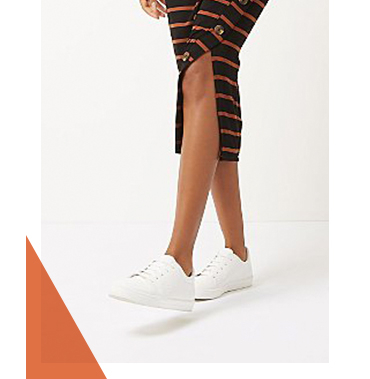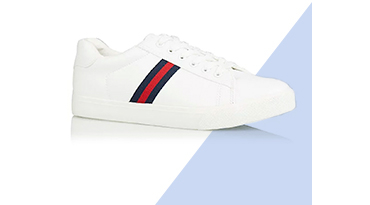 To cover all bases and make sure your footwear is not only breathable but comes with a level of protection for any impromptu showers, you can't go wrong with a pair of trainers.
Our white striped trainers are the perfect pair to see you through spring. Featuring a sporty stripe and a crisp finish, they'll complement everything from skirts and dresses to jumpsuits and trousers.
STYLE UP YOUR
WORKWEAR
Now that the days of several jumpers are behind us (or so we hope!), it's the ideal time to update your workwear. If you're struggling to add a spring-like twist to your office look, why not try a pair of all-purpose trousers and a floral blouse?
Whether you prefer tapered designs, chinos or cropped looks, trousers are a great transitional item. For an option that will work both in and out of the office, opt for a pair of culottes. Fashionable and smart, culottes prove that workwear can be just as fun as it is functional!