There are many choices for parents when it comes to picking toys to keep their babies entertained. Other popular entertainment products include baby walkers and baby bouncers, both of which are designed to allow your baby to play independently, as well as support their growth.
Although baby bouncers and baby walkers appear similar, it's important that every parent understands the difference between the two, as your baby's safety and development may depend on it.
Life & Style compare the benefits and features of both products to help you decide which baby walker or baby bouncer will help your little one learn and walk.
CHOOSING A BABY BOUNCER
Baby bouncers are suitable from 6 months to children up to 18 months old. It's satisfying for little ones as it keeps them entertained with a gentle springy motion. Other important features to look out for are musical functions, soft toys and vibrations to keep your baby happy.
Here are a few things to think about when choosing the right bouncer for your baby.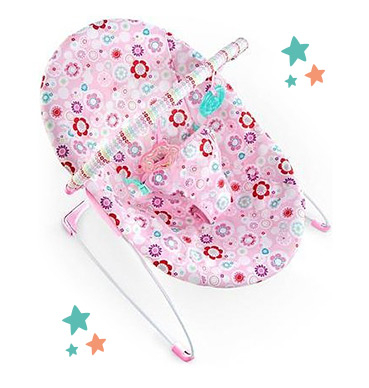 ENTERTAINMENT
Choose a baby bouncer that offers play, rest, sleep and one that you can set up anywhere in the room so you can keep an eye on them at all times.
A toy bar will make it enjoyable for baby to reach out and grab soft toys in front of them. Look for one that is removable so you can easily pick up your baby out of the bouncer.
ADAPTABILITY
A foldable bouncer is convenient to slip under the sofa, behind a door or pack it away in storage when it's not in use.
Reclining bouncers flat are perfect for naps when your baby is sleepy. Cover your baby with a soft blanket to keep them cosy.
Take this Disney infant to toddler baby bouncer that comes with adjustable seating options. This will grow with your child so you can use it for longer.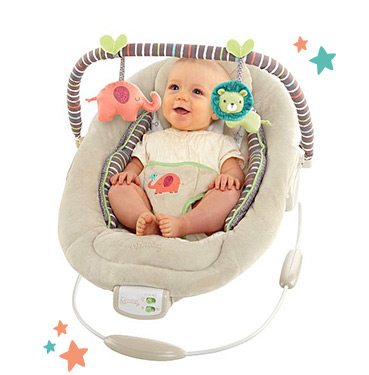 SAFETY
Make sure there are three safety harnesses. One between the legs and one on either side to keep your baby secure. Make sure they are sturdy and robust so they don't tip over.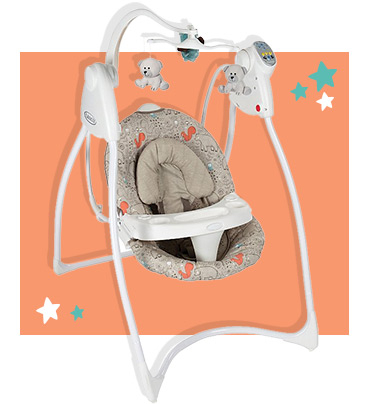 DEVELOPMENT
Bouncers will keep them secure and well-supported when your baby starts eating their first solid foods.
CHOOSING A BABY WALKER
Seeing your baby standing and taking their first little steps is heart-warming for parents. Depending on your child's development, this usually starts between 7 months and 1 years old. Having a good baby walker can help your baby explore and develop their strength to take their first steps alone.
Here are a few things to think about when choosing the right baby walker for your baby.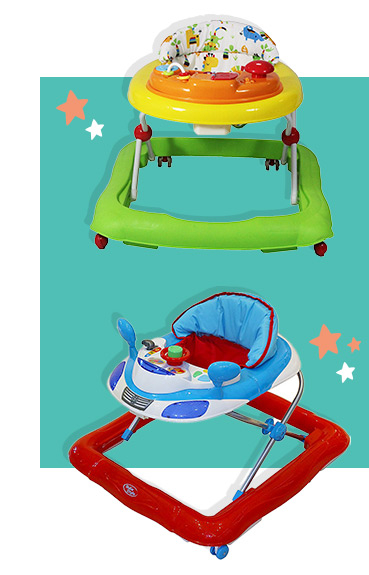 ENTERTAINMENT
Look for toy attachments, shapes and textures for them to touch and play with.
This jungle designed baby walker is suitable for babies aged 6 months, which comes with a musical electronic tray to keep little users entertained. This will keep your baby smiling when they stop for a rest.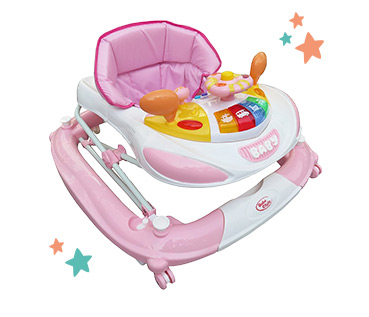 ADAPTABILITY
Look for adjustable height settings so you can use it when they become toddlers.
A comfortable seat will help your baby relax and support them without tipping over.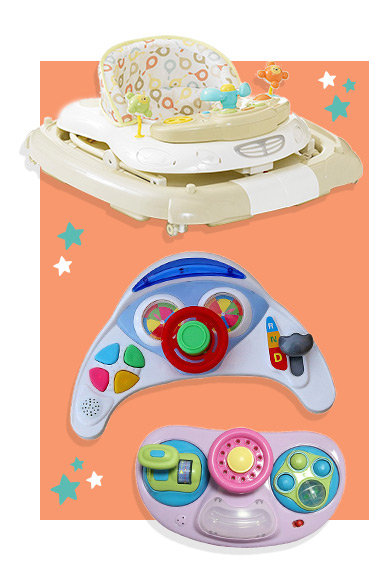 SAFETY
A folding walker will keep their play area spacious and is convenient for storage, making it a great solution for smaller homes.
Choose a wide base with a strong, durable frame. This will stop your baby venturing where they shouldn't.
Parents should arrange the room so your baby can move around freely. Stay close by so you can help your baby get up again if they fall, as well as avoid them pulling onto hanging accessories and furniture.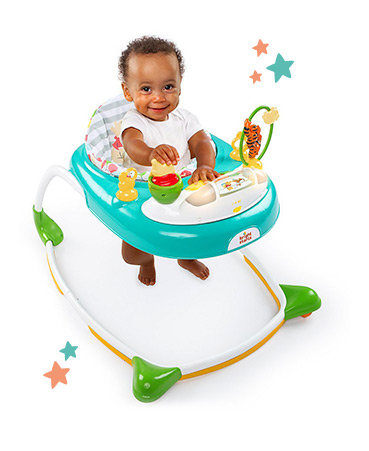 DEVELOPMENT
Encouraging your baby to walk by cheering for them when they stand up. Hold their hands while they walk in front of you. Letting go of one hand will improve their balance and strength ability.
A sit-or-stand seat will allow your baby to move around freely by pushing with their feet. These movements are important to a baby's growth to strengthen the muscles of the lower leg.
There's no doubt both products have advantages for your baby and their development. So it's important to consider all the features and benefits, and what works best for you and your baby. For their first day out, head over to George to keep them wrapped up in the cutest baby clothes, and check out car seats to ensure your baby's safety.