The season for cuddling up on cold evenings has well and truly arrived. Alongside a film and
mugs
of hot chocolate, you and your family will need the perfect pair of
pyjamas
to help you get cosy. After all, autumn and winter is the ideal time to dress to impress with 10/10 nightwear.
From
women's nightdresses
and
kids' cuffed pyjamas
to
dressing gowns
and
men's slippers
, there are plenty of snug options to guarantee both you and your kids sleep in style. So, to ensure the whole family's
nightwear
is on point, check out our top picks for all ages below:
Nightwear
For Babies
Dressing your baby for wintery nights can be difficult. Although you want them to stay warm, young children and newborns can quickly overheat and become tangled in unnecessary layers.
A good rule to remember is that simple styles are often the safest. For a comfortable base that will encourage sweet dreams, try a baby all in one. Other tricks include skipping socks, hats and accessories and using a sleep sack instead of a blanket.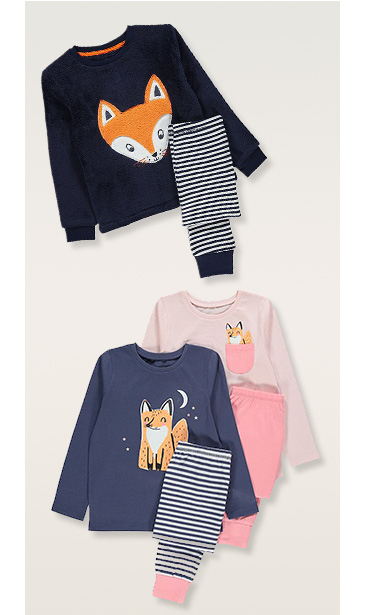 Nightwear
For Kids
If there's one thing that's going to encourage little ones to get ready for bed, it's the promise of cool and comfy pyjamas. Whether they prefer classic checked pyjama bottoms, colourful nightdresses or character-inspired designs, the right nightwear can transform bedtime into something your child looks forward to – really!
As the temperature continues to drop, cuffed pyjamas are the best option to keep your child snug for storytime. Although we can't guarantee that our pyjamas will send them straight to sleep, we can make sure they'll be warm this winter!
Even so, while pyjamas are important, ensuring your kids stay cosy also has a lot to do with their bedding. As well as microfiber duvets, supportive pillows and patterned kids' bedding, think about adding throws for extra insulation.
Nightwear
For Teenagers
As children get older, they begin wanting to put their own twist on their nightwear (as well as their school uniform!). This is where slogan pyjamas really come into play. Letting them express their individuality, slogan styles are an on-trend way to bring some fun into their nightly routine.
Teenagers may be famous for their lie-ins, but fleece dressing gowns and slippers can help complete their loungewear look when they finally roll out of bed.
Nightwear
For You
When you've had a long day of work, there's nothing better than slipping into super-soft pyjamas. Since you wouldn't want uncomfortable clothing to distract from your downtime, choosing nightwear made from an easy to wear fabric is a must.
While silky and satin-feel pyjamas give a luxurious twist to your evening indoors, fleece and velour options are wonderful for adding warmth. Experiment with different designs and textures to find a comfy combination that suits you.
If you like sleeping in lightweight cotton pyjamas, but don't want to get chilly around the home, throw on a borg-lined dressing gown and faux fur-trimmed slippers to keep out the cold.
How To Create A Snug Set-Up
While pyjamas are a good place to start when you're getting cosy, you'll also need to ensure that the room you're relaxing in feels toasty too. Here are a few tips and tricks to give your space that homely touch:
Cushions & Throws:
Take family film nights to the next level by setting up your sofa with plenty of
cushions
and
throws
. Mixing and matching with large cushions, scatter cushions and chenille designs will allow you to create your ultimate living room arrangement.
Soft Lighting:
It's hard to relax when you're sitting under strong, harsh lighting. Instead of
ceiling lights
, try accessorising bookcases and
side tables
with
scented candles
and
string lights
. Giving your living room a gorgeous glow, the blend of soft lighting will inspire a tranquil atmosphere.
Calming Colours:
The colour scheme of your home décor can change the entire vibe of a room. Just as a bright red
vase
can energise a space, muted tones can make you feel more mellow. If you're after a calming and peaceful atmosphere, you can't beat a couple of
grey cushions
and cream
knitted throws
.
Extra Insulation:
Sometimes slippers aren't enough to protect you and your family from cold hardwood flooring. For additional warmth, try decorating your living room with a thick,
shaggy rug
. Shielding you from the draught,
rugs
are an essential winter accessory.