There's nothing as magical as Disney, and here at George, we're here to help you get that enchanted feeling – and then some!
From Pixar fans to Disney classics, The George Disney Shop will transport you to land far, far away and make all your wishes come true!
Looking to sprinkle some pixie dust over your home? Our guide is overflowing with enchanting Disney merchandise, from Disney clothes to Disney bedding and toys destined to delight the whole family.
A Perfect Gift For The Disney-Lover
From Disney homeware to accessories and toys, our charming Disney shop is serving the perfect gifts for fellow Disney fans.
As the days get chilly (brr!), delight the Disney-obsessed with gifts to keep them snug and that Disney magic well and truly twinkling. From charming mug sets perfect for a cuppa to comforting throws, an enchanting gift is just a tap away. If you're still searching for more character inspo, Disney-themed candles are perfect for a cosy night binging on those Disney classics. Popcorn anyone?
Our Disney Toy drop is packed with gifts bound to be on the top of their wishlist and guarantee the best playdate EVER! When those little characters need to recharge (finally!), a comforting Disney water bottle will keep them toasty while they settle into storytime.
Still stuck for ideas? Gift your little one a Cinderella moment! They'll love being the talk of the playground in their new dazzling footwear. Expect cool light-up trainers and preppy patent shoes – waiting to be discovered in our Disney clothing collection.
Charming Character Clothing
Inspire your wardrobe with our dreamy drop of Disney clothes. We've got Disney clothing for kids, grown-ups (yay!), and for the mini member of the family – our Disney baby collection is serving some too-cute little looks!
Transform favourite characters into playful outfits by adding some Disney charm to everyday clothing. If there's a birthday party on the horizon or an exciting playdate, tap through our range of kids' outfits and sprinkle some stardust over their little schedule.
The snow queen has arrived…or maybe it's just autumn weather? Stay snug as a bug in our range of sweatshirts and get a head start on fun outfits for the holiday season (it's never too early!).
They may not be made of glass, but we do have slippers and don't worry, they won't disappear when the clock hits midnight! Pair them with some cosy pyjamas and get comfy watching your favourite Disney shows and movies.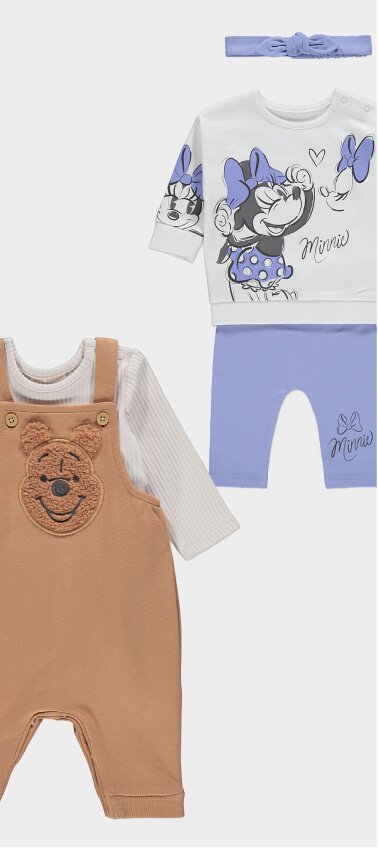 Dreamy Bedding And Home Décor
Wish upon a star and get snug in our Disney duvet sets, decorated with Mickey Mouse, Winnie the Pooh and more of our long-adored friends.
For inspo for every room in the house, our Disney Homeware collection is packed with everything from kitchen essentials to soothing candles. When it's time for a power shower or a Sunday soak, bubble up some fun in your bathroom with our fluffy towels and bathmats splashed with those iconic Disney characters.
Style your home with enchanting décor fit for royalty by filling your sofa with playful cushions, and turn dinner time into a meal to remember with a dreamy Disney dinner set. Explore our wide range of Disney accessories and home decorations to transform your home into a never-ending fairytale.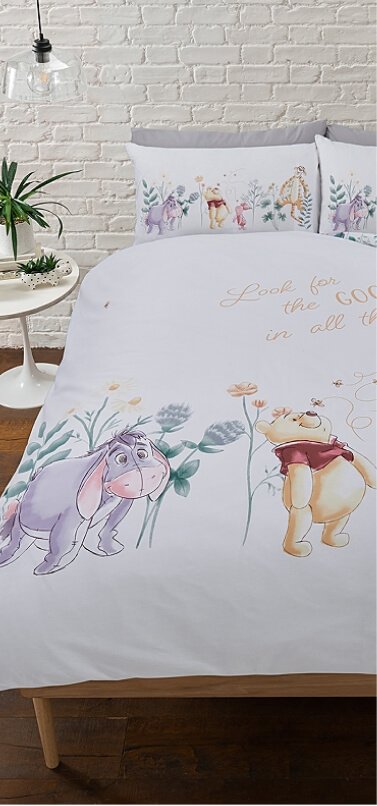 A Galaxy Far, Far Away…
Feel the power of the force with our awesome drop of Star Wars clothing, toys and home accessories.
Build the ultimate space fighters and join the rebellion with LEGO playsets, as you build scenes with your favourite Star Wars characters.
Choose between the light and the dark side and become a Jedi friend or Sith ally with our range of Star Wars sweatshirts.
When snooze o'clock chimes, wrap up cosy with Grogu bedding and join him on his adventures with the Mandalorian. What will they get up to this time?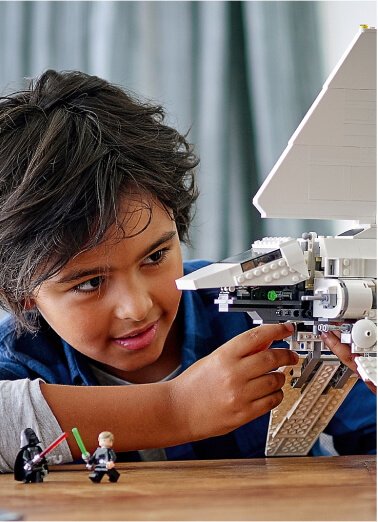 Making Disney Magic For Your Baby
They may not have a favourite Disney character just yet, but it's only a matter of time! For special occasions and mini playdates, dress up your little charmer in our adorable collection of character-themed clothing – including fuss-free outfits, multipacks and sweet accessories. We've got a Disney baby outfit for every tiny bundle of joy!
Tell tales of faraway lands as your baby enjoys storytime and lullabies in one of our play gyms. From stories of pirates and princesses to fairy godmothers – create a calm, comforting environment for your little love.
Brighten up their bathtime and make some memories in hooded Disney towels. Then wrap them up snug and safe in their sleepsuits or pyjamas for a night of sweet dreams – aww!.
Playtime Fun With Disney Toys
Let it go and fly into a world of playtime joy with super-cool outdoor Disney toys – ideal for those energetic little people!
Gift them an adventure with of our Disney scooters and explore the great outdoors – getting them outside has never been so easy.
Immerse your child in a world of heroes and villains with awesome action figures and interactive LEGO playsets, creating hours of fun.
End a day to remember by cuddling up with their favourite toy and dream up plans of more fun and games tomorrow.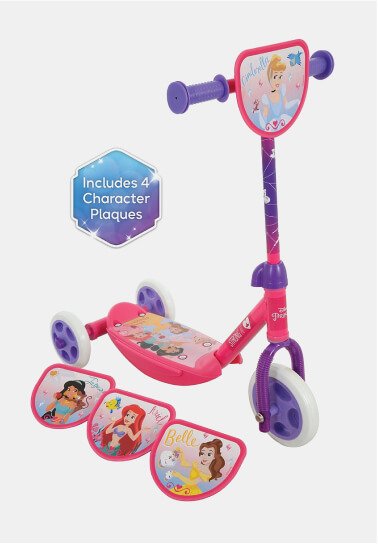 Marvel Madness
If you're a Marvel fan then you'll love binging on our Marvel themed toys. Assemble your team and explore a selection of cool clothing, snug bedding and most-wanted toys.
Inspire hours of fun and creativity with our Marvel action figures and playsets. Watch as they become one of earth's mightiest heroes and enjoy a day of saving the world and fighting villains – let nothing stop them!
Power up their wardrobe with our range of Marvel themed clothing, including colour-pop t-shirts, slogan sweaters, cool coats and (tons) more!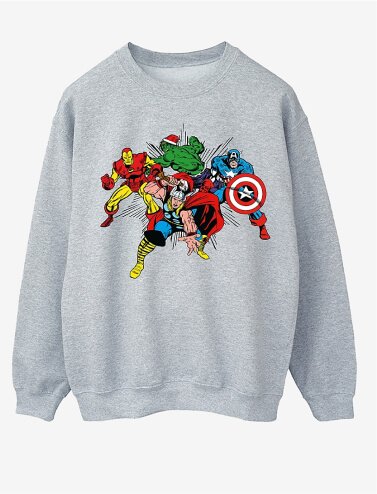 Mickey And Minnie Magic
Hiya Pal! Where would Disney be without the mice that started it all? Check out our range of clothing, toys and home accessories dedicated to Mickey Mouse and Minnie Mouse.
Become one of the gang and mix up your outfits with our cool Disney t-shirts, decorated with our fave mouse couple Minnie and Mickey Mouse – aw!
Liven up your home with Disney accessories featuring the most iconic Disney duo. Their infamous silhouettes offer a subtle nod to Disney without looking out of place with your usual home décor.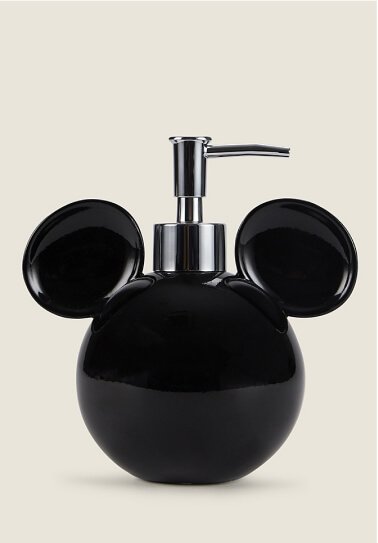 If you're looking to sprinkle some more Disney magic over the holiday season, check out our Unwrapping Disney Magic blog to get into the Christmas spirit!