Here at George, we love making the most of a holiday, and with Halloween creeping up, we've got a pretty ghostly idea in mind for celebrations. Make a fright night out of it with our Halloween party ideas and throw a spooktacular Halloween sleepover. Whether you're a monster masher or prefer to keep things cosy, George has a whole bunch of tricks and treats for the entire (Addams) family.
Be sure to check out our Halloween drop for all the inspo!
How Do I Plan The Scariest Halloween Party?
Halloween can be a lot to think about, but we're here to guarantee your Halloween sleepover is a spine-chilling success! From hosting a party for mini ghostbusters to having a family get-together, throwing a spooktacular celebration is frighteningly easy with our guide.
So, why wait? Scroll down to organise a fright night to remember and impress your guests with our scary Halloween home décor and Halloween party games.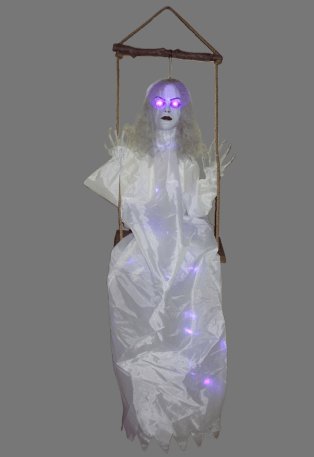 Haunting Halloween games
Eager to have some frightful fun? Say BOO! to Halloween party games and have a fab time with some good old classics. Take it easy with a traditional game of apple bobbing, get messy with toilet paper mummies, or enjoy a tasty snack with a dinky doughnut eating race.
If you're feeling creative, you can even come up with your own ideas by putting a spooky spin on games. You can play pin the hat on the witch or host a terrifying treasure hunt. The only limit is how ssss-scary you want to get!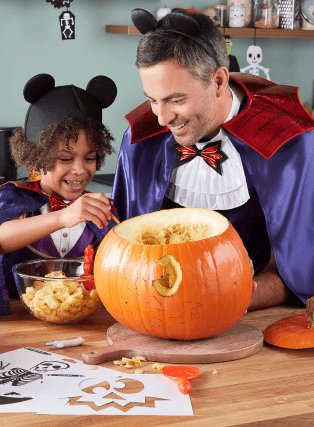 Share Scary Stories
Heard the story about the wandering ghost, the haunted house or about the legendary Bigfoot? If not, then consider adding some scary stories to your Halloween party. They're a great way to wind down a party while still keeping in the holiday spirit. There are hundreds to choose from, pop online and find them on the cob-web, or if you're feeling creative – invent your own!
You can even turn it into a competition by letting everyone in the group share their stories, vote for the best and then award prizes. Remember to dim the lights as scary stories are always WAY spookier in the dark! Browse our collection of decorative lighting to set the mood for the evening.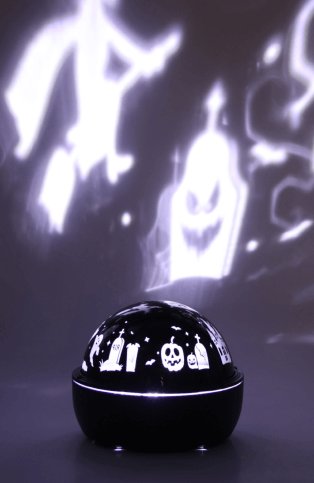 Set the scene
What's Halloween without some dazzling decorations? Transform your space into a terrifying haunted house with our range of haunting Halloween décor. You can choose from spooky skeletons, creepy dolls or mysterious tombstones to give your guests a fearful fright.
We know Halloween is about trick or treating, so why not delight visitors by draping décor across your windows. Want to keep the scarefest inside? Hang decorations over the doorframe to make your victims jump when they enter the room.
When it comes to pulling the whole look together, we suggest swapping your regular homeware for our Halloween-themed goodies. With our pumpkin pie candles, black cat bathmats and pumpkin soap dispensers, you can bring the Halloween spirit to every room in the house.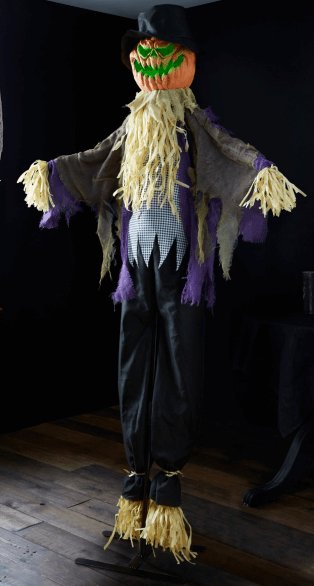 Boo-tiful Bedding
The fun doesn't stop when it's time to get some shut-eye. Don't be afraid to decorate your bedroom too! From soft sheets and Halloween duvet sets to cushions and blankets, find it all here at George! Scroll our wide selection of Halloween bedding to make your dreams as sweet or nightmarish as you fancy.
Keep things subtle with a moon and stars blanket, or go super scary with Halloween skeletons. Fancy shaking things up? Mix and match your bedding to create a Halloween feel that's 'oh-so-you'. More of a princess lover than a fan of creepy creatures? Explore George's range of Disney x Halloween bedding to give your night a fairytale ending.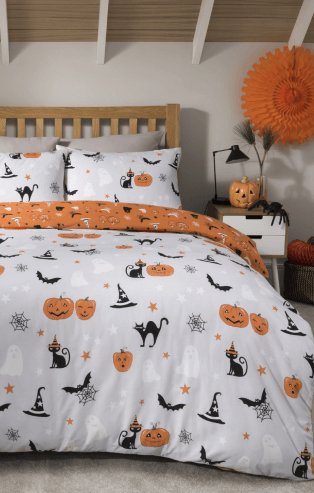 Don't Forget To Dress Up
Whether you're a devil in disguise or a wicked witch undercover, an enviable Halloween costume is essential to any magical Halloween party. Our drop of matching Halloween costumes means you can twin with a friend or get matchy with your little one and snap some super-cute pictures!
Love Disney, Marvel, or the Simpsons? Themed character Halloween outfits are a fab way to show off your fave characters – while keeping in the Halloween spirit! Here at George, we know that sometimes a quick fix is best, so if you need to be ready in a flash, throw on a mask or a Halloween hoodie to take your casual look to spooktacular in seconds. We've got something for all the clan across our kids' Halloween costumes and adults' Halloween outfits.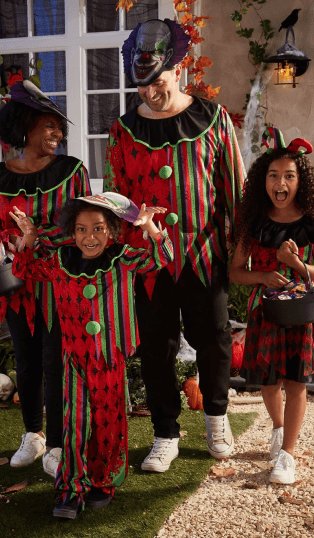 Sleepwear With Style
A costume is super important, but that doesn't mean the party should end when it's time to take it off. Halloween pyjamas are the perfect way to turn any sleepover from a snooze fest to a Halloween themed thrill.
Scary stories already on your itinerary? Halloween themed PJs are the perfect pal, so you can stay as snug as possible during even the scariest moments. Get the entire team involved and pick up a set of matching pyjamas – the perfect selfie opp! And when it's time for bed? Cuddle up in your new pyjamas for a terrifyingly good night's sleep.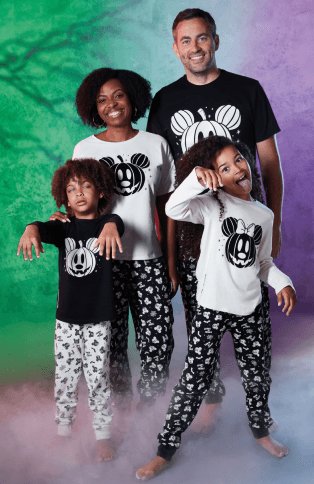 If you're spending this one snuggled up on the sofa, check out our Halloween at home celebrations guide to make the most of time together.