Building your baby's first wardrobe is one of the most exciting parts of planning for their arrival. From teeny-tiny socks and super-soft sleepsuits to cute baby outfits and baby dresses, it can seem like every item is more adorable than the last. With so many lovely pieces to choose from, we know it's easy to have eyes bigger than their wardrobe!
Thankfully, our guide is full of essential baby clothes to help you prepare for those special first months. Featuring practical bodysuits, bibs and unisex baby clothing, we've got everything you need to create a wardrobe that's perfect for cuddles.
How To Build Your Baby's First Wardrobe
The good news is that shopping for your baby doesn't need to break the bank. The very best clothing collections all come down to good-quality baby basics that they can wear on repeat.
Discover how to build your baby's first wardrobe with our top tips, including comfy and cute combos ideal for sleep and play.
1. Choose Practical Pieces
We know how tempting themed baby outfits and fancy dress costumes can be – is there anything cuter? Remember, the most important thing is that your baby's first wardrobe is full of comfortable, soft and easy to take care of items.
Think pure cotton sleepsuits, stretchy bodysuits that fasten at the front and tops with envelope necks that are quick to pop on and pull off. As always, baby girls' clothes and baby boys' clothes with fuss-free popper fastenings get a "yes" from us. By prioritising practical picks you'll be breezing through the dressing routine – thank us later!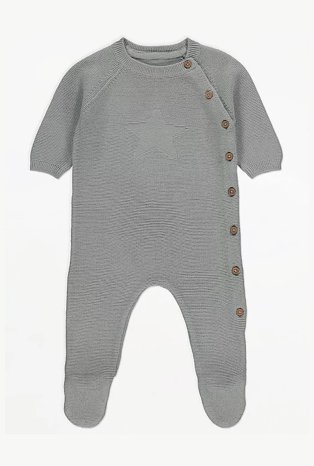 2. Size Up
Blink and you'll miss it – they don't stay little for long! Prep for growth spurts by stocking up on clothes with plenty of stretch. Keep an eye out for leggings and joggers with elasticated waistbands and stretchy cotton tops and jumpers. Top tip: buy them in a size or two larger than they need.
Helping your baby get more wear out of their wardrobe, buying loose, flexible clothing will be kind on both baby's skin and your bank balance!
3. Pick Unisex Baby Clothes
Whether you're choosing to keep the gender of your baby a surprise or not, unisex baby clothes are a great starting point to their clothing collection. From unisex bodysuits and unisex sleepsuits to unisex bibs and accessories, gender-neutral options will help you build a wardrobe that can be handed down to any future little ones.
Versatile colours like grey, white, yellow and green are also super-easy to mix-and-match, making them total time-savers during the morning rush.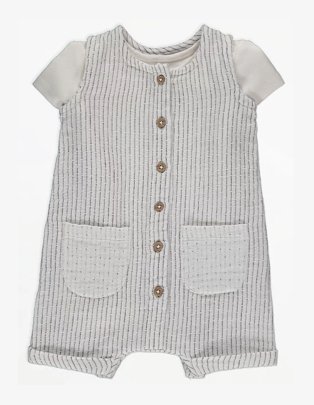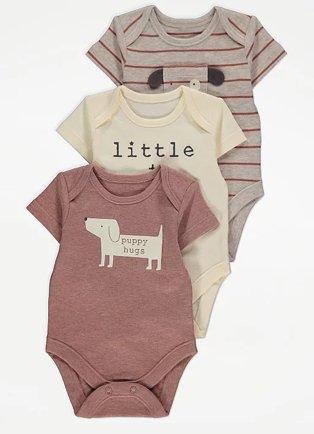 4. Stock Up On Essentials
Little ones spend the first few months of their life feeding and (hopefully!) sleeping. With this in mind, having enough baby basics like bodysuits and sleepsuits is key to keeping them comfy around the clock.
To minimise mess during feeding time, layer bodysuits with hook and loop fasten bibs. Tired tots can also enjoy sweet dreams in 100% cotton sleepsuits. Stock up on a mixture of full-length, short-sleeve and sleeveless options to ensure they're comfortable, no matter the temperature.
5. Discover Play-Friendly Looks
As your baby develops and grows, they'll start to show their adventurous (and cheeky!) side. For play-friendly outfits that will give them the freedom they need to explore, pick easy-to-wear rompers, leggings and joggers. Comfy and cute, these versatile basics are ideal for little ones.
6. Prep Their Outerwear
We know that planning your first parent and baby outing can be as nerve-racking as it is exciting. Fortunately, choosing the right outerwear can help you feel more comfortable taking your baby out and about.
For chilly walks around the local park, ensure your baby stays snug with protective pramsuits and coats. For warmer days, opt for maximum flexibility by layering cotton clothes like bodysuits, long-sleeved tops and jumpers.
7. Add A Special Occasion Baby Outfit
Comfort and practicality are two of the most important features of your baby's first wardrobe. Luckily, there's still plenty of room for special occasion baby outfits to bring a dose of cuteness into the mix.
From charming rompers and baby sports outfits to matching leggings and dress sets, if you're debating an adorable outfit, we say go for it! They may not be the most worn items in your little ones collection, but they're the perfect pick for all those baby photos. Don't forget to share the cuteness by tagging @GeorgeAtAsda or using #WeAreGeorge on Instagram.