There's nothing like the first BBQ of the summer to put a smile on your face. Even if you're only cooking for yourself or those you live with, the delicious smell of grilling food are guaranteed to bring good vibes.
Whether you're a BBQ beginner or a seasoned pro, our guide to BBQ do's and don'ts' will help you plan the perfect event for you and your crew. From choosing between charcoal and gas BBQs to creating a stylish outdoor space with garden furniture, your ideal home BBQ bash is just around the corner.
1. Do Decide Between Gas & Charcoal BBQs
The first question for any budding BBQ expert is which BBQ design to choose. Do you go for the authentic smoky flavour of a charcoal BBQ or opt for fast and efficient cooking with a gas BBQ? Both will master your meat and veggie burgers, but the right selection for you all comes down to your cooking style.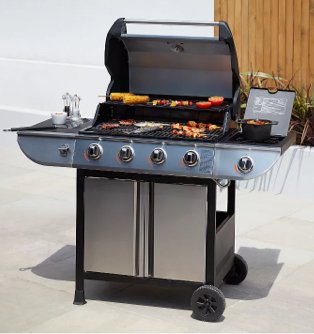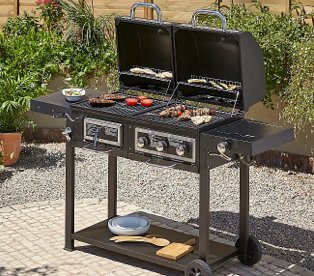 If you love getting experimental with briskets and charcoal-baked potatoes, a charcoal BBQ will give you plenty of freedom to unleash your inner MasterChef. If you like to keep things simple, speedy and equally tasty, a gas BBQ is perfect for firing up a midweek meal.
2. Don't Forget BBQ Tools
Every outdoor chef has charred their fair share of sausages – us included! Thankfully, the right BBQ tools can help you grill your spread to perfection.
To effortlessly flip everything, from halloumi and peppers to burgers, make sure you stock up on a BBQ tool kit. Feeling fancy? Take your outdoor cooking to the next level with pizza stones, griddles and rotisserie kits.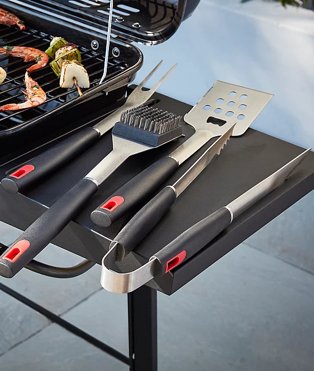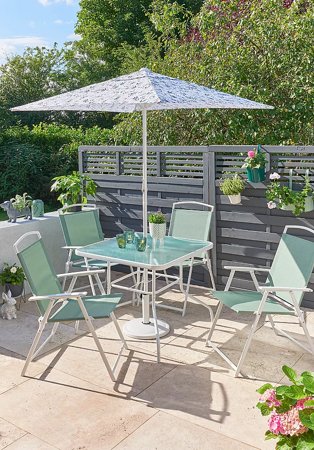 3. Do Create A Comfy Space To Eat
When the cooking is complete, it's time to sit back and enjoy your meal in comfortable settings. Speaking from experience, stain-prone condiments like ketchup and mustard are best eaten sitting down!
For a relaxed and informal garden furniture set up, choose outdoor sofa dining. Ideal for lazy afternoons in the sun, outdoor sofa sets strike the right balance between style and function. If you've got kids running around, structured patio sets and bistro sets will help them eat their meals with ease and minimal mess (fingers crossed!).
4. Don't Neglect Your Garden
You're not alone if your outdoor space is looking a bit worse for wear after a winter of neglect. To transform yours in time for BBQ season, give it a speedy spring clean before those BBQ brunches and evening dinners.
Luckily, this can be as quick and easy as adding a few garden accessories to brighten things up. Make a statement with colour pop plant pots and planters or create a garden getaway with hanging outdoor décor. Simple!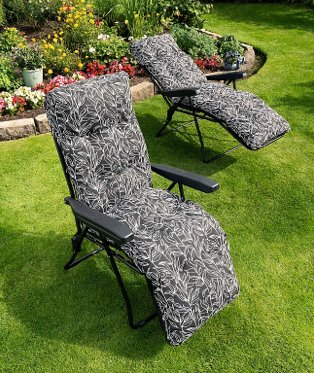 5. Do Start Prepping In Advance
When the sun's in the sky, you'll want to be reclining on a garden chair, not making potato salad in the kitchen. To make the most of your BBQ, try and get as much prep done as possible before the merriment begins.
Fortunately, Mediterranean salads, spicy marinades and cooling dips can all be made in advance and stored in the fridge. You can also keep leftovers in food storage containers to use for fuss-free (and delicious!) mid-week meals.
6. Don't Forget To Plan For The Evening
Did you get the memo? The party doesn't have to stop when the sun goes down. As long as you're considerate of neighbours, the very best BBQs can keep on going well into the night. It doesn't matter if you're only throwing a small event for you and your household, you can still pull out all the stops with twinkling outdoor lights and atmospheric fire pits.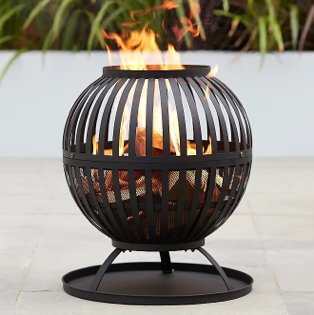 7. Do Get Ready For All Weather
If only all BBQs could happen under clear blue skies. Unfortunately, we know that the perfect BBQ weather needs a little planning and lots of luck. You might not be able to stop the rain, but you can make sure you stay prepared for less than ideal conditions.
From covering your bistro set with a parasol to setting up a gazebo to keep you sheltered and dry, it's worth having a few solutions up your sleeve to save yourself from soggy burgers.