We know that being a plant parent can be hard work. With many of us struggling to keep real plants alive for longer than a month or two (guilty!), it's no wonder artificial plants are a popular alternative.
Whether you're a fan of fauxliage or you need a little convincing, we've got plenty of ways to decorate your home with artificial plants. From accessorising with large artificial plants to learning how to clean your greenery, get ready to grow your indoor garden with our guide – no watering required!
So, Why Decorate With Artificial Plants?
Adding texture and depth to your space, there are many advantages to decorating with artificial plants. Scroll down for a few of our favourite faux plant plus points.
Super-Easy To Look After
We're the first to admit that not all of us are naturally green fingered. If like us you're tired of time-consuming and complicated watering schedules, artificial plants are a low-maintenance substitute.
Super-easy to look after, faux plants don't need any feeding, watering or misting. Just give them a quick clean every now and then so they stay looking fresh year-round. Simple!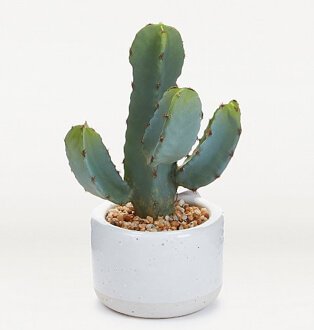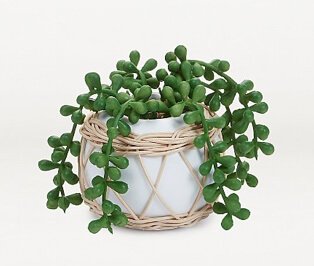 Always In-Season
Unlike natural plants (and some of the latest trends!), artificial plants are always in season. Whatever the temperature and light conditions in your home, faux plants will continue to thrive. This means more time appreciating your greenery and less time worrying whether you've overwatered them… again!
Just As Lifelike As Real Plants
It's harder than you think to tell the difference between real and artificial plants – trust us. Whether you prefer cheese plants or spider plants, our artificial plants have a lifelike appearance thanks to their varying stem and leaf size.
For a natural-looking display, arrange a few faux plants alongside real plants. No one will ever know the difference!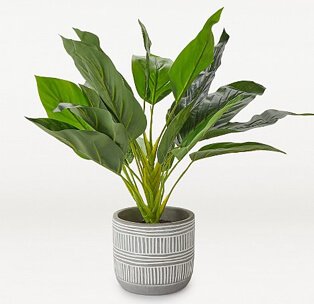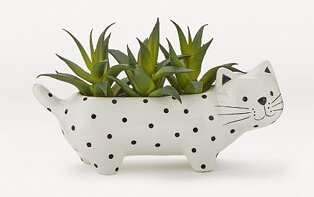 A Family-Friendly Choice
Non-toxic and mess-free, artificial plants are the ideal home accessory if you have young kids or pets. Our character plant pot designs are also the perfect way to refresh kids' bedroom accessories.
How To Decorate Your Home With Artificial Plants
Time to go green with our top tips for decorating your home with artificial plants.
1. Choose The Best Artificial Plants For Your Home
Choosing the best artificial plants for your home all comes down to personal preference. Whether you want to create a tropical oasis, inspire an Instagram-worthy set-up or add a splash of colour, we have plenty of shapes and sizes to help you find the right fit.
Breathe new life into bedrooms with large artificial plants and brighten bathroom windowsills with small artificial succulents. Style up with patterned and pastel planters for an on-trend finish.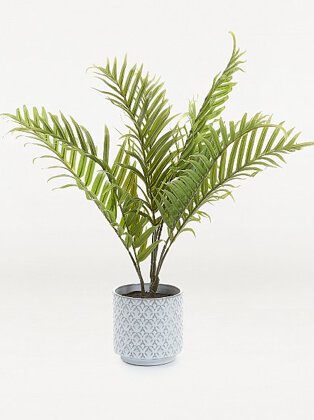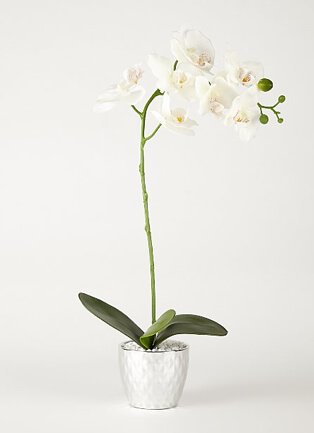 2. Arrange Different Designs Together
Wondering how to arrange artificial plants and flowers? Pair different designs together to give your indoor garden a glow up. Remember, faux plants aren't restricted by the seasons, so you have even more opportunity to get creative.
Add instant decoration to home offices with faux cacti and transform kitchen tables with artificial orchids and lilies. When picking artificial plants for living rooms choose statement styles, from palm plants and birds of paradise to umbrella plants. Place them in ceramic plant pots and seagrass storage baskets for décor that will make a difference.
3. Combine Artificial Plants With Real Plants
Get the best of both worlds by combining artificial plants with real plants. Giving the illusion of luscious greenery year-round, mixing artificial and living plants is a winning home trick.
For realistic results, vary the size and shape of your plants. You can also pick artificial plants topped with soil and stones for a natural appearance that will slip seamlessly into your home décor.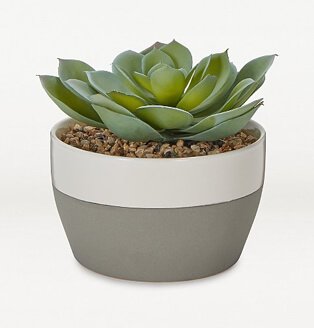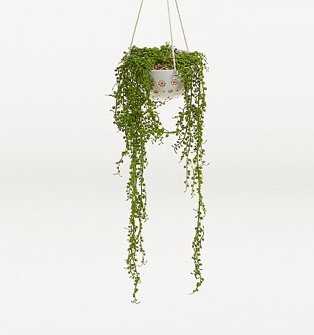 4. Create A Vertical Garden
Using levels is an artificial plant game-changer. To make the most of your space, create a vertical garden with hanging plants. From placing artificial plants in hanging planters to choosing hanging string of pearls, work different heights to level up your décor.
You can also cluster plants with the rest of your home accessories, including animal ornaments, photo frames and reed diffusers.
5. How To Clean Artificial Plants
One of our favourite things about artificial plants is how easy they are to look after. Still, they do need a little maintenance to stay in tip-top condition.
To clean your artificial plants, start by wiping the leaves with a soft, damp cloth to remove any dust or dirt. For hanging artificial plants and large designs, use a feather duster to clean those hard to reach places. A cotton bud will help keep small faux plants spotless.