Transform your bedroom into a place you want to spend time in with our guide to creating a bedroom oasis. From smart lighting tips and tricks to fresh bedding and home accessories, we've got everything you need to revitalise your sleeping (and living) space!
So, How Do I Turn My Room Into An Oasis?
Interior designers and scientists agree that separating your sleeping space from your living and working areas improves sleep patterns. Achieving perfect separation can feel impossible for many of us, especially after the last year. To help you overcome feelings of cabin fever, scroll down for our top tips to switch up your bedroom vibe.
1. Fresh Bedding Is An Easy Win
It might sound simple, but refreshing your bedding can have a huge impact. Change is good, particularly when you're stuck within the same four walls day in and day out. Pick out a new duvet cover and be bold – go for a fresh colour or texture so that the change is noticeable each time you enter the room.
Your duvet cover is just the start of your bedroom transformation! Keep up the feeling of accomplishment by upgrading your bed sheets as well. Treat yourself (and your skin) by choosing Egyptian Cotton or put the environment first with sustainable Tencel.
Don't forget to add a patterned bed throw for a snug and stylish finish to your sleeping set-up.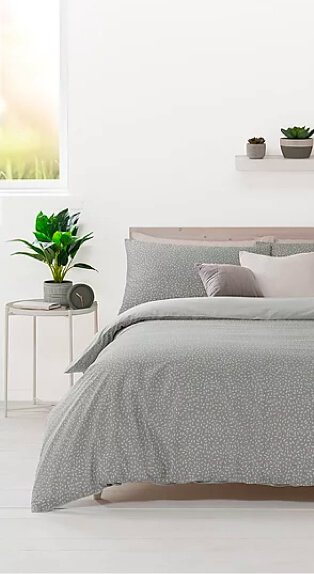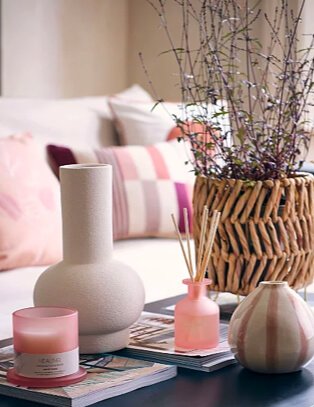 2. Make It A Green Oasis
Plants will give any room a lift and their calming influence makes them extra valuable to anyone struggling to switch off. For foliage that will stay looking fresh no matter what, go for fuss-free artificial plants.
Wondering which plants are best for a bedroom? It depends on how much room you have! A hanging basket is a great option for smaller spaces. An artificial spider plant or a string of pearls in a hanging planter will add a touch of greenery and free up valuable floor space.
3. Pick Feel-Good Scents
Turn your bedroom into a soothing oasis by engaging more of your senses. Why not bring the 'wow factor' with a feel-good aroma? Our top recommendation for bedrooms is a reed diffuser. Low-maintenance and long-lasting, they'll keep your space smelling fresh for months.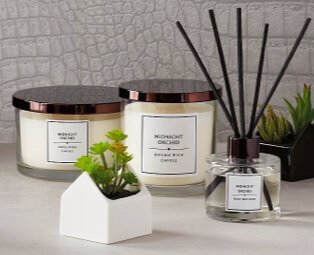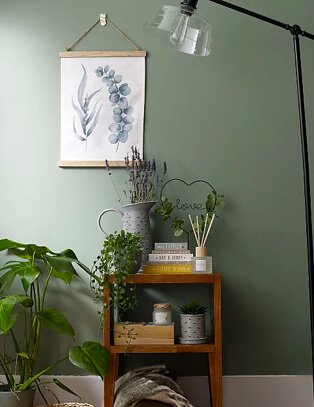 4. Experiment With Wall Décor
Add some character and diversify the backdrop to your bedroom with a statement piece of wall décor. Give your eyes something new to appreciate and bring the outdoors inside with dandelion, bumblebee and elephant prints.
To help you feel one step closer to your loved ones, place your favourite photos of friends and family (or pets) front and centre with our photo frames. But don't stop there! Personalise your bedroom oasis with home accessories, including new-season vases and ornaments.
5. Mix Up Your Lighting
If you find yourself spending more time in your bedroom than you might like, one of our top tips is to vary your lighting set-up. A combination of natural light and ceiling light is best for hours spent reading or concentrating at a screen, but what about when you want to relax?
When winding down for the evening, try to minimise exposure to bright lights and avoid digital screens in the hours before sleep. Screens emit blue light, which can be damaging to your sleep cycle. For soothing night-time lighting, invest in a rattan floor lamp. You can also create a cosy corner to relax with mood-setting string lights.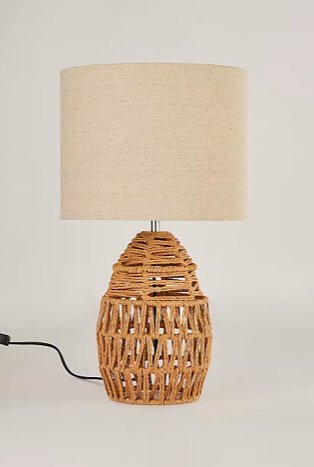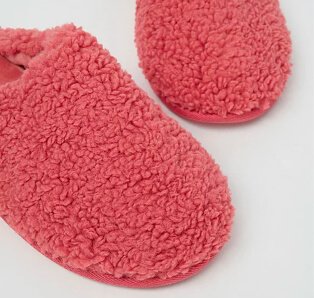 6. Get Cosy With New Nightwear
Sometimes you just need to treat yourself! Whether you get hot or cold at night, our nightwear collection includes something for everyone. Team a luxury dressing gown with on-trend faux fur slider slippers and a hot water bottle to tackle those cold nights. If you're searching for a lightweight option, then an elegant satin chemise nightdress could be perfect for you.