Key to your comfort and vital for support,
maternity lingerie
is an essential that most mums-to-be can't do without. In fact, perhaps the most important item you'll own during your pregnancy is a
maternity bra
. Even so, selecting the right style can feel like an uphill battle.
Thankfully, from coverage and materials to adjustability, our guide includes the A-Z on picking the perfect maternity bra.
When Should I Buy A Maternity Bra?
There's no one-size-fits-all approach when it comes to buying maternity bras. While most mums-to-be notice their body changing at around 12 weeks, you might need to start shopping slightly earlier or later than this.
The main thing is that you take time to invest in a well-fitting, well-designed bra that will support you throughout your pregnancy. Don't rush the process! Choosing the perfect maternity bra might feel like a lengthy task, but it'll pay off in the end – trust us!
Must-Have Maternity
Bra Features
Although it's tempting to simply buy the next size up from your regular fashion bra, resist the urge! Not only have maternity and nursing bras been specially designed, but fashion bras often come with restrictive underwires.
Alongside booking a professional fitting, look out for the following must-have maternity bra features:
Sufficient Support
"Support" is the magic word when you're searching for a maternity bra. Whatever design you settle on, sufficient support should be your number one priority.
With this in mind, scope out styles with wide, elasticated straps and adjustable back fastenings for maximum support. A thick under-bust band and a deep centre at the front will also ensure you keep comfy day in, day out.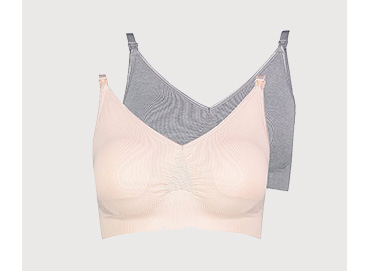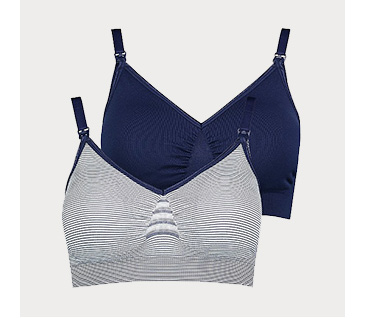 Comfy Coverage
During your pregnancy, your body can become more sensitive. For this reason, you should aim to pick maternity bras that offer as much coverage as possible for extra protection.
When wearing the bra, check that the cups have no overflow and that the centre seam lies flat against your breastbone. It might seem fussy, but being thorough will save you another lingerie trip later down the line!
Easily Adjusted
There's no way to predict how much your body will change over those special nine months. To guarantee that the lingerie you buy turns into a lasting investment, opt for bras with at least four hook and eye fastenings. This way, your underwear can grow with you.
Plus, if you're buying a maternity bra during your first trimester, ensure that it fastens on the first set of hooks to allow plenty of room for adjustment.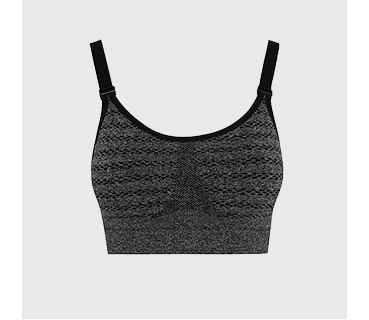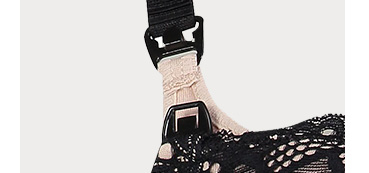 Breathable Fabric
Night sweats and hot flushes can be common for pregnant women. To stay cool, keep an eye out for bras made of cotton. Breathable and soft, cotton also sits discreetly underneath the rest of your maternity clothes.
Soft Cups
While there's no evidence to suggest that underwired bras cause any harm when you're pregnant, they can feel restrictive – a problem that only gets worse throughout your pregnancy.
To counter this issue, many mums-to-be prefer selecting soft-cup, non-wired bras even during their first trimester.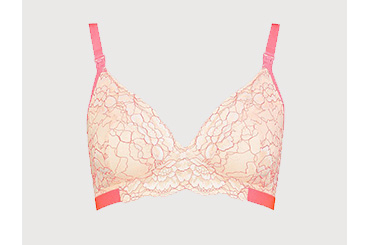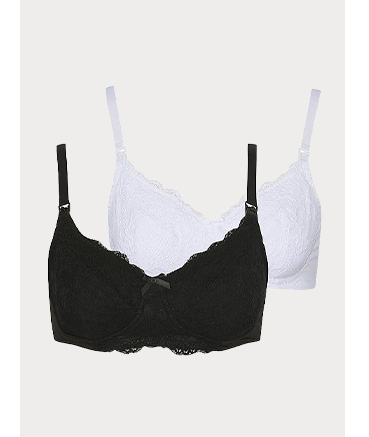 Versatile Styles
From plain and patterned bras to monochrome and rainbow styles, there's no shortage of options when it comes to maternity lingerie. Although it's exciting to have a variety to choose from, two essential designs are versatile black and nude bras. After all, they go with everything!
Stock Up
Finding the perfect maternity bra can be a struggle. Once you discover it, don't forget to stock up! Not only do multiple bras provide optimum health benefits, but they'll also take the pressure off your washing load.
Maternity Bras
Versus Nursing Bras
While both maternity bras and nursing bras feature several hook and eye options and wide, non-slip shoulder straps, there's one key difference: removable cups. Allowing a fuss-free breastfeeding experience, nursing bras come with cups that can be easily opened and closed with one hand.
As your cup size can change following the end of your pregnancy, we recommend getting fitted both before and after you've welcomed your little one into the world.
Breast pumps, bottles and sterilisers are other important accessories to ensure feeding is a comfortable and enjoyable experience for you and your child.