Florals for spring? Turns out, they can be ground-breaking, and here at George, we're all about keeping flowery prints fresh! Inject your spring wardrobe with some flower power with our gorgeous collection of floral dresses featuring the coolest cuts and THE brightest and boldest shades.
Our guide is packin' the dreamiest fits, so you can set off for any brunch date, lunch date or wedding breakfast lookin' hella glam. Get the low-down on the trendiest jackets and accessories to team with your fave flowery dress, or if you'd rather rock a floral blouse or playsuit, we've got plenty of cute picks too.
Temperatures are rising, bees are buzzin' – it's time to step outside, spring is in full swing!
Can You Wear Floral Prints In Spring?
Just as flowers bloom in spring, your wardrobe can too with beautiful floral prints! The best thing about flowery prints is they can be as subtle or as daring as you like, making them a must-have addition to your springtime collection.
With floral dresses and garments available in SO many dreamy colours from soft pastels to spring brights, you can find a shade whatever vibe you're channelling.
At George, we're all about embracing your inner self, and with our empowering collection, you're sure to find a floral dress in a style that will have you feeling uber-confident and comfy. #LoveYourSelfie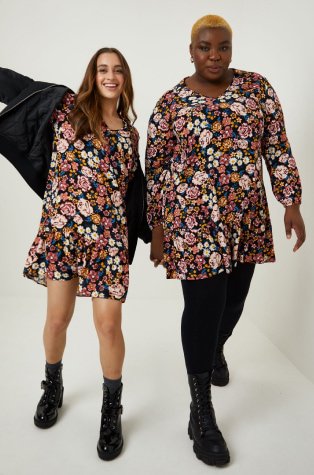 Add A Spring To Your Step With Floral Mini Dresses
Though it may be little – the floral mini dress is fierce! A go-to for casual days out, you can style your mini dress with trendy white trainers or step out in breezy style with flat sandals. We can't get enough of tan sandals and gold wedges this spring – they go with pretty much everything, right?
We love a pop of colour, and red floral dresses are forever on-trend. Level up your look with gold hoops and pull your outfit together with a leather-look waist belt.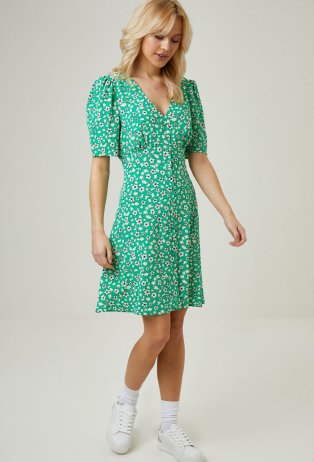 Wrap Up Spring In Chic Knitwear
On chillier spring days, instantly add some warmth and texture to your ditsy dress with a cosy knit jumper or knitted cardigan. It's a seamless way to transition your winter wear into the new season while keeping you snug during April showers. A cream cardy plus floral dress equals the CUTEST combo ever – and teamed with a pair of chic ankle boots, park strolls might just become your runway!
If you're feeling inspired, throw your fave jumper over your floral dress to transform it into a skirt. One dress = two outfits, did someone say capsule wardrobe?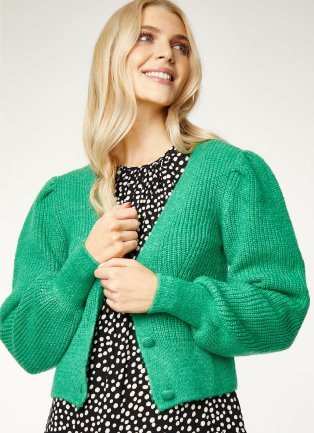 The Bee's Knees AKA The Floral Midi Dress
When you just can't decide between a mini or maxi dress, enjoy the best of both worlds with the iconic midi dress. Flaunt your best self with playful puff sleeves during the day and serve a look with darker shades and bardot necklines at after-hours.
Looking for a statement piece? The midi wrap dress is an easy-to-wear, versatile and oh-so-flattering choice. The perfect frock for birthday parties to bridal showers. Mix up your look with a change of shoes and outfit repeat like a pro! Afternoon stroll? Pop on some comfy flats. Dinner date? Whip out them black strappy heels.
An excuse to up our sustainable wardrobe game? We're totes here for it!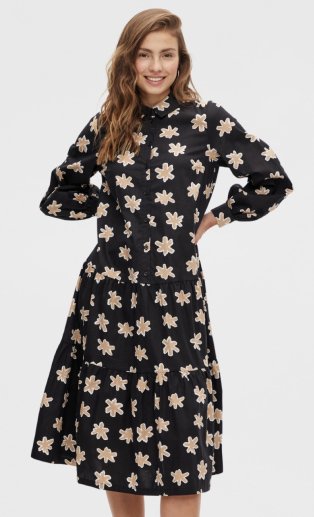 Settle The Debate: Denim Vs. Leather Jacket
With both leather and denim jackets providing the right amount of warmth for the season (and giving off all-around cool vibes), it can it can be a drama deciding between the two when layering up floral dresses.
The denim jacket is a fab outerwear piece for daytime activities, and nothing says chilled day out better than a floral dress, light denim jacket and a pair of ballet shoes. You can find denim jackets in tons of different washes, bag a black denim jacket if darker shades are more your thing.
Transition your look from day to night and flex your finest faux leather jacket with your favourite floral dress. Depending on the occasion, you can decide whether to step out in a pair of killer heels or chunky boots. Finish your look with your fave jewellery and a statement bag.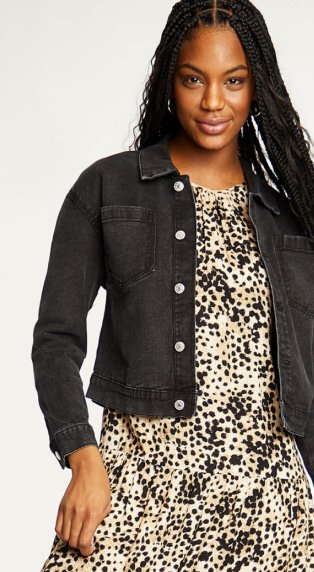 'Maxi' Out Your Wardrobe: The Floral Maxi Dress
Stay forever 'In The Style' with our celeb-inspired selection of floral maxi dresses, which flaunt designs by Stacey Solomon and Jac Jossa. Feel powerful in paisley prints with inclusive clothing in sizes 6-28. Like the gang here at George and our fab collab partners, In The Style is all about championing body confidence too!
The best thing about a floral maxi dress is that it requires minimum effort to dress up. Complete your statement look with a tasteful tote bag (v handy for those all-important bits and bobs!) Next stop: accessories and shoes! Go big for glam jewellery and bag a pair of banging boots or killer heels for springtime soirees.
Once you've created THE ultimate OOTD, hit us up on Insta by tagging @GeorgeAtAsda or #WeAreGeorge to see your selfies on our grid. Psst…don't worry – we always ask your permission first!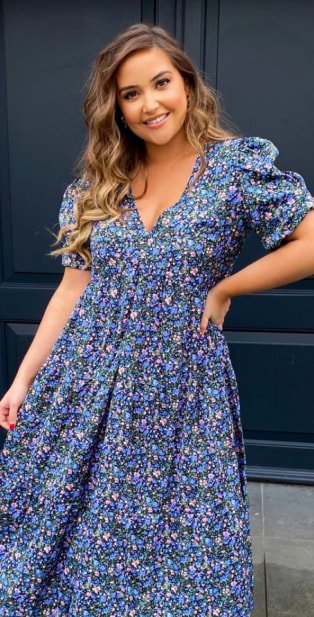 Switch Up With Floral Jumpsuits And Blouses
When you don't feel like rockin' your best floral dress, turn to your fave pieces in floral prints. Pairing a charming floral blouse with black skinny jeans and chunky heels will have you ready for evening socials or pop on some espadrilles for a casual daytime fit.
RSVP'd yes? Perfect your wedding guest get-up with a floral playsuit or jumpsuit and feel fancy in a smart blazer and block heels. Party season, we're coming for ya!