Organising your kitchen can be therapeutic and allows you to channel some of that inner zen! Spend less time scouring your kitchen for countless utensils and accessories and more time whipping up your fave dishes and delicious homemade baked goodies. (Make sure you save some for us!)
From storing away cake tins and baking equipment to fancy ovenware, our neat guide features 10 handy kitchen cupboard storage ideas, so any amateur chef or budding Mary Berry can have the kitchen of their dreams!
1. Home Is Where The Kitchen Appliances Are
The first rule of kitchen club: give all your kitchenware a home! Whether you're looking for somewhere to hang your cups and mugs and glassware, store cooking appliances or neatly pack away your fave tableware, all your kitchen gadgets and gizmos need a loving home.
Organise items by type and purpose, and place larger, heavier items like roasting dishes on bottom shelves. Stack flat items like chopping boards and baking trays on top of one another. Jenga… but kitchen edition!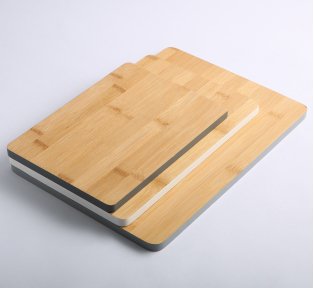 2. Declutter, Dispose Of Responsibly Or Donate
Every once in a while, it's nice to 'KonMari' your kitchen! Throw away any broken and chipped items and dispose of them responsibly in a suitable bin. Don't forget to set a reminder for your weekly collection in your calendar!
If you're replacing your crockery with new styles, share the love and donate any old items which are still in good condition to a charity store or pass them onto family and friends.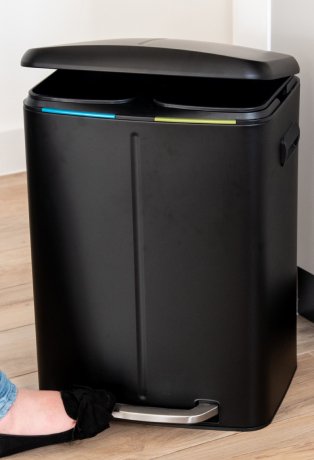 3. Have A Deep Clean
Say goodbye to dusty cupboards and unwanted marks and give your cabinets a solid deep clean. Stock up on essential cleaning products, have your sponges ready and wipe down drawers. Neat hack alert! Grab some drawer liners or upcycle leftover wrapping paper and place them in drawers to make future spillages easier to clean.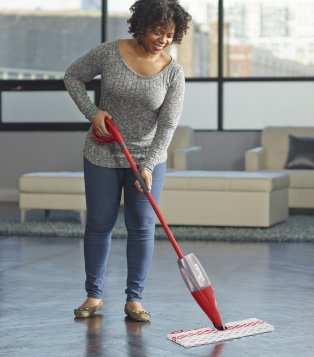 4. Stock Up On Storage Containers
Tidy up your cupboards with useful kitchen storage containers. Use them for anything and everything, from storing food to housing your fave baking bits and bobs. You can find storage containers in all shapes and sizes; no job is too big or small. At the mo, we're loving storage holders decorated in all things Disney – now that's a kitchen with character!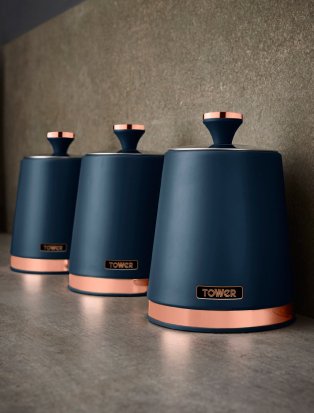 5. Clutter-Free Cutlery
Never lose sight of your forks and knives with a handy cutlery organiser. In our eyes, it's the Holy Grail of kitchen storage solutions and keeps any loose cutlery out of sight. You'll find THE most elegant cutlery sets in our timeless classic collection – the set of your dreams is just a scroll away. Dinner time just got a whole lot fancier!
6. Stack Pots & Pans
With pots and pans coming in SO many sizes, it can make them slightly awkward to pack away. If you're tired of playing a never-ending game of Tetris (and not winning!), investing in a stackable cookware set can make grabbing your frying pan at breakfast-time a breeze. With existing pots and pans, arrange them as you would with a set of Russian dolls – smallest to largest. Pretty straightforward, right?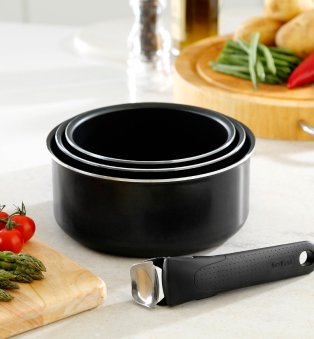 7. Season Up Your Kitchen With A Spice Rack
Add some flavour to your kitchen with a spice rack. Don't leave all the seasoning to Salt Bae and complement your kitchen décor with a wire and wooden spice rack. Not being able to separate your Cajun from your Cumin can be frustrating at the best of times – so surely, it's a kitchen accessory must-have.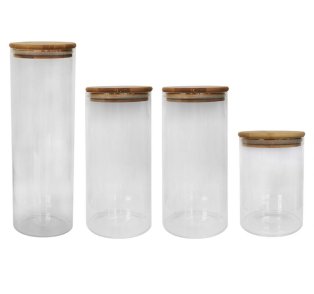 8. Make Space For The Kids
Keeping little ones away from the kitchen is super important for their safety but having a dedicated cupboard for all their snacks helps us grown-ups keep tabs on what they've been nibbling. Make mealtimes heaps of fun with kids dinner sets in colourful designs and store them in their designated cupboard.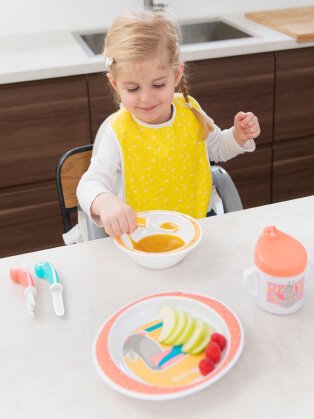 9. Refresh Pantry Cupboards
The pantry cupboard is a second home to any Great British Bake Off hopefuls, from baking fresh banana bread to dishing up delicious trifles. Finding a happy home for your baking equipment can give every star baker peace of mind. Storing dry ingredients in the right sized containers and labelling them makes it easy to spot whatever ingredient or supplies you're searching for.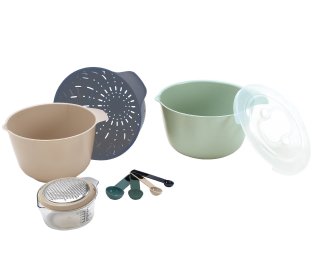 10. Make Room For Cleaning Products
No kitchen cupboard is complete without a dedicated drawer for cleaning products. Although it may not be the most exciting task, cleaning your kitchen is always top of the to-do list. We're a big fan of the trusty 'clean as you go' principle and putting your kitchen utensils back once you've used them is a simple way to keep your space spick and span!