Say hello to the jean revolution. While skinny jeans used to be the go-to, spring 2020 is all about a looser look: relaxed fit jeans. Effortlessly cool and easy to wear, relaxed fit jeans will be your new style hero. Whether you opt for boyfriend jeans, mom jeans or high-waisted cuts, it's time to ditch your skinnies for the season and step into relaxed fit jeans.
Relaxed Fit Jean Rules
With their off-duty design and comfy style, relaxed fit jeans are much more versatile than you might think. Not only do they come in a variety of cuts and colours, but they can also be dressed up (yes, really!) or down depending on the occasion.
As with any new item, it can be intimidating to add them into your wardrobe. Thankfully, if you follow a few simple rules, you'll be wearing these dreamy denims like a pro:
Lighten Up The Look
Although black jeans are a staple we couldn't live without, relaxed fit jeans work best in light washes and bleached denim designs. Bringing beachy, seasonal vibes to your look, light washed jeans are the ultimate option for warmer weather.
You can even tick off the vintage trend by picking stonewashed jeans and distressed details.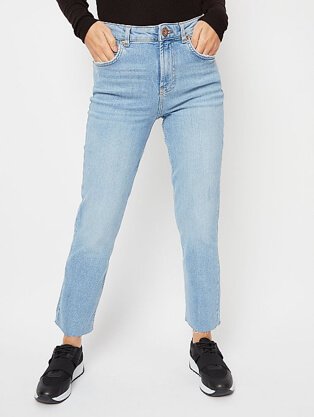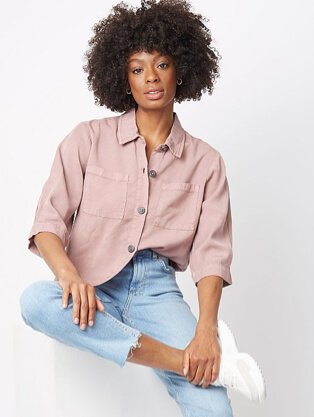 Say Yes To Ankle-Grazers
Similar to skinny jeans, relaxed fit jeans are at their most stylish when grazing your ankles. To take the look to the next level, ensure your shoes are on point by picking chunky trainers or animal-print flats. Remember, ankle-grazers are an ideal opportunity to make a shoe statement!
The Fit Counts
There's no single pair of jeans that will suit every taste. While some prefer high-waisted jeans, like mom jeans or straight jeans, others might favour designs that sit on their hips, like boyfriend jeans.
We recommend playing around with different relaxed jeans to discover the right one for you. Keep an open mind, your final choice might surprise you!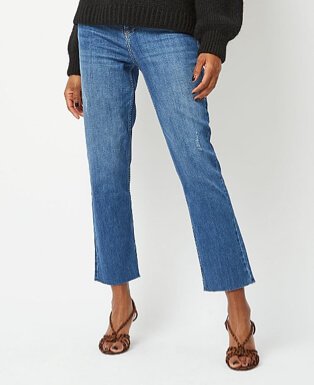 … Statement Sleeves
Big sleeves are very much a thing for spring and summer. Luckily, this bold design balances out relaxed fit jeans' understated look perfectly.
Whether you pick balloon-sleeved blouses, tulip-sleeved tops or ruffle details, this unlikely pairing is a style match made in heaven. Add a subtle pop of colour with a pastel top or opt for polka prints and floral patterns for a romantic spring-ready ensemble.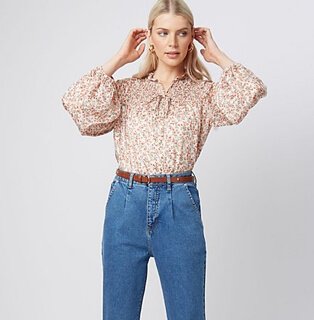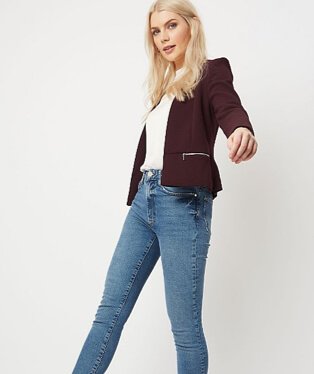 … A Minimalist Blazer
If there's one item your wardrobe needs this season (besides your relaxed jeans of course!), it's a blazer. Smartening up casual combos and bringing some flair to your everyday looks, a blazer makes a fashionable finishing touch to any and every outfit.
For a modern get-up you can wear for both work and play, team light washed jeans with a slogan T-shirt and a minimalist blazer. Simple gold-effect hoops and a cross-body bag will complete the look.
… A Loose Shirt
It's tempting to reach for a tight top when you're wearing loose bottoms, but try to resist! While this tactic works for most clothing, relaxed fit jeans are one of the few items that look better when paired with other breathable styles.
To channel a chic Parisian-inspired silhouette, wear your jeans with a breezy shirt. Streamlined and sophisticated, you can experiment with different textures like silk, satin and crepe to add depth and interest to your outfit. Whether you wear the shirt tucked in at the front or not is up to you.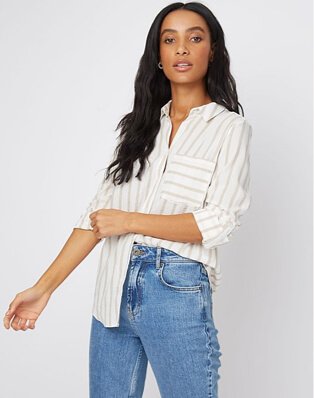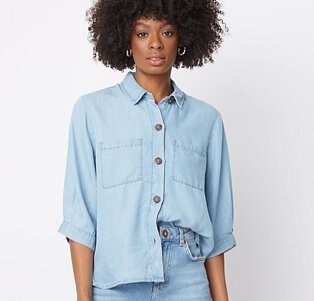 … Double Denim
Double denim is famously tricky to get right. Even so, don't let the challenge put you off! When worn well, it's a fashion-forward choice that will help you stand out from the crowds.
To master the trend, opt for a denim jacket in a matching wash. Oozing 90s cool, simply throw a tiered peasant blouse underneath and you'll be good to go.
… A Twist
Love the relaxed fit design but can't get away with wearing jeans to the office? Copy the style but mix up the fabric! Cropped trousers, like culottes and tapered trousers, will create the same effect with a work-appropriate twist.
The trick is to stick to monochrome trousers and delicate colour palettes to create that laid-back feeling.