Decorating your baby's first nursery is one of the most exciting parts of preparing for their arrival. Even so, it's all too tempting to settle on popular (and slightly outdated) decorating themes. To step away from the traditional blue, pink and yellow colour schemes, opt for natural nursery décor. Making the most of organic colour palettes and wooden furniture, natural décor is a contemporary choice for your child.
From wicker Moses baskets and wooden baby toys to cream baby bedding, this trend will bring a peaceful ambience to your little one's space. Whatever your budget or your baby's gender, our guide will help you create a cosy, modern and natural nursery.
Why Pick Natural
Nursery Décor?
With its focus on wood and warm earthy tones, natural nursery décor is a soothing and stylish option. Since the trend combines calming colours like cream, caramel, moss green and brown, it's also the perfect pick for both baby boys and baby girls. With many parents increasingly choosing to decorate gender-neutral nurseries, natural décor makes a refreshing alternative to yellow.
Plus, there are plenty of ways to make the look your own. Whether you go for a bohemian twist on the theme with terracotta nursery accessories or select crisp white baby bedding and beige blankets for a Scandinavian-inspired space, natural nursery décor encourages you to express your personality.
Natural Nursery Essentials
Transforming your baby's nursery is easy with our favourite natural nursery pieces.
Wicker Moses Baskets
Providing a cosy and comfy sleeping environment, Moses baskets are ideal for newborn babies. Alongside keeping your little one safe and supported, their traditional design can easily be updated to suit natural nurseries.
To achieve a stylish sleeping set-up, pair a wicker Moses basket with a white wooden stand and cream bedding. Gently lulling your baby to sleep, this snug bed will ensure they enjoy sweet dreams.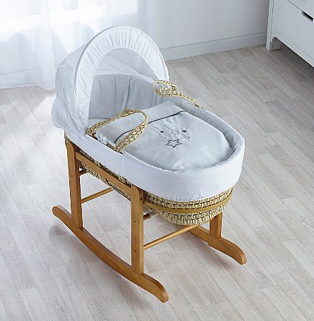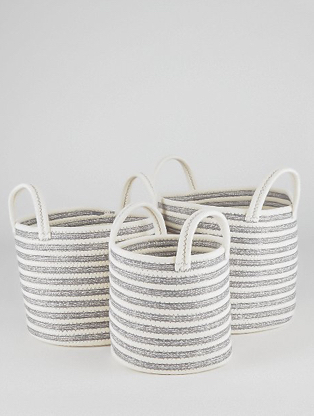 Textured Nursery Accessories
Planning your baby's nursery can feel overwhelming, especially if you're a first-time parent. To save yourself time and money, stick to decorative details and nursery accessories. As well as being a quick and easy way to incorporate a theme, accessories give you the opportunity to mix up the décor later down the line.
From woven baskets and warm white night lights to knitted baby blankets, concentrating on textured accessories will bring your natural décor to life. As the trend has a streamlined colour scheme, you can experiment with as many textures as you like without the room feeling chaotic.
Wooden Baby Toys
Your baby's nursery should be a peaceful place for play as well as sleep. Thanks to the popularity of wooden baby toys in recent years, there are now plenty of natural ways to help your child's development and improve their cognitive abilities.
Musical wooden toys, like touch drums and pianos, are a charming choice that will add a splash of colour without disrupting the natural theme.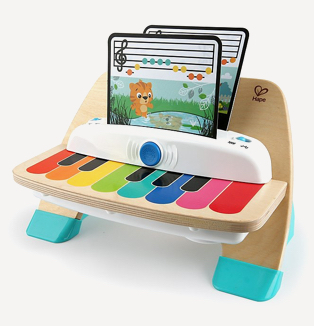 Nursery Decorating Dos & Don'ts
As well as selecting a theme, you also have to consider important nursery decorating dos and don'ts, such as safety essentials.
Do Put Safety First
When it comes to decorating your little one's nursery, safety should be your number one priority. Giving you peace of mind while your baby rests, a baby monitor will ensure your child stays safe. You can also consider investing in stair gates to future-proof your home for when your child starts exploring.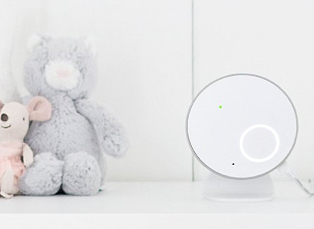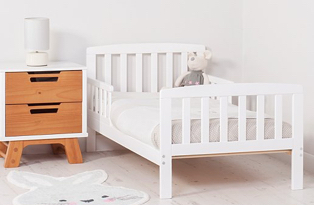 Do Leave Space To Grow
A Moses basket might be the ideal size for your baby right now, but sooner or later they'll need to upgrade to a cot. With this in mind, it's a good idea to put aside space for extra nursery furniture. Thinking ahead will guarantee you get the most out of your money and your layout.
Don't Buy All At Once
It's easy to get carried away when you're shopping for your newborn. With so many adorable baby boys' clothes and baby girls' clothes available, it's appealing to buy anything and everything "just in case". Even so, this can leave you with a very cramped nursery!
Instead, be strict with yourself and only get what's necessary. Buying clothes the next size up is another brilliant way to make sure they're a lasting investment. After all, babies don't stay small for long!