Wearing sandals with jeans is an easy-breezy way of making the most of your summer staples. From styling strappy sandals with skinny jeans to wearing buckle sliders with mom jeans, scroll down to discover the dreamiest denim to wear with your favourite summer footwear.
Jeans & Sandal Style Tips
Casual and cool, jeans and sandals are our new go-to look. After months of wearing our jeans with trainers, boots and slippers (no judging here!), transitioning to sandals can feel like a challenge – especially now we have coffee dates and brunches booked in the diary. Luckily, our style tips will help you perfect the trend for your busy summer schedule.
Roll Up Your Jeans
Let your sandals take centre stage by rolling up your jeans. Adding an off-duty vibe to everything from straight jeans and boyfriend jeans to high waisted designs, rolling up the cuffs of your denim is a winning way to wear the trend. For maximum style points, choose light wash or distressed denim to nail effortless summer dressing.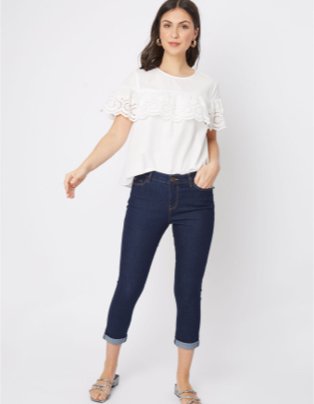 Get Creative
Whatever the dress code, denim's usually the answer! One of the most versatile pieces in our wardrobe, jeans give you creative freedom to get fashionable with footwear.
Brighten up your look with sunshine yellow sandals or be bold with animal print designs. You can also keep the compliments coming by styling your jeans with textured sandals, from mock-croc and studded sandals to metallic and quilted finishes.
How To Wear Sandals With Jeans
Whether you live in your skinnies or you're all about baggy jeans, we've got the outfit inspiration you need to make the sandals and jeans trend your own.
1. Simple Styling: Gladiator Sandals & Skinny Jeans
Easy to dress up and down, skinny jeans have seen us through the best part of a decade. While looser fits are becoming a go-to trend, we still have plenty of love for this dependable denim design.
The good news is that wearing sandals with skinny jeans is both simple and stylish. Almost any sandal looks good with skinny jeans, but our top pick is gladiator sandals. Adding depth and detail to everyday outfits, strappy sandals like gladiator styles are the ideal way to give your skinnies the wow-factor.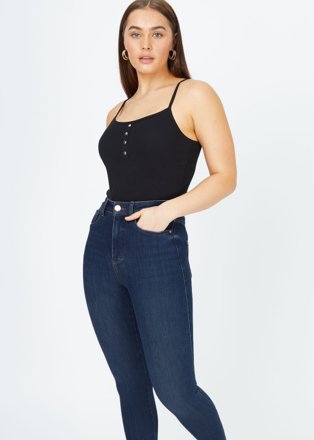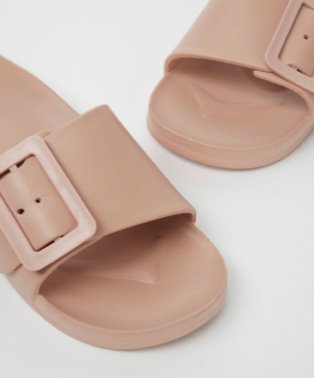 2. Super-Cool Combos: Flat Sandals & Mom Jeans
Flat sandals and mom jeans are a style match made in heaven. Whether you're popping to the shops or Sunday brunching with the girls, flat sandals pair perfectly with the laid-back mom jean cut.
This summer, we're styling our mom jeans with flat buckle sandals, a slouchy cardigan and oversized sunglasses. Complete the look with an iced coffee (in a reusable cup, of course!) and you'll be good to go.
3. Fashion-Forward Fits: Wedge Sandals & Wide Leg Jeans
70s-inspired wide leg jeans are here to stay and we couldn't be happier! Giving your daily denim a fashion-forward update, the statement shape is guaranteed to add a little fun to your wardrobe.
For a sandal that matches the decade, give your look some height with wedge sandals or block heel sandals. For the ultimate throwback, stick to sandals in warm colour palettes, from tan wedges to gold block heel designs. Thanks to the jeans striking silhouette, the only accessories you'll need to finish the look is a simple cross-body bag. Easy!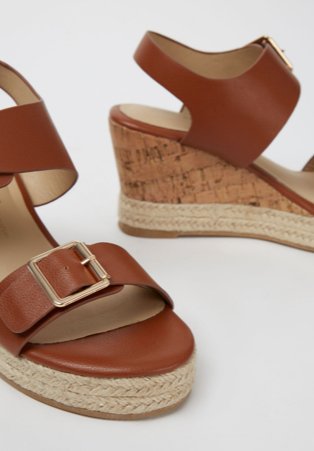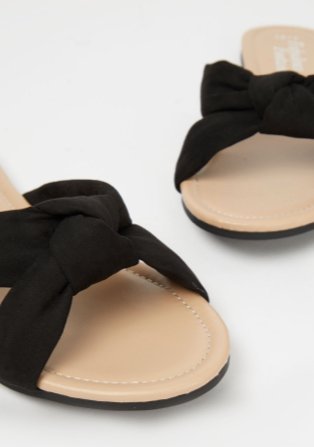 4. New Favourites: Mule Sandals & Straight Jeans
Whether they're quilted, knotted, or with a faux fur finish, we can't get enough of mule sandals. With so many designs to play around with, it's no wonder mule sandals have become the standout shoes of the summer.
To let your mules do the talking, keep your denim casual with straight leg jeans. Striking the right balance between easy-going and oh-so-stylish, straight jeans and mule sandals are our first choice for summer strolls with friends and family. Pair the look with a relaxed shirt and minimal accessories to master the trend.
5. Surf's Up: Flip-Flops & Cropped Jeans
If you're like us and a trip to the beach is at the top of your summer checklist, you're going to need comfy sandals suited to the sun, sea and sand. To switch from the waves to the dunes with ease, choose a pair of sporty flip-flops.
You can also update your denim for sunny days with fresh fit cropped jeans or denim shorts. For a beach combo you'll love, pair light wash shorts and woven flip-flops with a patterned bikini top and sunhat.