Every child's dream is to dress just like mum and dad, and Christmas is the perfect opportunity to let them do just that. With so many events for you and your family to attend, why not make this year's festivities one to remember by wearing matching Christmas outfits?
From novelty jumpers and adorable dresses to snug nightwear, there's no better time to step out in style with your little one.
COORDINATING
CHRISTMAS JUMPERS


Whether you opt for entertaining styles or cosy knits, wearing a Christmas jumper has become a much-loved and merry tradition. Why not mix things up this year and get the whole family looking their best in one of our matching designs?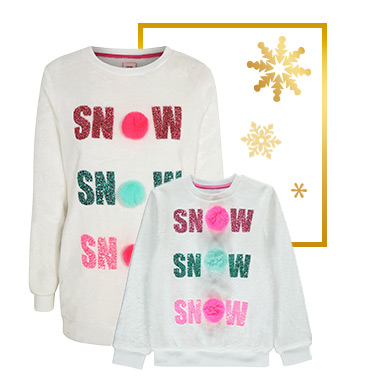 For little ones looking to dress just like mum, try our trendy pom-pom slogan jumper. With colourful decorations and glittery text, you and your child will look super stylish twinning in this festive piece.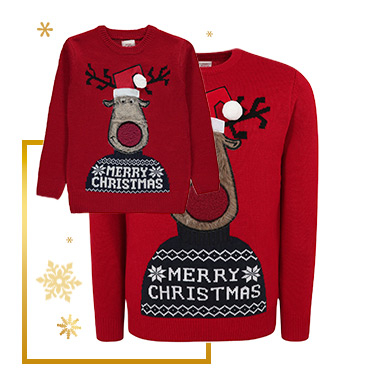 Or, for a traditional option, why not choose our red Rudolph mini me jumpers? Featuring a fuzzy reindeer nose and a comfortable knitted design, kids and adults alike will love getting snug in this seasonal sweater.

COSY
FAMILY PJS

From cuddling up with a festive film to playing board games on cold evenings, Christmas is a great excuse to update your nightwear. To help everyone look the part while you enjoy a game of Monopoly, opt for our mini me pyjamas.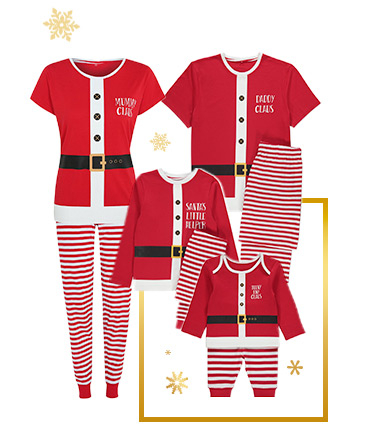 Or, for a theme you can wear throughout the year, why not try our Harry Potter designs? You can snuggle up in our magical Quidditch set while your little ones get cosy in our cuffed pyjamas. Whether their favourite house is Gryffindor, Slytherin, Hufflepuff or Ravenclaw, our enchanting Potter pyjamas are perfect for the festive period and beyond.
For the ultimate Christmas nightwear, look no further than our matching Claus pyjamas. With different sizes and slogans to suit all ages, the whole family will love relaxing in these seasonal sets.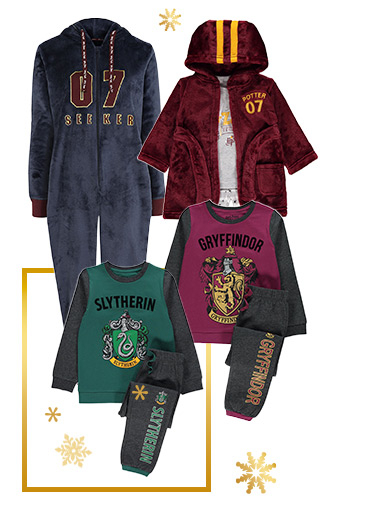 SPECIAL
CHRISTMAS OUTFITS

With plenty of parties to attend, why not get the whole family looking and feeling their best in our matching Christmas outfits? Providing lots of festive photo opportunities, there's nothing more charming than coordinating your clothing for special occasions.
For a look that will work wonderfully for family gatherings, try our Santa Claus dress set. While mums can add a sophisticated touch with heeled boots, little ones can look Christmassy and cute in glittery ballet shoes.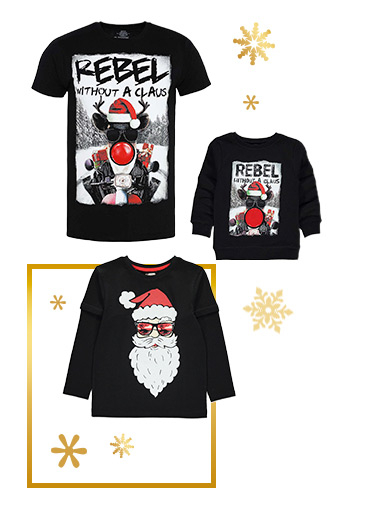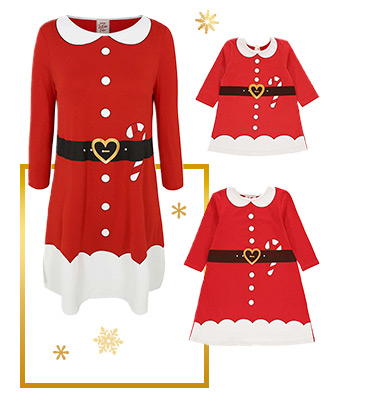 Christmas this year is all about novelty designs, so why not try our matching tropical Santa T-shirts or light-up Rudolph sets? Featuring entertaining twists on classic characters, these tops are guaranteed to help you and your little one stand out.
Spending time with loved ones is what Christmas is all about, so why not browse our toys collection for family fun indoors? From toys for pretend play to baby dolls and timeless board games, we've got plenty of charming picks for you to enjoy this season.