Work parties, family get-togethers, December 25th, and New Year are just around the corner! This means there's no better time to start picking out party dresses for the upcoming season of fun.
From little black dresses and going out tops to sparkly sequin numbers, we've got everything you need to feel effortlessly glam no matter the occasion.
Keep scrolling to discover party dresses so pretty that you'll be making plans left, right and centre – any excuse to flaunt them!
What To Wear To A Party?
Not sure what to wear to your next party? We've got tons of inspiration! Rule number one: take the same approach to choosing your eveningwear as you would any other outfit.
Consider the event but stay true to your personal sense of style. So, if you never wear sequins – your work Christmas party doesn't need to be the time you start (unless you really want to of course!). It's all about freedom of choice and feeling comfortable in your own skin.
Instead, look inside your wardrobe and pick out the pieces you adore and feel fabulous in. You know better than anyone, which cuts and colours suit you best – and that's always a smart way to inform your haul.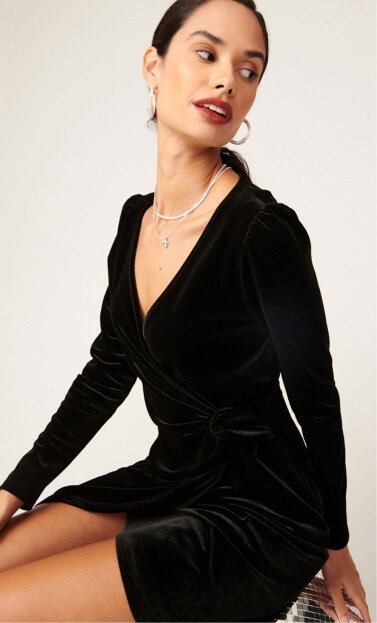 Party Dresses For Every Occasion
Whether you're heading out to your office Christmas party, hanging out with friends, or spending time with family, finding the perfect party dress for every occasion is a big deal. Well, at least to us, anyway!
For starters, owning a chic black dress means you won't be stuck searching for something to wear when party season strikes again. Forever in style and easy to dress up or down, this effortless yet tasteful staple always looks perfectly put-together.
Also, we'll be adding at least one oh-so-stylish patterned dress to our evening wardrobes. From florals to stripes, these pretty silhouettes will have you feeling fab from the moment you put them on. And…not to mention – they're super-versatile, what's not to love?
To make sure you always have something to wear for your evening out, choose classic styles that you can easily pair with chic flats, staple boots, or sleek heels. Rip up the rulebook – party footwear knows no limits!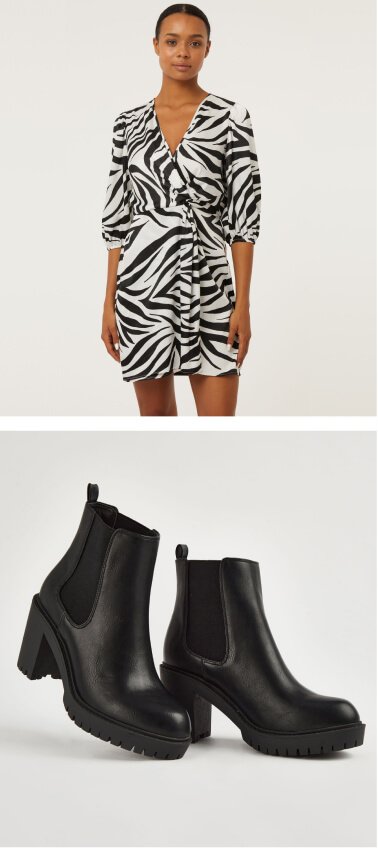 Never Fail Party Outfit Ideas
It's no secret that party outfits can be tricky, especially when the dress code isn't entirely clear! Our advice? Keep it simple. Look for styles you'd rock at casual events and dressy ones too – you're all set!
Paired with sheer black tights, your fave mini dress or midi dress serves a look for party season. And…they won't take you too far outside of your comfort zone – bonus! That said, if you're looking to elevate your evening wear with something a little glitzier, we say go for it! Think sequin party dresses, silky floor-length slips, and fitted midis for ultimate glam party vibes
Mix Things Up
Take inspiration from your existing collection and seek out party dresses in similar shades to your usual go-to looks. If you can't get enough of head-to-toe black (we feel ya!), we've got a sleek little black dress with your name on it!
If a 'jeans and a nice top' combo is your dream look, grab your trusty skinny jeans and slip into a sparkly party top to switch the look from day-to-night.
If you rock relaxed-fit floral dresses and boots during the day, keep your love for prints in full bloom by switching to a wrap dress (and maybe some heels!) to dress up your fave look.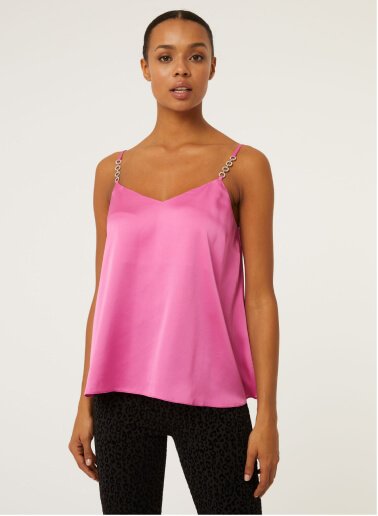 Evening Dresses To Wear On Rotation
With our social calendars filling up for the festive season, we don't want to be shopping for countless dresses we'll wear once. Beautiful dresses we're a fan of – fast fashion we're not!
Protect the planet and your bank balance by shopping for key party dresses you can easily style with different shoes and accessories. They'll look like a brand new outfit every time you strut your stuff!
We're talking block colours, simple prints, and versatile lengths you'll be happy to wear over (and over) again…
Top Party Tops
Like you, we're all for getting the most out of the garms already in our wardrobes. Luckily, adding a stylish evening top to skinny, straight leg or high waist jeans creates a flawless party look – and most of us already own at least one pair!
Think sequin embellished tops for festive gatherings, or keep things simple with a beautiful block-coloured evening top that'll work a dream with every pair of jeans and trousers in your closet.