We're so excited for summer plans, but we get it – summer outfit sorting can feel far from easy! One minute you're soaking up the sunshine, the next you're shivering in the shade. Luckily, our stylish summer evening outfit ideas will keep you cosy even when the temperature drops.
Whether you're enjoying al fresco dinner dates with friends or socialising in the garden after dark, follow our top tips to give your warm-weather looks a nighttime glow-up. Letting the weather spoil our summer evening plans? Not us!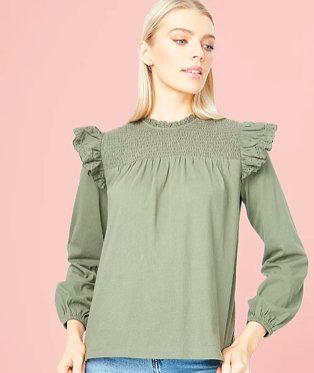 Layer Your Favourite Summer Dress
This summer, we're layering up to transform strappy dresses into nighttime staples. We're talking chunky knit cardigans and jumpers to keep cosy and long-sleeve tops worn under your favourite summer dresses.
You can also play with different cuts to give your look some extra warmth. Style a patterned maxi dress with a cropped cardi to stay snug or give mini dresses a makeover with oversized sweatshirts and hoodies.
Style Up With Summer Jackets
Forget your flip-flops – if there's one item every summer wardrobe needs, it's a lightweight jacket! Adding insulation to summer dresses, camisole tops and jumpsuits, the right jacket will take you from sunny days to cool nights with ease.
Go classic with a dark wash denim jacket or bring a sporty twist to your look with windbreakers in earthy shades of sage and stone. Searching for a casual summer evening outfit? Style up for outdoor dining with a flannel shacket.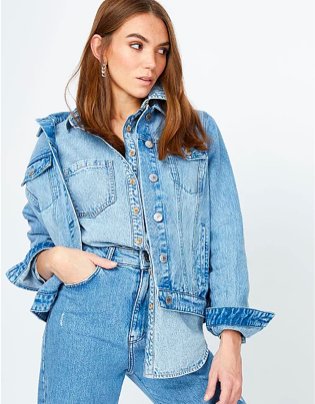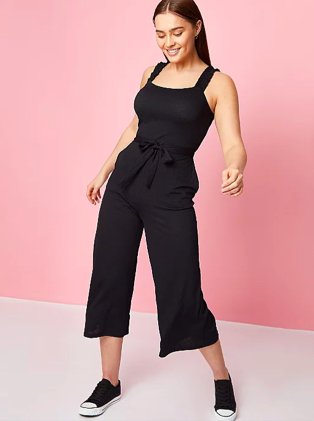 Think Outside The Box With Jumpsuits
Think outside the box this summer by swapping dresses, skirts and shorts for statement jumpsuits. Keeping you cool in the day and covered after-hours, jumpsuits offer an on-trend alternative to your usual summer faves.
This season, we're wearing ours with fresh white trainers and cropped denim jackets for summer nights with friends and family. Still feeling the chill? Layer the look with a long-sleeved tee for a 90s-inspired get-up that will see you through summer and beyond.
What Should I Wear To A Summer Evening Party?
A busy summer schedule means even more outfits to plan. After over a year in our loungewear and PJs, we wouldn't have it any other way! If you're still counting the invites to all those summer evening parties, we've got plenty of outfit ideas to help inspire you.
Wide Leg Trousers & A Nice Top
We're hitting refresh on jeans and a nice top. To give this classic combo a summer evening update, switch your denim for wide leg trousers. Protecting your legs from the chill, wide leg designs will help you tick off a relaxed summer vibe without worrying about the weather.
Tuck a ruffle top into your favourite pair and sign off the look with a lightweight jacket – easy!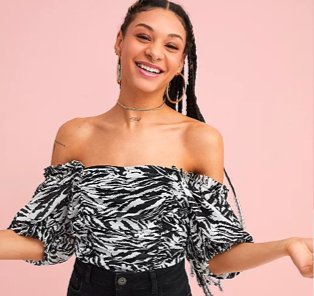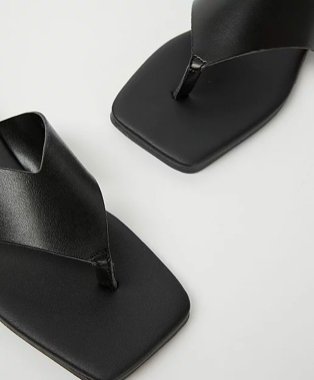 Monochrome Patterns & Prints
Monochrome patterns and prints are a fuss-free way of transforming summer staples for after-dark events. To perfect summer party dressing, step out in a black and white smock dress and colourful mule sandals – we love the contrast!
Dresses in versatile shades like black and white will soon become a part of your year-round wardrobe. Just style them with tights, ankle boots and a longline coat to refresh the look for the colder months.
Summer Evening Co-Ords
Co-ords are one of our favourite trends of the summer. From top and skirt combos to cropped blazer and high waisted trouser sets, we can't get enough of these matching separates.
To turn your co-ord into a stylish summer evening outfit, give your look a little height with chunky trainers or flatform shoes. Don't forget to dial up the party details with gold buckle belts and textured bags. Team accessories together or work them solo – the choice is yours!