It's easy to forget that we spend far more time between our duvet and bed sheets than we do in our clothes – especially when you include those duvet days spent box set binging! Given how often we press the snooze button (guilty!), having clean, comfy and inviting bedding has never been more important.
Whether your pillows need a refresh or you're looking for duvet tog top tips, scroll down to discover how often you should replace your bedding.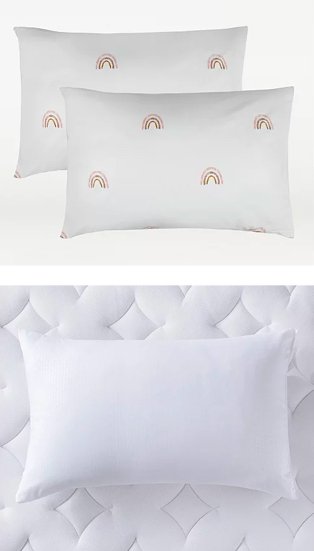 How Often Should You Replace Pillows?
Sleep experts (our dream job!) recommend replacing your pillows more often than your duvet. Pillows support the weight of your head, meaning they suffer more wear and tear than the rest of your bedding. On average, you should swap your pillows for new ones every two years.
Updating your pillows and pillowcases isn't just the key to a good night's sleep, it also helps keep your bedding clean. If you enjoy a self-care routine before bed (who doesn't!), your skincare and haircare products can make your pillows discoloured. If your pillows have seen better days, check and replace them and don't forget to grab a pillow protector to improve your beauty sleep.
How Often Should You Replace Your Duvet?
Nothing beats that fresh sheet feeling – fact! While most of us remember to wash our duvet covers regularly, we know how easy it is to forget about the duvet itself.
If you're wondering how often you should replace your duvet, sleep experts suggest once every five years. You can also keep your duvet in tip-top condition by washing it every six months. To ensure it stays soft and comfy, let it air dry or only use a tumble dryer on a low heat.
As they grow and develop, tots and teenagers spend even more time snoozing, so why not keep their bedding vibrant and clean with our toddler's bedding and kids' bedding collections?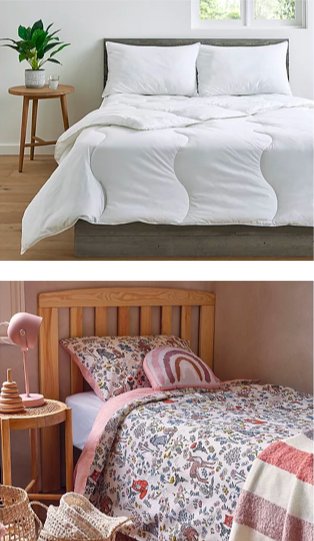 How To Know When You Need A New Duvet
It's not always obvious when you need a new duvet. Luckily, we've listed the key things you should look out for below:
1. Be wary of lumps and bumps. If the filling spreads unevenly, it's time for a new one!
2. If you notice cold spots in places, it's likely your duvet isn't providing the right insulation. Make sure you replace it before the temperature drops!
3. Don't ignore feathers and fluff! If your duvet filling starts leaking, it's definitely due an upgrade.
4. If you find yourself sneezing yourself to sleep, it could be worth swapping your current duvet for an anti-allergy replacement.
What Does A Duvet Tog Mean?
Shopping for a duvet can be confusing and there's nothing worse than being too hot or too cold at night. If you're unsure which tog will be a match made in duvet heaven, we've got you covered (literally!).
Known as 'thermal resistance' according to sleep gurus, a duvet tog shows just how warm a duvet should be. The higher the tog, the more insulation the duvet will provide. It's only a rough guide and it can vary due to factors like your room temperature and whether or not you sleep with a bed throw.
For the perfect sleep set-up from spring through to summer, look for a summer duvet tog between 4.5 and 10. To keep yourself snug and cosy in the colder months, choose a higher winter duvet tog ranging from 10 to 15.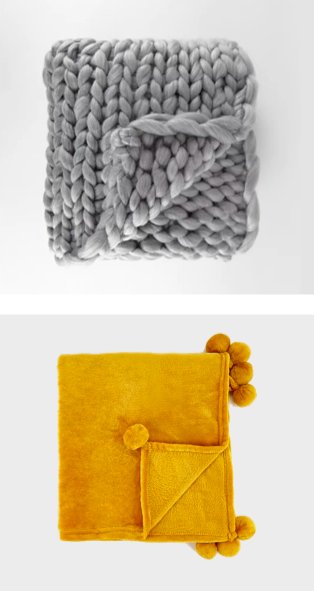 Tips To Make Your Bedding Last Longer
We've all got our favourite bedding patterns, prints and textures. To keep your most precious sheets, duvet sets and pillowcases feeling fresh and fabulous, be cautious when washing and drying them.
Our top tips for taking care of your bedding include:
1. Wash your sheets, pillowcases and duvets separately from your clothes. Go for a gentle setting on a cold or lukewarm temperature for extra care.
2. Whether you've got a king-size or a single bed, choose sheets that comfortably fit your mattress. Stretching them too far will damage them in the long run.
3. Buy spares! If you fall in love with a pattern or fabric, buy another set so they can interchange seamlessly.
4. Only fold and put away washed bedding once they're fully dry! You can also iron them to make them extra crisp and cosy.
5. Drying your duvet using a tumble dryer? Pop it on a low setting and take it out before the end of the cycle to let it air dry to finish.
How Often Should You Change Your Sheets?
When it comes to how regularly you should change your bed sheets, there's no right or wrong answer. Everyone has a system that works for them.
To avoid dust building up and to maintain that lovely crisp bedding feeling, change your sheets every two weeks, although many prefer a weekly rotation.
Let's be honest, it's not always easy to find the time to wash and dry bedding! Make sure you have lots of spare sets so you can change sheets in between washes, freeing up time to do the things you really enjoy.